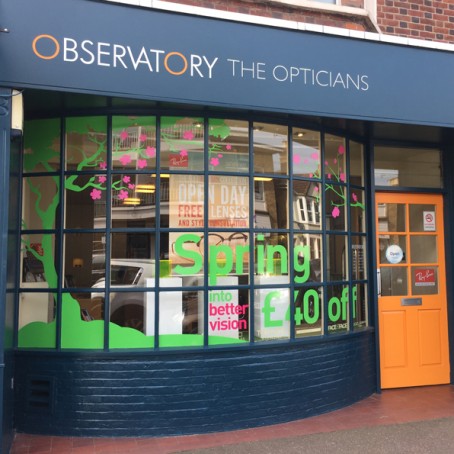 Observatory The Opticians & Hearing Centre
ADDRESS:
33 Rectory Grove
Leigh-on-Sea
SS9 2HA
OPENING HOURS:
Info not Provided
PARKING DETAIL:
Info not Provided
About
During a visit to Observatory the Opticians you will be able to experience our full range of optometric services, including full eye examinations, the latest retinal examination technology, as well as a comprehensive contact lens examination and fitting service. The team at Observatory the Opticians are able to help you with all your optical needs.
An eye examination at Observatory the Opticians is not just a sight test. As well as measuring for any prescription you may require for spectacles or contact lenses, we will also conduct various tests for a full range of general health conditions that can be monitored at the back of your eyes. At your first appointment records will be kept that will allow us to monitor even the smallest changes on subsequent visits. This is why an eye examination is important, even if you do not need spectacles.
Spectacles
With the right combination of frame and lenses you will not only see better but look great too. Our skilled dispensing team will be able to advise you on any aspect of your eyewear from our carefully selected ranges of frames and lenses. Why not call in and see for yourself.
Contact lenses
It is now easier and more comfortable to wear contact lenses than ever before. No longer do you have to be either a contact lens or spectacle wearer. Nowadays you can wear either spectacles or contact lenses when you want. Perhaps you have a sporting or leisure activity that would be more enjoyable when wearing contact lenses.

We supply contact lenses from every major contact lens manufacturer. This allows us to offer you a choice of lenses to suit you, your visual requirements and your lifestyle needs. Some brands are just worn once and then thrown away. This eliminates the need and expense of contact lens solutions.

As a specialist contact lens practice we are able to fit and supply almost anyone with contact lenses, regardless of prescription. We also supply lenses to correct astigmatism and progressive lenses that are similar to varifocal spectacle lenses. So, you no longer have to be under 40 to benefit from contact lenses.

Lenses we supply include:
Daily disposable soft lenses
Monthly disposable soft lenses
Continuous wear soft lenses
Tinted and coloured lenses
Toric lenses, soft and gas Permeable
Aftercare

Regular aftercare appointments are essential for maintaining the health and comfort of your eyes. At these, your optician will be able to give you reliable aftercare advice and can help if you have any problems with your lenses.

If you are a new wearer, you will need check-ups during the first weeks and months of wear. After that you should have regular check-ups as recommended by your optician.
Sunglasses
Style and performance

All our sunglasses either with or without your prescription are guaranteed to fully protect your eyes from harmful UV rays and you should be able to find a pair that will enable you to make a fashion statement too, if you wish.

When buying sunglasses it is important not just to choose a pair that you look good wearing, but have good quality lenses too. This will ensure you do not get headaches due to the distortions often found in very cheap lenses.

You will be able to choose from a wide range of custom-made, prescription sunglasses, as well as non-prescription sunglasses from a range of manufacturers in standard, full UV tints and polarised versions. Our stock changes regularly to reflect the latest designs and includes classic designs, as well as high fashion styles. We have sunglasses in stock all year round.

Photochromic lenses
These are special lenses that change tint precisely when needed. 'Transitions' lenses react quickly to every situation, sunlight or shade, indoors or outdoors. They are virtually clear indoors and can rapidly change to a stylish tint outdoors to give protection against harmful glare. They provide 100% protection from UVA and UVB radiation. They are available in a choice of brown or grey tints. Made from lightweight plastic they are much lighter then glass lenses and respond to light changes in seconds.

They are really convenient when going in and outdoors to save you having to swap spectacles with sunglasses. However, they do not work as well inside a car due to the car windows absorbing the rays which activate the lenses.

Sports sunglasses/protective eyewear
Because so many sports take place outdoors it is necessary to ensure that you protect your eyes from sunlight, wind, dust and water and yet at the same time make sure your visual performance is not restricted and at best enhanced. If you need any information about these ranges please feel free to contact us and we will happily demonstrate the relevant features of the models and advise you according to your sports and prescription requirements.

Vouchers
This listing has no vouchers at present.
What's On
This listing has no future events at present.