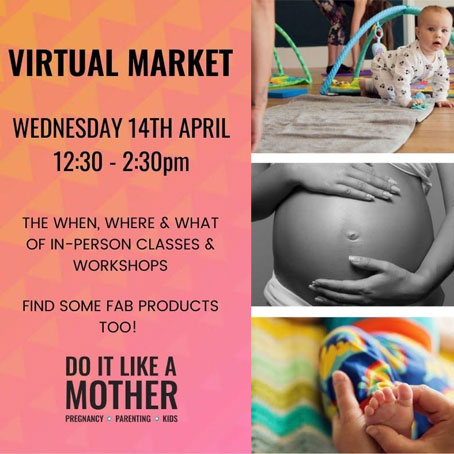 Pregnancy, Parent, Baby & Child Virtual Market
A virtual market happening on Wednesday 14th April 2021 from 12:30 to 2:30pm to find out about classes, workshops, products and fun in the Southend area.
We know that some of you are raring to go to get back to in-person classes/workshops and some are a bit hesitant and not so sure.
So, we (including a few lovely businesses) have been beavering away to bring you an online market so you can ask the questions you need to about in-person classes and workshops so you can decide for yourself when you're comfortable to join us again.
Whether you're raring to go or not you can find out what's back when, how things will run, book, sign up or just chat!
THE BONUS - we also have products from some FAB local businesses and other activities in the local area too so you can grab them now before they hit our shop and/or find out when they're open again.
We're looking forward to welcoming you back whenever you decide it's the right time for you, and in the meantime, we hope to see you at our online market.
https://www.facebook.com/events/1720817958089625
Date:
April 14 2021 To April 14 2021
Time:
12:30pm To 2:30pm
Ticket Price:

Contact Details:
861 London Road
Phone:

Website:
https://doitlikeamother.co.uk/