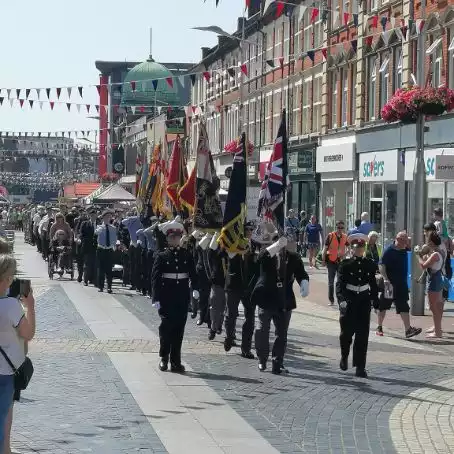 Armed Forces Day Procession Southend
Southend-on-Sea will gather to celebrate Armed Forces Day and pay tribute to service personnel past, present and future for the first time in three years.
Active service men and women, veterans and civilians are all invited to pay their respects to the service community on Saturday 25 June, as the annual tradition of a parade through the City High Street and a short service returns.
Celebrations over recent years have been cancelled due to the pandemic, but event organisers, Southend Community Events, Southend-on-Sea City Council and Shoeburyness & South Essex Branch Royal Artillery Association, were keen to see it return, particularly as this year marks the 40th anniversary of the Falklands War.
The procession of Armed Forces personnel will start from underneath the railway bridge in the High Street at 10.30am, as they march to Victoria Circus. The Rev Frank Smith will conduct a public service. There will be a 'last post', Royal Artillery Association gunfire, Reveille and music from local adult choirs and members of the Southend Boys and Girls choirs.
The Worshipful The Mayor of Southend-on-Sea, Cllr Kevin Robinson, said: "I am so pleased this event is able to return safely and that we can once again show our support to the men and women who make up our Armed Forces community, from troops currently serving, to service families, veterans and cadets.
"Southend has a long and proud military history, with Shoebury Garrison playing an important role in both world wars and fishing boats from Leigh aiding the Dunkirk rescue effort. Also, this year sees the 40th anniversary of the Falklands War. I'm sure many people want to show their gratitude and appreciation to all those that served during the Falklands conflict in 1982.
"I hope as many people as possible come into our City Centre for the service, to do Southend proud and pay respect to the brave men and women locally who serve in our Armed Forces."
Armed Service personnel who wish to take part in the event, please contact the Mayor's Office. Tel: 01702 215141 or Email: adamtregoning@southend.gov.uk.