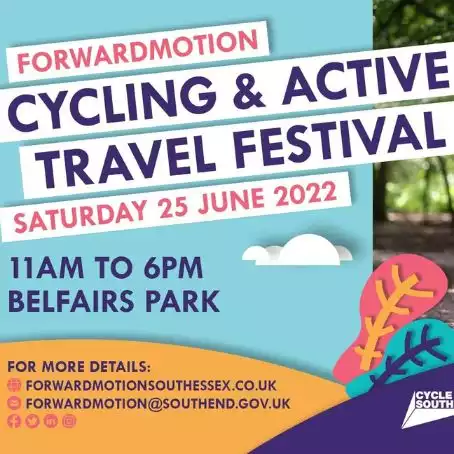 Tweed Ride and Active Travel Festival returns after two-year hiatus
Local active travel project ForwardMotion is reviving the popular Tweed Ride and Active Travel Festival, which will take place on Saturday 25 June.
The Tweed Ride will begin at Southchurch Park, setting off at 11am and finishing at 1pm at Belfairs Nature Reserve to join the brand new Active Travel Festival. The annual event was placed on hold for two years due to coronavirus restrictions and riders and spectators alike are excited to see its return for 2022.
Forward Motion invites experienced riders of all ages to join the jaunt-about-town dressed in their finest fancy threads. The full route will be published on the ForwardMotion website and will take roughly 2 hours.
Riders will then be waved into the festival by local Cllrs to join the festivities. Cllr Steven Wakefield, cabinet member for highways, transport and parking, said: "It is an honour to be invited to the revival of the Tweed Ride to welcome this year's cyclists. We should be celebrating cycling and active travel methods a lot more, and events like this show that cycling isn't just a healthy and eco-friendly method of transport, it can also be great fun and there is a wonderful, friendly community to be part of."
When the riders reach Belfairs Park, the Active Travel Festival will be in full swing, introducing new ways to travel, helping people to learn new skills and celebrating the local cycling community. The festival will feature a range of exciting activities, including a pop-up cycle track courtesy of Hadleigh Mountain Bike Club, treasure hunts both on wheels by foot and live music performances throughout the day. There will also be refreshments available from artisan trade stands.
The Active Travel Festival is for riders of any ability, and bikes will be available on the day for anyone who wishes to take part. If you'd like to bring your own bike, ForwardMotion will be available throughout the event to answer any bike-related questions and check over your bike, and they can also help to make the most of your journeys with their travel planning expertise.
Forward Motion can also help with anyone who has just started cycling or are considering doing so. Learning to cycle is a valuable skill for all ages and ForwardMotion can teach you how to cycle through various terrains and environments, such as road cycling.
Iain Banks, programme manager for ForwardMotion, added: "We are tremendously excited to host the Tweed Ride again and bring back the Cycle Festival bigger than ever with more of a focus on active travel in general. We've got lots lined up this year for people of all abilities to take part in, and we hope that as many residents as possible will join us for our first big event since Southend was granted city status."
The Tweed Ride is free to enter, so if you'd like to take part, please email forwardmotion@southend.gov.uk to secure your space.
The Active Travel Festival is also free to enter and partake in activities, with refreshments available to purchase on-site.
For further details on this exciting day of events, visit the ForwardMotion website.