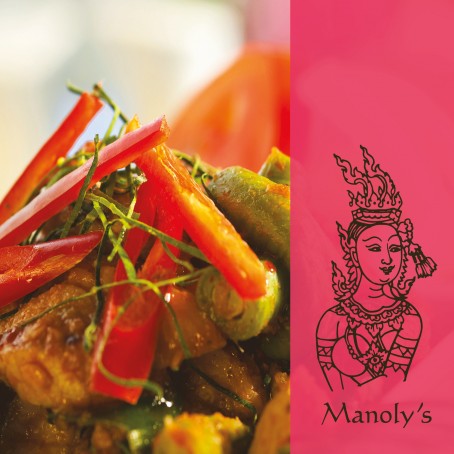 ADDRESS:
31 Broadway
Leigh-on-Sea
SS9 1PA
OPENING HOURS:
Tuesday- Saturday : 12:00 - 15:00
Tuesday - Saturday: 18:00 - 01:00
Sunday: 17:00 - 01:00

PARKING DETAIL:
Info not Provided
About


Along the bustling Leigh Broadway, an authentic atmosphere greets you as you step inside Manoly's. The stunning décor all the way from Chiang Mai, Thailand, the friendly staff, the smell of freshly cooked food that fills the air – this unique restaurant has become part of the community and has been serving the true taste of Thailand for over 25 years.

Unique and Fresh
Thai food is a marriage of centuries-old Eastern and Western influences harmoniously combined into a unique blend of fresh, hot, sour, sweet and salty flavours. 
There's truly something for everyone, whatever your preference, from wonderfully powerful curries to stir fried dishes for those who don't like spicy food but enjoy a light blend of delicate flavours.
Manoly's cooking is incredibly healthy, made from fresh ingredients and to the very highest standard. So, whether you dine in or choose our take away service, delivering 6 days a week, you're sure to be delighted with a meal that is equally satisfying to the eye, nose and palate

Vouchers
This listing has no vouchers at present.
What's On
This listing has no future events at present.
See all
---
This business is featured in the following articles: