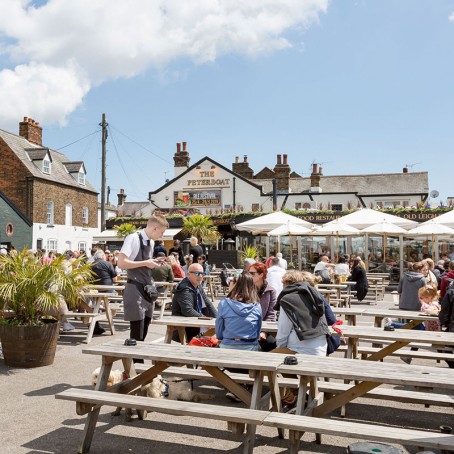 ADDRESS:
27 High Street
Leigh-on-Sea
SS9 2EN
OPENING HOURS:
Monday: 11am - 11pm
Tuesday: 11am - 11pm
Wednesday: 11am - 11pm
Thursday: 11am - 11pm
Friday: 11am - 12am
Saturday: 11am - 12am
Sunday: 11am - 10:30pm
PARKING DETAIL:
Info not Provided
About
Whether having a bite to eat in our restaurant or just drinking with friends outside in the sun, on our patio area the Peterboat offers it all.

A venue steeped in local history, traditional values and character are embedded in its history(the pub has been in Old Leigh's records since 1757), have not been lost and the venue now truly offers everything you expect and deserve from a great pub all year round.

In summer a great place to be seen, enjoy the sunshine and take in the fantastic panoramic views across the estuary, in winter cosy open fires and friendly surroundings provide the warmest of welcomes.

At any time of year great service and customer care are embedded in our ethos.

The venue offers a great variety dishes on which we pride ourselves, including our 'Traditional Fish'n'Chips' and our 'Old Leigh Cockle Chowder' and much more - all with a great view over the Thames Estuary - what better way to enjoy your food.

Vouchers
This listing has no vouchers at present.
What's On
This listing has no future events at present.