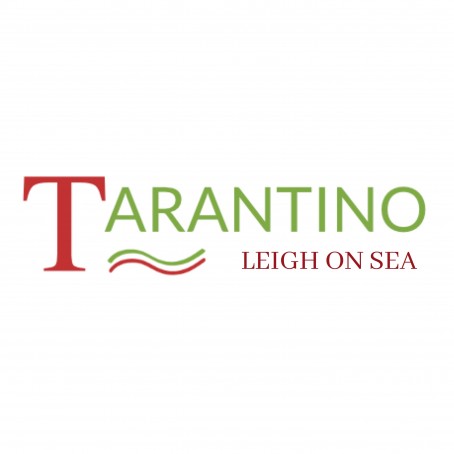 ADDRESS:
948 London Road
Leigh-on-sea
SS93NF
OPENING HOURS:
Monday - Private Bookings
Tuesday - 17:30 - 22:30
Wednesday: 17:30 - 22:30
Thursday: 17:30 - 22:30
Friday: 12:00 - 14:30 (Lunch)
Friday: 17:30 - 22:30 (Dinner)
Saturday: 12:00 - 14:30 (Lunch)
Saturday: 17:30 - 22:30 (Dinner)
Sunday: 12:00 - 17:00
PARKING DETAIL:
Yes - some limited parking
About

Tarantino (established in 1996) are authentic Italian restaurants, with bags of atmosphere and delicious food and wine, served by attentive, professional staff.
Tarantino is unpretentious. The decor is vibrant and traditional with delightful murals depicting famous places in Italy.
Dining at Tarantino Leigh-on-sea is a real pleasure. We cater for a wide range of people and we're proud so many customers come back to dine with us time after time.
Enjoy authentic Traditional Pizza and Pasta dishes and plenty more such as our popular Avocado Tarantina (Avocado Salad, Prawns, White Crab Meat, creamy Rose Marie Sauce) to Medaglionia alla Piemontese (Scotch Fillets of Beef Medallions, Wild Mushrooms in a Red Wine & Cream demi glaze, Sautéed Potatoes).
Vouchers
This listing has no vouchers at present.
What's On
This listing has no future events at present.