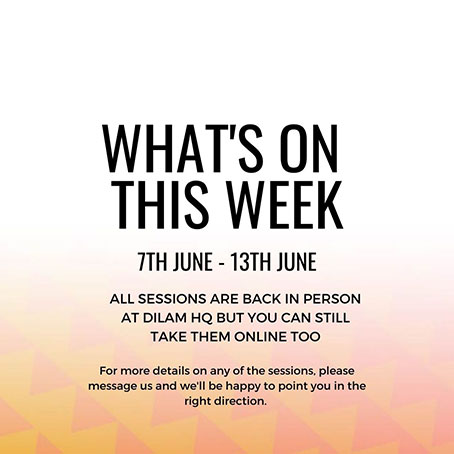 This week's Events at Do It Like A Mother (08/06/21)
Groups and classes at Do It Like A Mother starting from June 8th.
All sessions are back in person at DILAM HQ but you can still take them online too.
Tuesday 8th June
9.45am - Pregnancy, Baby & Toddler meet up in Chalkwell Park 10am - Baby Massage with Chloe 7.30pm - How to Find Calm Amidst The Chaos with Natalie
Wednesday 9th June
9.15am - Beginner Mum & Baby Postnatal Pilates with Kelly 10.30am - Follow on Mum & Baby Postnatal Pilates with Kelly 5.30pm & 7pm - Pregnancy Yoga with Sam @sam_yogabellies 8.30pm - Yoga for Women with Sam @sam_yogabellies
Thursday 10th June
9.45am, 10.45am & 11.45am - Sing & Sign with Lauren @singandsignsouthend 8pm - Pregnancy Relaxation with Steph @relaxation_on_sea
Friday 11th June
12.30pm - Sketchy Mums FREE TASTER with Farida @sketchysistersouthend 7.30pm - Adore Your Floor with Kelly @happycorepilates
Saturday 20th May
10am - Raising Change with Lauren @killingxvenus
Coming soon: 19th June - Sketchy Family Workshop 10th July - Birth Art Workshop 24th July - Pregnancy Nutrition Workshop
Sunday 21st May
9.30am - The Better Birth Club: Group hypnobirthing course with Ashley From 1.30pm - The Better Birth Club: Private Sessions with Ashley
Got any questions? Send an email over to hello@doitlikeamother.co.uk.