Local groups raise money for Herd In The City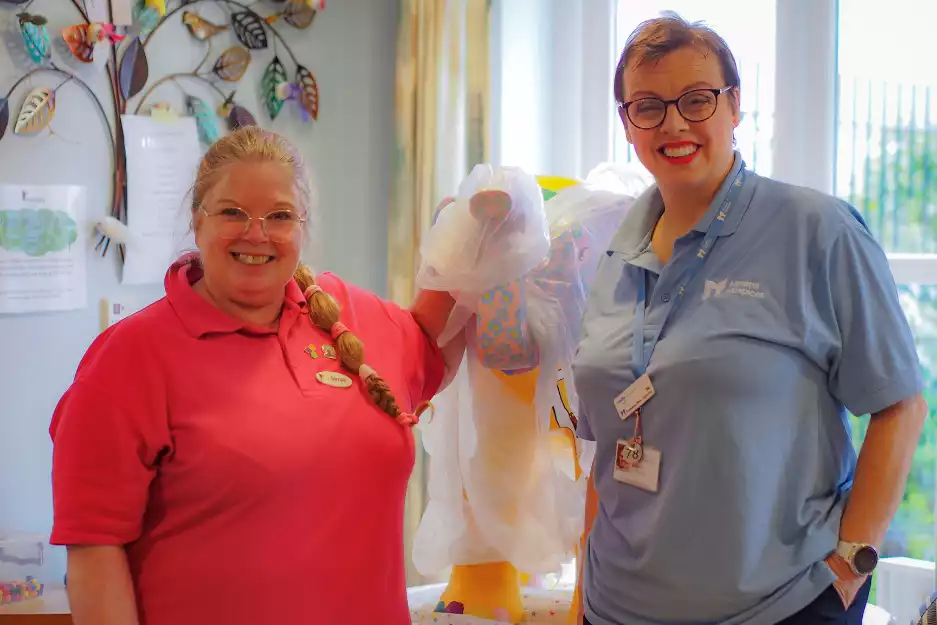 Excitement is building for a local charity art trail, and so is the fundraising by local schools and community groups who are a part of it!
Herd In The City, a public art trail created by Havens Hospices and Wild in Art, will see over 45 large elephant sculptures and 70 baby elephants placed around the streets of Southend-on-Sea, Shoeburyness and Leigh-on-Sea from Friday 14th July to Monday 4th September.
The 'mini herd' of baby elephants are being designed and decorated by local schools, groups and community projects as part of the art trails Learning Programme, sponsored by Rickard Luckin. Once the trail is over, the baby elephants will be stomping back to their forever home with their creators.
As part of the Learning Programme, the groups were encouraged to fundraise to cover the cost of their baby elephant, and they certainly came up with some elephant-astic ideas!
One of the groups, Admiral Court Care Home, a modern care home in Leigh-on-Sea, held a family fun day with a petting zoo. Attended by Su Harrison, Community Fundraising Officer for Havens Hospices, the day was enjoyed by generations of families raising money for the charity.
Local school, Hinguar Primary School in Shoeburyness, organised a fun run attended by Havens Hospices' very own mascot, Betsy the Butterfly, who saw them race to the finish line and raise £1123.
Richmond Avenue Primary School held a week of events raising an amazing £2000. The week involved a sponsored run and a cake and craft sale. The crafts were all made by the students in their classes and included homemade playdough, chocolate crispy cakes, bracelets, iced biscuits, mini cheesecakes, bookmarks and keyrings.
Miss K Moneypenny, Headteacher of Richmond Primary School, says, "We took part in the Learning Programme for the last art trail, Hares About Town, and have a leveret called 'Hope Springs'. The children wanted to continue to fundraise and help Havens Hospice, so we decided to take part in Herd In The City.
"We talked about lots of different things that we could do and decided we would do a variety of fundraising events over the year, but we never expected to raise so much money just from our first event!"
Hockley Primary School held an ele-fund day for the whole school. Stalls included 'Pin the trunk on the elephant', a 'Where's the elephant' treasure map, 'Guess the sweets in a jar' and selling homemade bookmarks. The day was a great success and raised £1191.70.
The Learning Programme is an important part of the art trail. As well as providing children and young people an opportunity to experiment with different art forms, the programme also empowers them to take ownership and showcase their artwork to thousands of people, making it accessible to all.
Annie Laughrin, Art & Education Manager for Wild in Art, says, "Children and young people are at the heart of our communities, so it's really important that we give them the opportunity to be embedded in the heart of projects like the Herd In The City.
"Every one of them has the ability to be innately creative, and the Learning Programme gives them the flexibility to develop new creative skills and explore new ways of learning and seeing the world."
As well as being an unforgettable event for all involved, the art trail will raise thousands of pounds for Havens Hospices, allowing the charity to continue to provide free, specialist hospice care supporting local families who deserve the best possible care throughout their whole life's journey.
Herd In The City is made possible thanks to Presenting Partner Southend-on-Sea City Council. Official Event Partners of the trail include BTMK Solicitors, Method IT, Ayers & Cruiks and c2c. Along with Rickard Luckin as the Learning Programme Partner, Atlantic Pacific as the Logistics Partner, Echo Newspaper as the Media Partner, Main Media as the Photography and Videography Partner, and 6rs as the Creative Partner, which has produced the brand for the project.
Wild in Art is one of the leading producers of spectacular, mass-appeal public art events, connecting businesses, artists and communities through creativity and innovation.
Keep up to date with the herd at www.herdinthe.city or follow herdinthe.city on Instagram and @herdinthecity on Twitter and Facebook.
---
ADD A COMMENT
Note: If comment section is not showing please log in to Facebook in another browser tab and refresh.
Related Items