One year of being the City of Southend-on-Sea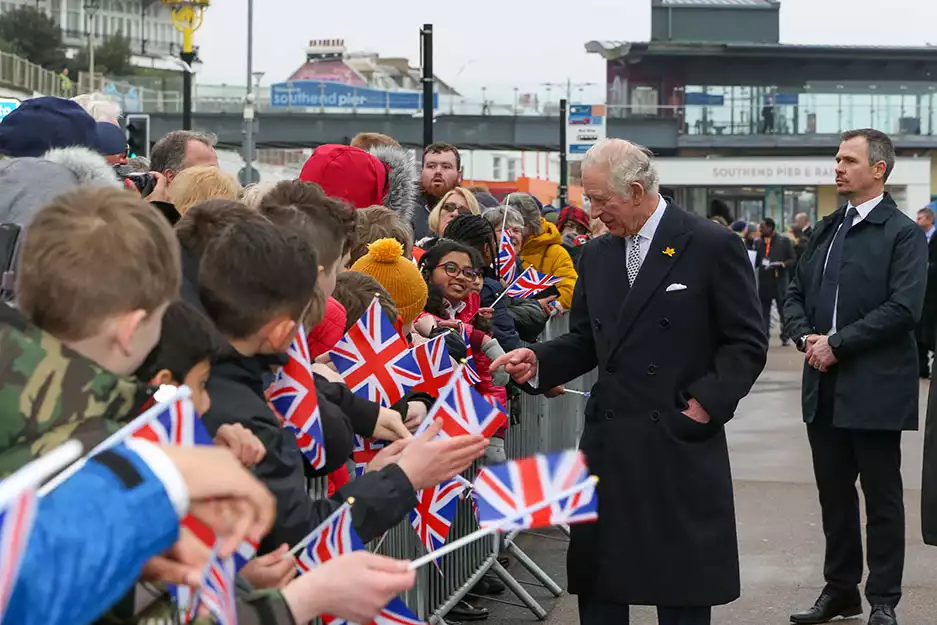 Thousands of people lined the streets of Southend one year ago to welcome royalty and celebrate our much-loved town becoming a City.
Wednesday 1 March marks one year since our now King, Charles III and his wife Camilla, Queen Consort, bestowed the letters patent on Southend-on-Sea and officially turned our Borough into a City.
The letters patent are now proudly displayed in Southend Central Museum, alongside photographs of the royal visit.
Pin badges have been delivered to every primary school in Southend as a reminder of that special day, so children in reception, through to year six can have a memento to keep and look back on.
Andy Douglas, headteacher at Milton Hall Primary School, said: "We took our Year 6s to the seafront to meet Prince Charles and Camilla and they were so amenable and engaged openly, which meant a lot to the children.
"Moving from a town to a city probably doesn't mean a lot to the children right now but the fact that they can say they were there at the time will mean so much for years to come.
"I remember hearing the children say things like 'I shook hands with Prince Charles', 'I'm not washing my hands for a week!', because it was a truly memorable experience for them, and they represented Southend really well."
The letters patent was presented to the 100th Mayor, Cllr Margaret Borton, who was also the last Mayor of the Borough of Southend and the first Mayor of the City of Southend. Her official portrait was unveiled recently at an invitation-only event and has been painted by talented Westcliff-on-Sea based artist Michelle Goldman. It has been hung in Porters Civic House.
In the past year since Southend-on-Sea became a City, a lot has happened, including:
Cllr Stephen George, leader of Southend-on-Sea City Council, said: "It has been an amazing first year for our City, a year of historic events and great change. There is much our City has to be proud of, with our events, our landmarks, the way we conduct historic events and lean on one another, as communities should, during troubling times.
"I hope as we mark the one-year anniversary, residents and visitors can stop for a moment to appreciate their own individual contribution to our City, as it is ultimately the people who make any place, what it is.
"I would like to thank all the individuals, partner organisations, charities, residents, and visitors for giving so much of themselves to Southend-on-Sea. I hope the City is synonymous with happy memories for you, of calm and peaceful periods of your life and that when you think of our seaside, smell the sea air and hear the seagulls, you smile."
The decision to make Southend a City was made by Her late Majesty Queen Elizabeth II, in memory of Sir David Amess, MP for Southend West who was tragically murdered whilst serving his local community in October 2021.
Cllr Tony Cox, leader of the Conservative Group on Southend-on-Sea City Council, said: "As we reach one year since the honour of City status was bestowed upon us, it is another opportunity to reflect on Sir David Amess, all that he did for our community and what a great man and MP he was.
"City Day on 1 March 2022 was a special and emotional day and will go down in our collective history, giving Sir David the legacy that he rightly deserves.
"Our thoughts remain with his family and friends who are still grieving and trying to make sense of what happened."
A special ceremony for the Southend City Jubilee Awards is taking place at the Civic Centre on Wednesday 1 March, honouring 70 of Southend-on-Sea's unsung heroes and heroines. The event is hosted by Blade Education, with support from the National Lottery Awards for All Fund, Southend City Community Investment Board and Southend-on-Sea City Council.
---
ADD A COMMENT
Note: If comment section is not showing please log in to Facebook in another browser tab and refresh.
Related Items