99 by 19: Calling Children and Young People across Southend-on-Sea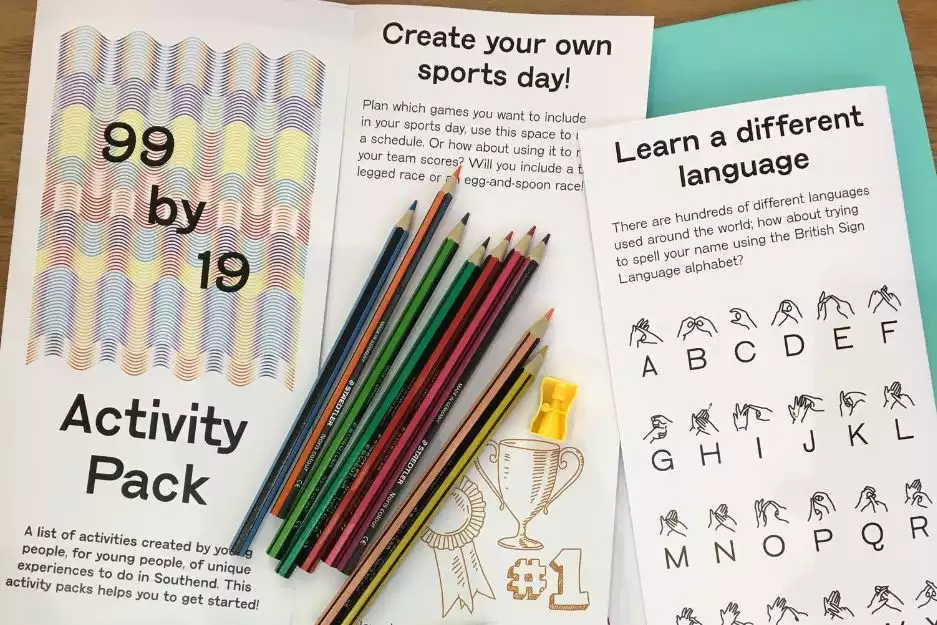 Southend's Cultural Education Partnership have crafted a new scheme designed for residents to discover 99 things to do in the City before turning 19 years old.
The project, developed by Southend's Cultural Education Partnership, led by Focal Point Gallery, aims to get children and young people involved in a variety of creative and fun ways to develop confidence, rise to challenges and seek new opportunities.
This project is part-funded by the UK Government through the UK Community Renewal Fund, Royal Opera House Bridge, and Southend-on-Sea City Council and builds on a similar project, '80 by 18' devised by University of Bristol.
Focal Point Gallery worked with young people through artist led workshops to create a list of 99 things that can be done in the City before the age of 19. The list of activities has been broken down into categories and age groups to guide participants through the programme.
Cllr Laurie Burton, cabinet member for children and learning, said: "In Southend-on-Sea we want to ensure that children and young people have every opportunity to develop their confidence and meet new challenges.
"I am so pleased that this new programme gives them the tools to think outside the box, giving children and young people ways to increase their creativity and be active before becoming young adults."
Activities include 'make a home movie', 'mend something that's broken', or 'go on a wildlife hunt'. There are also opportunities to achieve an Arts Award by taking part in some of the activities.
To view the full list of 99 activities, or discover learn how the programme was devised and read stories of some of the young people who have already taken part in the challenges, please visit www.99by19southend.co.uk.
​
Children and young people can take part as individuals, or schools, youth groups and organisations can support children and young people to get involved by running programmes for their students or users.
​Teachers, cultural organisations, creative practitioners, local authority officers or businesses working for better outcomes for children and young people in Southend-on-Sea are welcome to join the Southend's Cultural Education Partnership. It is a growing and inclusive network and all are welcome.
To find out more about getting involved in 99 by 19, please contact 99by19@southend.gov.uk
---
ADD A COMMENT
Note: If comment section is not showing please log in to Facebook in another browser tab and refresh.
Related Items