All In Music: Virtual Open Weekend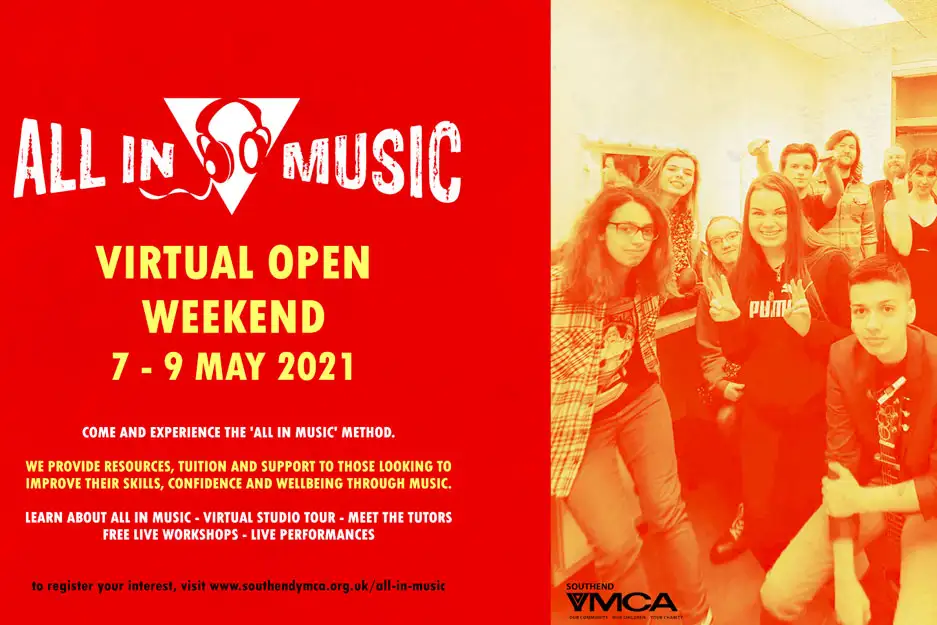 All In Music (AIM), Southend YMCA's long-established youth music project, is presenting a free virtual open weekend for the public on Friday 7th - Sunday 9th May 2021. All In Music will be hosting a series of live talks, workshops and exciting events across the weekend, so that external young people, parents, carers and youth practitioners can sample some of the services that AIM provides to the young people of Southend and surrounding areas.
Established 15 years ago, the All In Music project delivers tuition, resources and support to young people aged between 11 and 25 years of age. It aims to improve skills and confidence through the power of music to those who may not otherwise have the opportunity. The project's Southend-based music studio has a dedicated staff with a wide experience of working within the music industry.
All In Music tutor Tom Eatherton said: "We're delivering this open weekend in preparation for Covid-19 restrictions being fully lifted. We've been limited to online music sessions for the past year, so it's very exciting to be able to finally re-open our doors to the young people of Southend-on-Sea. We endeavour to increase the local awareness of our project and highlight the great work that All In Music does for the community."
Taking place on Microsoft Teams and Facebook, the virtual open weekend will cover a range of activities including live practical workshops, showcases and performances, as well as online conferences where the public can meet the team, ask them any questions that they might have about the project and receive a virtual tour of the AIM studio and rehearsal space. Friday's conference is designed for practitioners, professionals and referrers, while Saturday's conference will have a focus on young people and their parents/carers.
If you'd like to find out more or take part in the open weekend activities, register your interest on the website and the team will be in touch: www.southendymca.org.uk/all-in-music.
Follow AIM on Instagram and Facebook: @allinmusicsouthend.
The full weekend timings schedule is as follows:
Friday 7th May
12:00 - 13:00: Live Online Conference (for referrers/professionals)
14:00 - 16:00: Live Workshop - Beat Making Demonstration
17:00 - 19:00: Young Musicians' Virtual Hangout (social event for 15-18s)
Saturday 8th May
12:00 - 13:00: Live Online Conference (for parents/carers/young people)
14:00 - 16:00: Live Workshop - Songwriting (all abilities welcome)
18:00 - 19:30: All In Music Virtual Showcase
Sunday 9th May
14:00 - 16:00: Live Workshop - Group Guitar (beginner level)
18:00 - 20:00: Young Musicians' Open Mic (all welcome)
---
ADD A COMMENT
Note: If comment section is not showing please log in to Facebook in another browser tab and refresh.
Related Items