Beauty Salon and Lingerie Boutique in Essex join forces to raise money for gynaecological cancer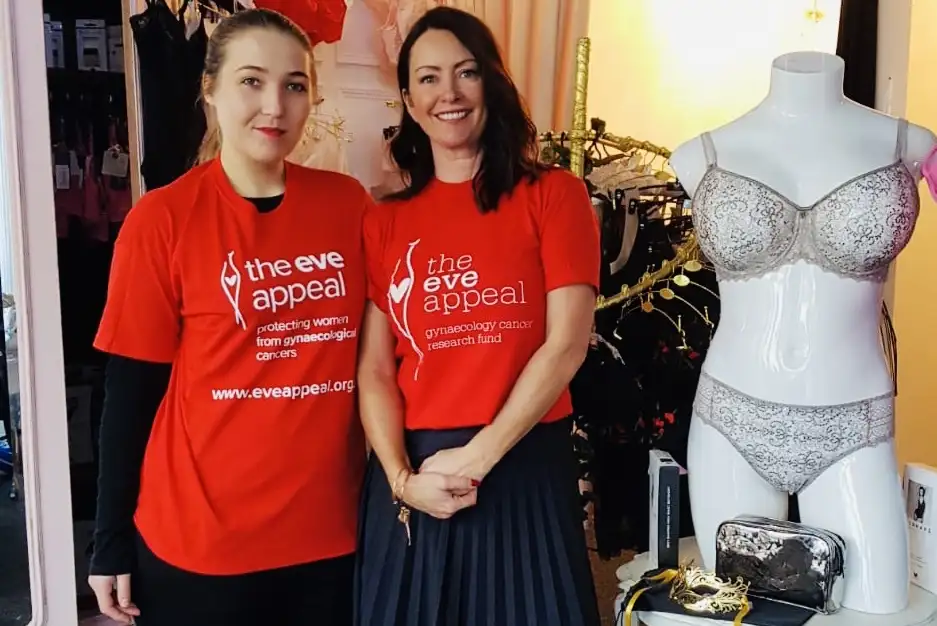 The Beauty Shop on Plaza Way in Southchurch has teamed up with Coco-Boo Lingerie on Rectory Grove in Leigh-on-Sea to create a campaign called "Vagina Is Not A Dirty Word" to raise awareness and funds for The Eve Appeal, a charity that raises money for research in to the five gynaecological cancers - Cervical, Ovarian, Womb, Vulval and Vaginal.
For 1 month, during the period 14th January 2019 - 14th February 2019, both businesses will be donating proceeds from services and sales to the charity. The Beauty Shop will be donating 10% from all intimate/bikini waxes and Coco-Boo Lingerie will be donating 10% from sales of knickers of all brands stocked in the boutique. Both businesses will also have collection boxes in store and they have set up a Just Giving page for those that are unable to visit either business for an appointment/purchase, or who would rather make a donation online.
Courtney and Alma would like to thank The Eve Appeal for their direct support in the campaign. Athena Lamnisos, CEO of The Eve Appeal, exclusively told us; "We are delighted that The Beauty Shop and Coco-Boo Lingerie are donating to us through their 'Vagina Is Not A Dirty Word' campaign. The Eve Appeal's aim is to break down the taboos of talking about women's health and gynae cancers so it's great to see women speaking out and raising money for us!"
Courtney Smith, owner of The Beauty Shop says, "We wanted to create an exclusive photoshoot to give power to our campaign and to encourage people to stand up and donate. We've decided to name our campaign 'Vagina Is Not A Dirty Word' to help break the stigma and taboo when talking about our vaginas, our gynaecological anatomy and health. Alma and I, with our volunteered team of local suppliers have collectively created a campaign and a library of strong and powerful images to highlight that what may be perceived as "normal" on the outside, could be a very different story underneath..."
Courtney and Alma would like to thank the local suppliers who have donated their time and services for free to work on the project:
* Photography by Photography by Petra (@Photography_by_petra)
* Leanne Perilly make-up artist for the photoshoot (@Leanneperilly_mua)
* Paula Bliss, Hairdresser for the shoot (@_paula.bliss)
* Danielle Zarb-Cousin, model (@Daniellezarbx)
* Camilla Bevington for marketing, general project support and charity liaison (@flamingomonroe)
Courtney also says, "I was inspired to create this campaign and to approach Coco-Boo Lingerie after seeing The Eve Appeal's 'Get Lippy' campaign. I was shocked to learn of the terrifying statistics and felt my business could help spread awareness about the gynaecological cancers. It's such a taboo subject and not spoken about enough. I meet lots of women in my salon and I wax 'intimate' parts of their body - I believe my business has the opportunity to have a much needed voice to speak out about vagina health with my customers and my local community."
"We're fortunate to have already received interest from local media outlets to promote our campaign which will help to raise awareness and funds for The Eve Appeal. We'd love even more support from local businesses and the public by sharing our social media posts when we launch our campaign early January 2019 to help promote our 4-week fund-raising initiative."
Alma Brayley-Neale, owner of Coco-Boo Lingerie says, "Mine and Courtney's businesses both cater for all women and we want to make women (and their partners) aware of the 5 gynaecological cancers, the importance of being tested and looking out for symptoms. There hasn't been a great amount of awareness in our area about the amazing work The Eve Appeal do and we want to bring awareness to our customers and our local community. We have found out that 58 women are diagnosed with a gynaecological cancer every day and 21 will die. This is a shocking statistic which needs addressing as much as possible."
*

The Beauty Shop and Coco-Boo Lingerie are donating proceeds to The Eve Appeal between 14th January 2018 - 14th February 2019.




*

The Beauty Shop is a cruelty-free, vegan based beauty salon offering core beauty treatments and focuses on self-care and empowering women in their lives by building their confidence.
JustGiving : https:// www.justgiving.com/fundraising/eveappealcampaign

About The Eve Appeal
Every day in the UK, 58 women are diagnosed with a gynaecological cancer and 21 will die.
The Eve Appeal is the only UK national charity raising awareness and funding research into the five gynaecological cancers – womb, ovarian, cervical, vulval and vaginal.
The Eve Appeal was set up to save women's lives by funding ground-breaking research focused on developing effective methods of risk prediction, earlier detection and developing screening for these women-only cancers. The charity has grown and developed in parallel with its core research team, the Department of Women's Cancer at University College London (UCL), taking place in 31 institutions across 15 countries. The Eve Appeal have played a crucial role in providing seed funding, core infrastructure funding and project funding in addition to campaigning to raise awareness of women-specific cancers.
The world-leading research that is funded is ambitious and challenging but their vision is simple: A future where fewer women develop and more women survive gynaecological cancers.
The Beauty Shop
4 Plaza Way, Southchurch Road, Southend-on-Sea, SS1 2PU. Tel: 01702 831885
Facebook and Instagram: @thebeautyshopessex
Website: www.thebeautyshopessex.co.uk
Coco-Boo Lingerie
49 Rectory Grove, Leigh-on-Sea, SS9 2HA. Tel: 01702 715115
Facebook and Instagram: @coconutsandbooty Website: www.coco-boo.co.uk
---
ADD A COMMENT
Related Items