Review: Bedknobs and Broomsticks at Southend Cliffs Pavilion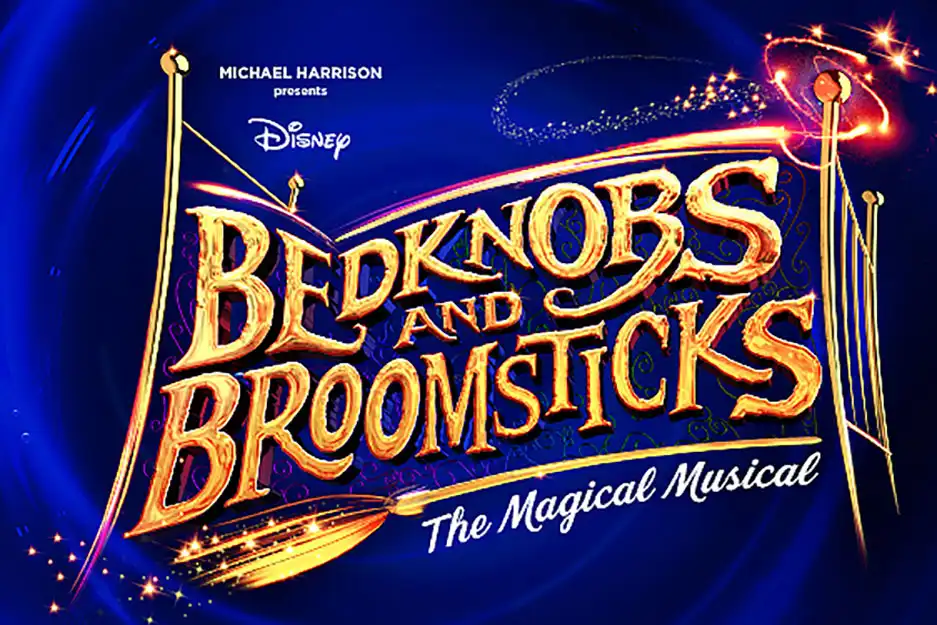 Nina Jervis writes on her experience of Bedknobs and Broomsticks at the Cliffs.

When I heard that Bedknobs and Broomsticks was to be a stage musical, my first, baffled, thought was: "How?"
A firm childhood favourite, the original Disney film won an Oscar for Best Special Visual Effects in 1972. I found it hard to imagine how a stage show would capture the film's iconic scenes, which (amongst many others) include an under-the-sea dance contest judged by talking fish.
But as I soon saw, there's a lot to love about this magical and mesmerising show, taken from Mary Norton's original books, and adapted by Brian Hill for the stage.
Directors Candice Edmunds and Jamie Harrison ensure the story starts with a bang – literally. We get a glimpse of the three Rawlins children in their loving home, before wartime bombs come a-calling. Amidst the explosions, the darkened set cracks, shudders, and is torn to pieces by stage hands.
Nobody says a word as the children are pushed onto the streets of London, then aboard a chugging train to safety in a rural village. It's a dramatic opener that promises to captivate young audience members straight away, whilst telling adults who love the film to leave our expectations firmly at the door.
Enter Eglantine Price, an apprentice witch played marvellously by Dianne Pilkington, who commands the stage throughout. She reluctantly takes the children in, and we soon see her soaring past their bedroom window on her brand-new broomstick, in a stunning purple outfit designed by Gabriella Slade.
Once the children discover Miss Price's witchery, they set out on a mission – to find Eglantine's wayward tutor, Professor Emelius Browne, and a missing book of spells.
Co-director Jamie Harrison is also the set and illusion designer. He does a fabulous job of making the show appear lovingly home-made, with talented people visibly operating puppets and scenery (one brilliant scene shows a mini-Eglantine puppet hovering on her broom in the distance!)
Yet there are plenty of slick, show-stopping elements that made me wonder, "how did they do that?" The famous flying bed is one example, effortlessly rising up to carry Eglantine, the children, and the zany Professor Browne – played to dazzling effect by Charles Brunton – off into the starry night as if by actual magic.
(Oh, and in case you were wondering if people still get turned into rabbits, yes they do!)
This is a musical, so what of the songs? The original Sherman brothers' tunes are present and correct, of course. Dianne Pilkington's crystal-clear, spellbinding voice stood out: she delivered The Age of Not Believing in a warm and heartfelt manner that lingered in my mind after the show had finished.
Additional highlights include The Beautiful Briny – complete with illuminated fish and a shimmering set – and a rousing full-company rendition of Portobello Road that saw the audience applauding heartily at the end.
Neil Bartram's brand-new music and lyrics blend seamlessly with these classics. Negotiality is a highlight; jauntily performed by the talented Conor O'Hara as Charlie, the oldest Rawlins child.
There are some notable plot departures from the film, such as a renaming of the Isle of Naboombu to Nopeepo, and an omission of the football match played between the characters and a team of cartoon animals (which would have been extremely difficult to pull off on stage!)
Our wartime enemy is also never named; the characters instead refer to the Nazis as "looming shadows" throughout. I thought this was a clever touch; allowing the children in the audience to imagine their own enemies, but also letting parents off having to explain the horrors of World War Two to their bleary-eyed kids on the way home.
There is a larger helping of poignancy regarding the children's fate as orphans, and Eglantine's own backstory is more emotionally rounded – leading to a few moist-eyed moments as the show reached its surprising climax.
That the cast received a standing ovation from their multi-generational audience at the end says it all. Full of magical warmth and wonder, this is a show for all ages to treasure.
---
ADD A COMMENT
Note: If comment section is not showing please log in to Facebook in another browser tab and refresh.
Related Items