Bugsy Malone - Review by Lynn Carroll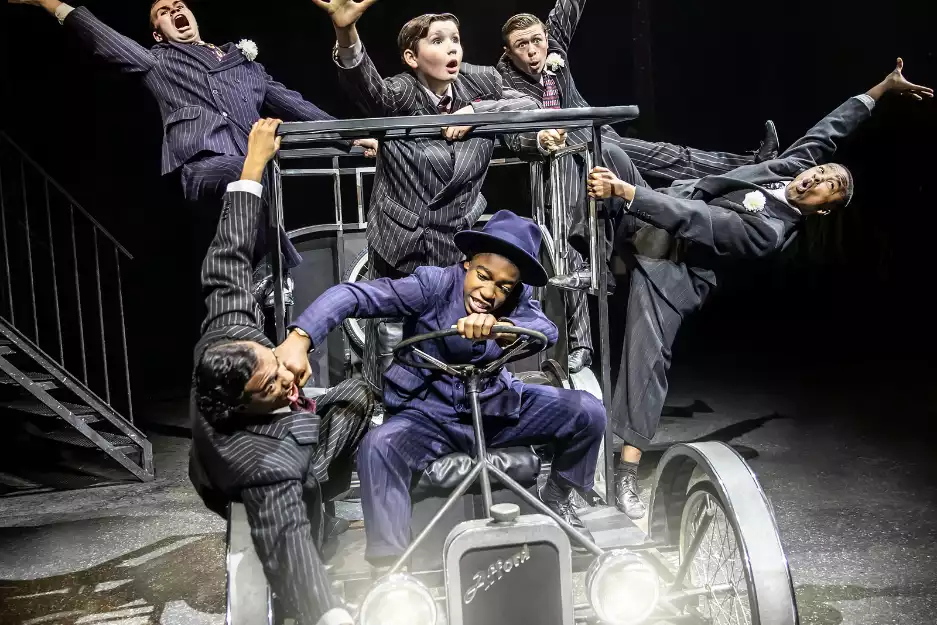 Having never seen a production of Bugsy Malone, on TV or Theatre, it was with a growing sense of excitement when I took my seat. My guest for the evening was also excited for a very different reason; she had played Tallulah in her school play, quite some time ago.
My only disappointment of the evening, which I will get out of the way immediately, was the set, which once again was dark and dreary and had to make do for the whole show. I don't think I will ever get used to set changes where the cast themselves are roped into wheeling props on and off stage in an effort to depict a different place within the story. But hey ho, not to worry, once you accept this as a given you can put it from your mind and enjoy the show.
And enjoy I certainly did. I found the mix of adult and child actors quite endearing and was blown away by the talent displayed by kids whose age I could only guess at. But why should I be surprised as I am sure the child actors have to go through auditions every bit as gruelling as the adults and their professionalism is therefore just as it should be. Perusing the programme I could see they were all attending some sort of stage school.
I am often tempted to name artistes whose performances I have particularly enjoyed but I do not wish to confuse their ability with likeability of the character they are playing. On this night I thought Bugsy Malone was played with the utmost confidence and panache, a mature performance to match that of an adult actor. I also thoroughly enjoyed 'Fizzy' bouncing around on stage and also singing his solo. It would not be fair to ignore the adults in this show so I will mention that I more than chuckled at the antics of 'Knuckles' and 'Leroy'. In fact a gentleman sitting behind us appeared to enjoy the whole show judging by his frequent laughter and obvious enjoyment.
There were many children in the audience and those within my immediate vicinity seemed captivated, making me wonder how many of them were secretly thinking about a career on the stage. No signs of boredom or sleepiness detected.
Here I must admit to finding the story a little hard to follow, but maybe I was trying too hard and what I did make out was enough to be a vehicle for the showcasing of the song and dance routines. Maybe I should have prepared myself with a little outline of Bugsy Malone as the only thing I knew was that it involved mobsters in what I assumed to be the twenties and thirties of New York. I had been a little worried about portraying gun toting gangsters but was relieved to find that any 'killings' were neatly turned to comic events where people were splurged or hit with custard pies, there was no mention of death or killing.
I definitely left the theatre far more uplifted than when I entered, the evening outside being damp, cold and rather miserable. The whole cast appeared to be playing dead by the end but rose up for a rousing encore or two before waving us goodbye. I certainly do not think I am over egging the pudding to say the evening's entertainment was joyous, uplifting, funny and very much worth a foray out on a cold (nearly) Winter's evening.
Images courtesy of Pamela Raith Photography.
---
ADD A COMMENT
Note: If comment section is not showing please log in to Facebook in another browser tab and refresh.
Related Items