Calendar Girls - Our Review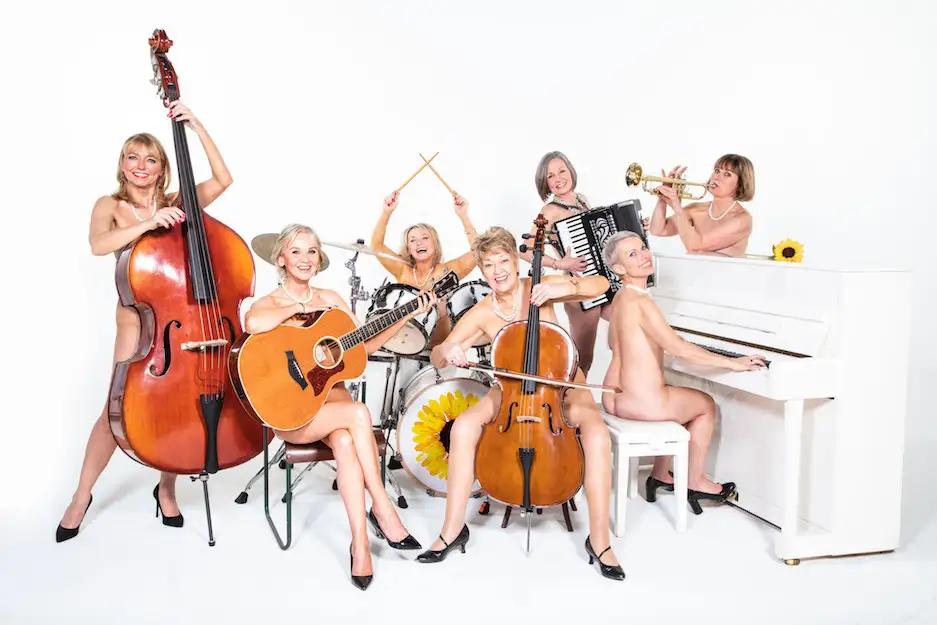 A fabulous selection of buns were on display at The Cliffs Pavilion last night at the opening night of Calendar Girls. A film, a play and now a musical, this remarkable tale is inspired by a true story, penned by Tim Firth, with music by Take That's Gary Barlow.
Twenty years ago a group of women from a Yorkshire WI group decided to ditch the jam and Jerusalem in favour of baring their bodies for a nude calendar shoot. The objective? To raise money for one of their fellow members whose husband had passed away from non-Hodgkins Lymphoma. A simple of incentive; to buy a comfortable sofa for the visitor's room at the local hospital where John was treated.
The show is ALL about the women and the light and shade of human nature. Some ladies bold and brash, others quiet and reflective. However, all these women had to take themselves right out of their comfort zones to achieve something extraordinary. And they really did. The calendar was a huge success, making a lot of money for the Leukaemia Research Fund.
Playing in Southend Cliffs Pavilion as part of its UK tour, the cast is full of of familiar faces from the world of TV and stage. At the helm, there is Annie, played by Sarah Jane Buckley, the wife of John, distraught at having lost her husband to cancer and determined to make a difference. Her best friend, Chris, played by Rebecca Storm, is full of sass and hits on the idea of the calendar. The two of them have a wonderful on stage chemistry, a true intimacy and humour that makes the story all the more believable.
The rest of the ensemble cast are brilliant. Sue Devaney as single mum and Vicar's daughter, Cora, gives a fabulous down to earth, non-nonsense performance. Lisa Maxwell plays the super glamourous Celia, with warmth and spirit. I was particularly impressed with Lesley Joseph, who took on the gem role of Jessie. Lots of fun one-liners and undoubtedly got the biggest cheer when she stripped down, with only her knitting covering her modesty!
The clever and funny staging reaches its peak in the de-robing scene when the props for the calendar are wheeled in and out and the women work together to put each other in place for their photo. Great stuff!
This is a feel good show with lots of laughs and tears. At the heart of the musical is, of course, the score and I think Gary Barlow has done a fantastic job.
A great night out with much to enjoy. Definitely worth a trip to the theatre for this one.
Playing at Southend Cliffs Pavilion until Saturday 27th April 2019.

To book your tickets please click here
---
ADD A COMMENT
Note: If comment section is not showing please log in to Facebook in another browser tab and refresh.
Related Items