Charity holds celebration party for Marathon Runners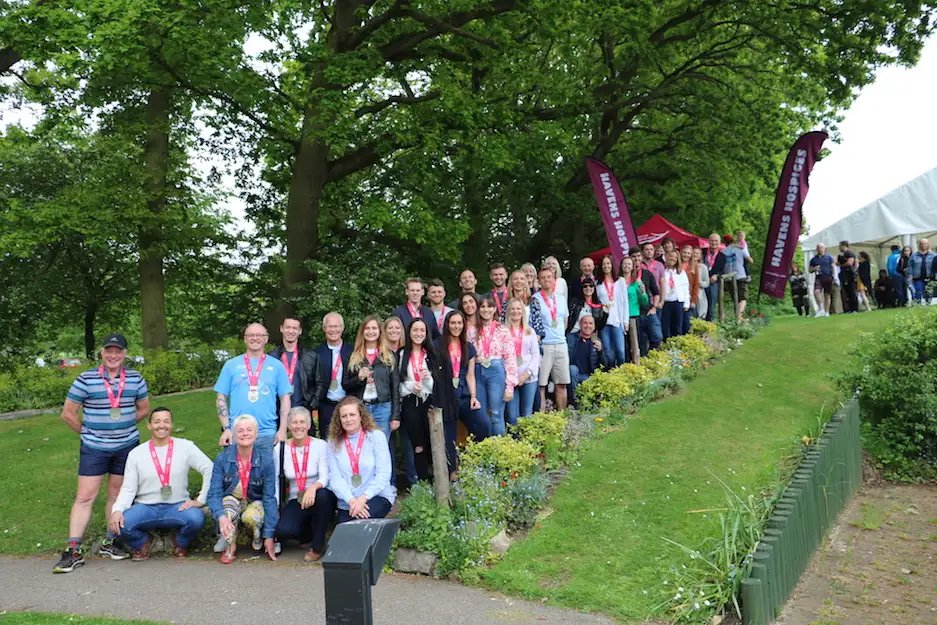 A team of runners who completed the London Marathon for local hospice care swapped their trainers for barbequed treats, celebrating their achievement of raising around £200,000 for the charity.
Havens Hospices, which includes Fair Havens Hospice, Little Havens Hospice and The J's Hospice, hosted a 'thank you' event on Sunday 19th May to celebrate the incredible success of Team Havens – more than 100 runners - at this year's Virgin Money London Marathon.
Judy Grocott, Events Manager at Havens Hospices said, "I first meet our runners at the end of October and then we all go on a journey together as Team Havens with monthly training sessions and then on the big day I'm there cheering them on. It is great to celebrate together and I love hearing all about their highlights.
"I want to thank every member of Team Havens – all our runners and our amazing volunteers who support them every year throughout their training and on the day really are 'Making every day count' for everyone we care for."
The charity created a thank you video using photos and videos that followed the team's journey from their first training run to the big day. Throughout the afternoon members of Team Havens shared their stories and highlights including Keeley Davis from Great Waltham who ran her first marathon to raise money for Havens Hospices as they help her close friend Lucy, who's ten-year old son Harry has Mitochondrial disease.
She said "My time was three hours fifty minutes – being my first marathon I was over the moon! The day was brilliant – getting the coach down with Havens Hospices was fantastic as I was very nervous. The support right from the start from everyone was fantastic.
"I felt great up until mile 18, but from mile 20 onwards I had to dig deep and focus very much on the reasons I did this for charity and all the people that needed me to do this. So, it was a mental challenge as well as physical. The support from the crowds was fantastic and seeing friends and family at the end made my day! An experience I will never forget, and I will always be grateful for. "
If you've been inspired and would like to join Team Havens for next year's London Marathon or to find out about any of the charity's other events including their Chelmsford Marathon in October please visit www.havenshospices.org.uk/events
Photo: 1. Celebration Time – Team Havens are on track to raise £200,000 for the charity
---
ADD A COMMENT
Note: If comment section is not showing please log in to Facebook in another browser tab and refresh.
Related Items