Council hops on to support Hares About Town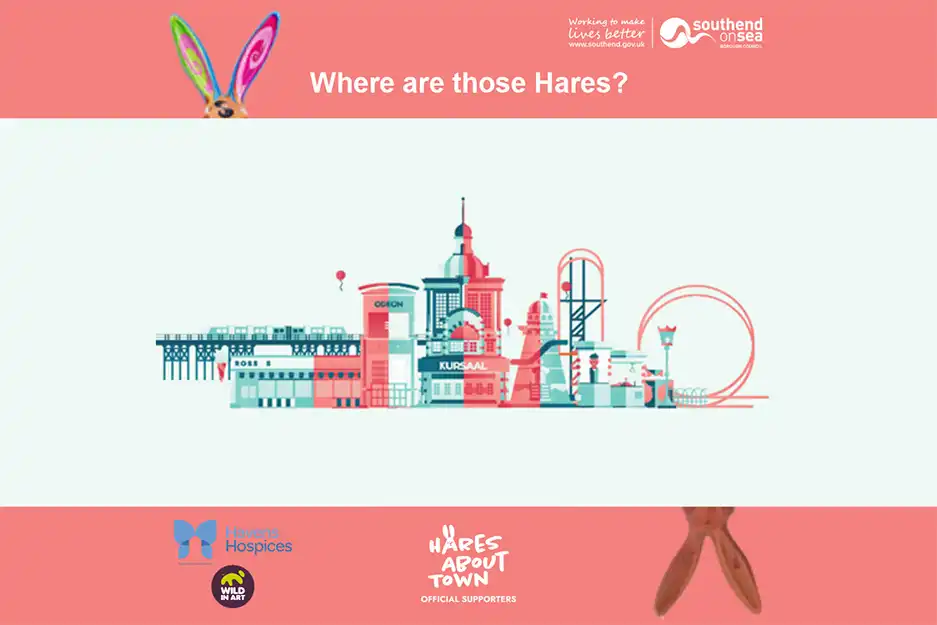 Two of the hares in the Hares About Town Art Trail – Rusty and Hare's Magic – are being sponsored by Southend-on-Sea Borough Council.
Hares About Town is an extraordinary public art event which will take place from Thursday 1 July 2021 until Sunday 12 September 2021 and aims to raise vital funds for Havens Hospice.
Each Hare sculpture found along the trail has been designed by an artist and sponsored by local business, to bring local residents and visitors hours of fun finding them and exploring the trail.
In addition to the hunt, if you download the Hares About Town App, when you find a Hare and enter the four-digit code into the app, you will be entered into prize draws and competitions.
Once the event has ended, many of the Hares will be available to purchase through a public auction, which means anyone can take one of the spectacular Hare's home with them.
Cllr Carole Mulroney, cabinet member for environment, culture, tourism and planning, said: "It's wonderful to see so many people coming together to raise much needed funds for an essential local charity, Havens Hospice. This event brings a fun and exciting art trail of discovery, giving local people and visitors of Southend a wonderful free event that takes place over the Summer.
"I would like to thank Hares About Town, Wild in Art, and all those who helped to organise and contribute to this event. And I encourage everyone to get involved in the festivities and follow the trail to see what you will discover and if you can donate to support this fantastic charity then please do so."
Keep an eye on our social media channels for more information on the activities, alongside the trail, coming to Southend over the next 10 weeks, with providers such as Active Life, Forward Motion, Everyone Health and many more.
To find out more about Hares About Town, please visit: https://forwardmotionsouthessex.co.uk/2021/05/hares-about-town/
The artists and ideas behind our sponsored Hares are as follows:


Rusty by John Bulley:
John Bulley is a local artist renowned for his work in the Southend community. He has worked as a freelance painter in various roles- including film work. Director of Estuary Fringe Festival, John discovered his love of street art whilst working with disadvantaged children with the Princes Trust.
John says, 'the idea behind 'Rusty's artwork is that he is a mystery sculpture dredged from the Thames estuary. The 6ft Hare was raised from the muddy waters of the Thames estuary after it became snagged in a trawlers fishing nets...expert archaeologists are baffled as to its meaning...one of them said 'it might be some sort of art piece'…


Hare's Magic by Peter Poole:
Peter Poole creates artwork that blends realistic elements with imaginative ideas, including still life, landscape and urban scenes. He has designed backdrops for a children's theatre company, and taken part in three previous Wild in Art projects. Hare's Magic (or Mr Trickster as Peter likes to call him) has lots up his sleeve. Peter says, 'a string of scarves, a squirty flower, and a quick line in patter too – Hare's Magic is an ace with spades, sharp as a diamond, and the heart of the magic club. But where's the cheeky hare that popped out his hat? Maybe hiding around the back!'
---
ADD A COMMENT
Related Items