Council opens community Climate Hub in Victoria Shopping Centre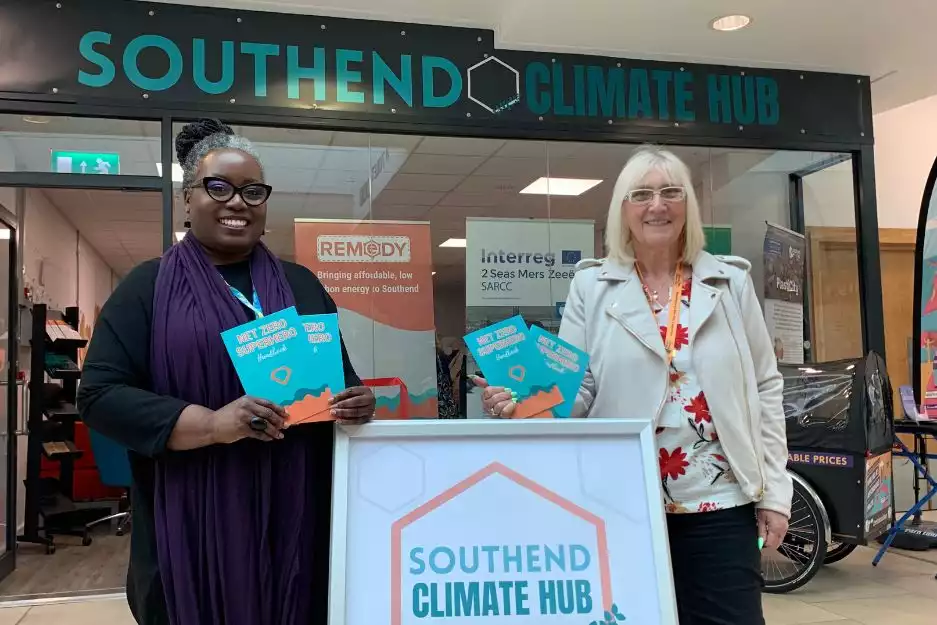 The first ever Climate Hub in Southend-on-Sea has officially opened its doors to support the council's ambition of reaching net zero carbon emissions by 2030.
Located at Unit F15 on the top floor of Victoria Shopping Centre (next to IndiRock), the hub provides a physical space for education and engagement. The aim is to unite residents, businesses, schools, universities, and faith groups in support of the council reaching net zero carbon emissions by 2030 and to embrace the challenges of the Climate Emergency Declaration made in 2019.
Invited guests from across the city saw Cllr Carole Mulroney, alongside Jo Gay, the council's head of climate change, cut the red ribbon to officially open the Climate Hub.
Jo Gay, the council's head of climate change, said: "Our mission is to share resources and engage with community stakeholders on the council's corporate Climate Change programme.
"The main objectives of the hub are to showcase the work the council is doing to meet its net zero ambitions and demonstrate a range of low and zero carbon solutions.
"We will look to bring together experts and stakeholders to share ideas and practical solutions to enable residents and businesses to reduce waste, lower emissions and their overall negative impacts on the environment."
Cllr Carole Mulroney, deputy leader and cabinet member for environment, culture and tourism, added: "The council has a crucial role to play in leading climate change action across Southend-on-Sea and I am delighted the council is supporting the launch of the Climate Hub as it puts us in the heart of the community where we can educate and engage directly with residents, schools and businesses.
"We want to empower residents by raising awareness of climate risks. Educate future generations through workshops and outreach events and promote the wide variety of green jobs available.
"We also want to listen to what the community wants and hopefully ensure the hub is a place they will enjoy and use."
Upcoming events at the Climate Hub:
Saturday 11 June, 9am to 12noon Southmenders Repair Café
Tuesday 14 June, 5pm to 7pm Forward Motion – bike repair workshop
Wednesday 15 June, 10am to 12noon Trust Links Eco Day – Microwave cooking tips
Thursday 16 June, 1pm to 3pm 3D printing demo and workshop
For more information about Southend-on-Sea City Council's Climate Change activity, please visit the council's Climate Change pages.
---
ADD A COMMENT
Note: If comment section is not showing please log in to Facebook in another browser tab and refresh.
Related Items