Foodie Rich - West Road Tap Summer Food Pop Up - Stoked Vegan BBQ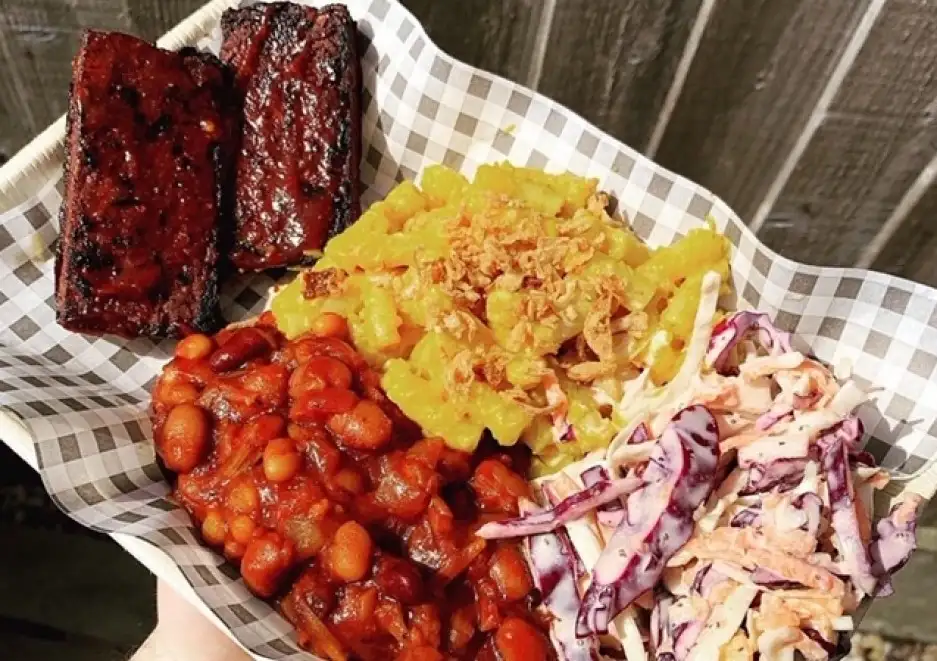 It's now become a highly anticipated summer event; the annual West Road Tap street food pop ups. The Tap has only been resident in Westcliff for a relatively short period of time, but they've done wonders for the local craft beer scene. And as most of you know, I love craft beer! The Tap have encourage other beer entrepreneurs to take the plunge too. We've now got The Crafty Half, Hoppily, Mile & A Third and Craftwerks. All of which serve up some damn fine ale, and a must visit for likeminded craft beer aficionados.
But back to those street food pop ups. Craft beer and food go hand in hand, but it has to be the right kind of food. As with beer, there's plenty of shit food out there. I mean, a Wimpy pop up at a craft beer bar just wouldn't work. We want little independent businesses who practice their craft with love and enthusiasm. And that's exactly what we've had at the Tap in previous years. The Brisket Tin were first to set up shop in the small beer garden at the Tap, and what a tremendous job they did. Jim and the boys bought us low and slow smoked bbq and It was an instant hit! Good ol' Henry Burgers has spent a Saturday afternoon at the Tap serving up burgers and dogs as they should be. And who could forget Southends cult café, Legend Deli! What chef Jay don't know about street food ain't worth knowing. So you get what I'm saying, this is craft beer matched with craft food; the perfect combo.
The pop up season is well under way, and we've already seen Henry and his burgers. Summer season regulars like the Brisket Tin and legend deli have still to tempt us in with their fine fare, and I won't be missing those I can tell ya. But it was the last pop up a couple of weeks ago which sounded interesting; Stoked Vegan BBQ. That's right, vegan bbq? I'm ashamed to admit it, I don't know a great deal about vegan food, especially vegan bbq. I'm an out and out carnivore. A perfect bbq for me consists of hunks of marinated pork, rare steaks, gourmet sausages and proper homemade burgers. Can Vegan bbq be any good? The closest I've ever come to vegan bbq would probably be corn on the cob! I was intrigued. Can this type of bbq really rival my usual meat fuelled extravaganza. I had to find out.
All of the Taps summer pop ups draw a crowd, and this was no different. The place was packed, and as soon as the food was ready to go, they were queuing out the gate! Stoked were serving up a Chik'n Slider which obviously was not real chook, but quite a good looking bun filled with 'chicken' garlic aioli, coleslaw and jalapeños. There was also Mac and cheese, but I had my eye on the BBQ plate. I was presented with a smoked tempeh rib, mac n cheese, pit beans and slaw. Got to say, it looked pretty damn good. The rib, although not my usual type of rib, had texture, and was topped with a sticky bbq sauce. The Mac n cheese? For a vegan alternative it worked, it looked and tasted the part. But as a non vegan, you can't beat real cheese! The winners for me were the pit beans and slaw. You would not have known these were vegan. It's like they just happened to be vegan. The beans were in a smokey, sweet and rich sauce. And that slaw was crunchy, fresh and creamy! Those two dishes were spot on. I liked the rib and the mac n cheese, but for me, it's beans and slaw all day! This pop up even attracted the attention of another craft beer bar just a stones throw away. The lads at a Mile & A Third wanted to get in on the action, and I was only too pleased to spread the word about good vegan bbq. Lou and I swiftly marched another bbq plate down to Westcliff's other craft beer emporium, where the vegan offerings were greatly received. This delivery service has now been aptly named 'Deliver Lou!' We did the same when Henry Burgers were in town, and I'm sure we will be doing more deliveries at future events!
Well, Stoked Vegan BBQ has opened my eyes. I'm not a convert, I could never give up a low n slow 12 hour oak smoked hunk of brisket. But for bbq food that isn't meat, these guys are serving up some pretty tasty grub. My vegan experience has had a lasting impact and for the good I suppose. I now challenge myself once or twice a week to go meat free. You know what, I don't miss meat at all! It's all about what you cook. One of my food heroes Rick Stein once said 'a good vegetarian dish should just not need meat'. And I really get that. Some of my most memorable foodie experiences were vegetarian. In Rome I couldn't get enough of perfect spaghetti with garlic chilli and olive oil. In India I would make a b line for the veggie dishes as they were bloody awesome. So why not bbq food? Stoked go that extra mile by serving up vegan bbq, and I take my hat off to you, thats not easy. It's was tasty, and that's high praise from me, the self confessed back yard carnivore bbq pit master! Not a weekend goes by where I'm not smoking some kinda meat. So who'd of thought, me bigging up vegan bbq! Keep up the good work guys and I look forward to seeing you again soon for some more of that vegan bbq
To read all of Rich's previous review please click
here

F
or more details on West Road Tap and their future events visit them on Facebook
here
---
ADD A COMMENT
Note: If comment section is not showing please log in to Facebook in another browser tab and refresh.
Related Items