Great British Spring Clean set to take over the town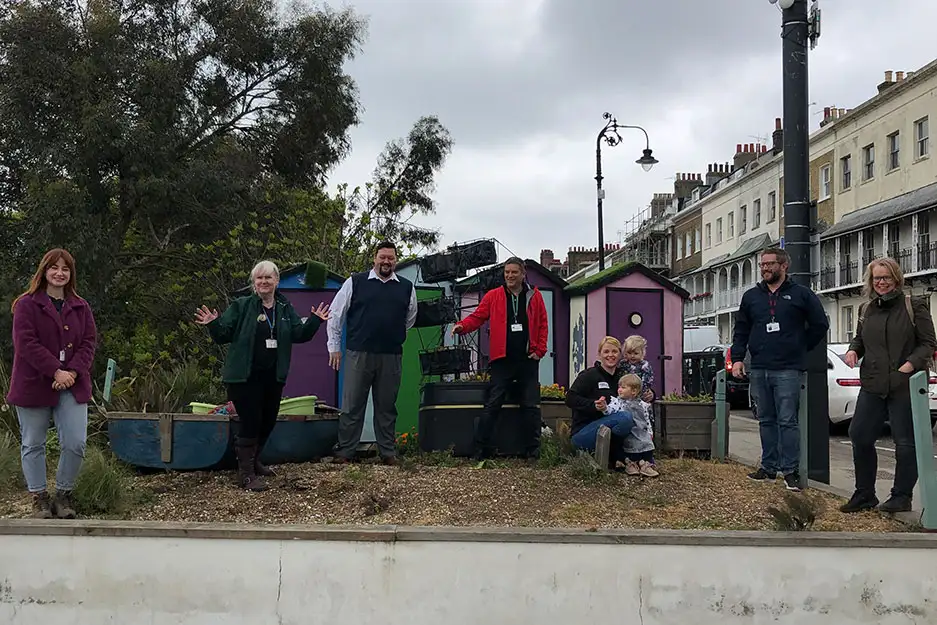 A national campaign to get local people involved in cleaning up their community is set to launch this week – and here is how local groups can get involved.
The Great British Spring Clean is a campaign run by Keep Britain Tidy and is set to run from Friday 28 May until Sunday 13 June. Southend-on-Sea Borough Council is delighted to be supporting the event with the help of the Make Southend Sparkle initiative.
Over the course of the two weeks, community and resident groups are invited to take part in litter picks in their local areas. Make Southend Sparkle already have a jam-packed first week of events taking place at various beaches and parks across the Borough, by providing litter picking equipment to anyone in groups of four or more willing to take part. Equipment includes hoops, bags, litter picks and Make Southend Sparkle will also arrange for collection of litter at the end of the day.
As part of these events, local community groups and organisations have pledged to take part in the following clean ups:
Refreshing the flower bed and beach huts at Pier Hill, which were originally used at the RHS Hampton Court Flower Show in 2018 - "fun by the sea" – which was built by the council's Youth Offending team. The Park Inn Hotel will help with painting the beach huts, tending the plants and watering to get the bed looking lovely for residents and visitors.
A Better Space (Milton Gardens) are having a volunteer action day to tidy Milton Gardens, including sweeping, litter picking and painting the animal statues in the nature walk.
A Better Start Southend and the Turning Tides Team at SAVS will be running events for young families in three locations. This will include wildlife information for young children and litter picking, to show the importance of disposing of rubbish properly.
Project 49 will be having a litter pick along the seafront and Cliff Gardens.
Southend BID will be taking part in a litter pick along the High Street and seafront over two days to help spruce up the areas as part of the event.
The council's waste and recycling partner, Veolia, will also be supporting the event by providing additional litter picking equipment and will be working with the groups and Make Southend Sparkle to ensure litter gathered at the events is collected by the waste crews upon completion.
Any groups or residents wishing to form a group for a litter picking event as part of the Great British Spring Clean should email makesouthendsparkle@southend.gov.uk to ensure all the appropriate risk assessments are in place.
Cllr Carole Mulroney, cabinet member for environment, culture, tourism and planning, said: "The Great British Spring Clean is always a very popular event in our town and I urge the local community to get involved. It shows that our residents do care about their communities and the impact litter has on the environment. This year, we are keen to see as many events as possible, and for us as a town to not just participate for the duration of the event, but to take the passion for keeping our town clean and tidy forward and make our Borough a clean place to live, work and play.
"We have so many fantastic volunteer groups who do so much for the town, by giving up their own time to clean up after a select few decide their litter is not their problem. I would like to personally thank everyone involved. I would also like to thank Veolia staff for their continued hard work, particularly throughout the very challenging summer months, where we see an influx of visitors to our parks and beaches.
"Finally, I would like to praise Make Southend Sparkle for their dedication to the town. They carry out work and events throughout the year which sometimes goes under the radar, but they are an invaluable asset to our town."
Groups taking part in the event are encouraged to share pictures of their clean ups using #GBSpringClean and tag the council's Twitter (@SouthendBC) and Facebook (@SouthendBCOfficial) pages.
For more information on the event, please visit the
Keep Britain Tidy website.
---
ADD A COMMENT
Note: If comment section is not showing please log in to Facebook in another browser tab and refresh.
Related Items