Interview: the Cast of Aladdin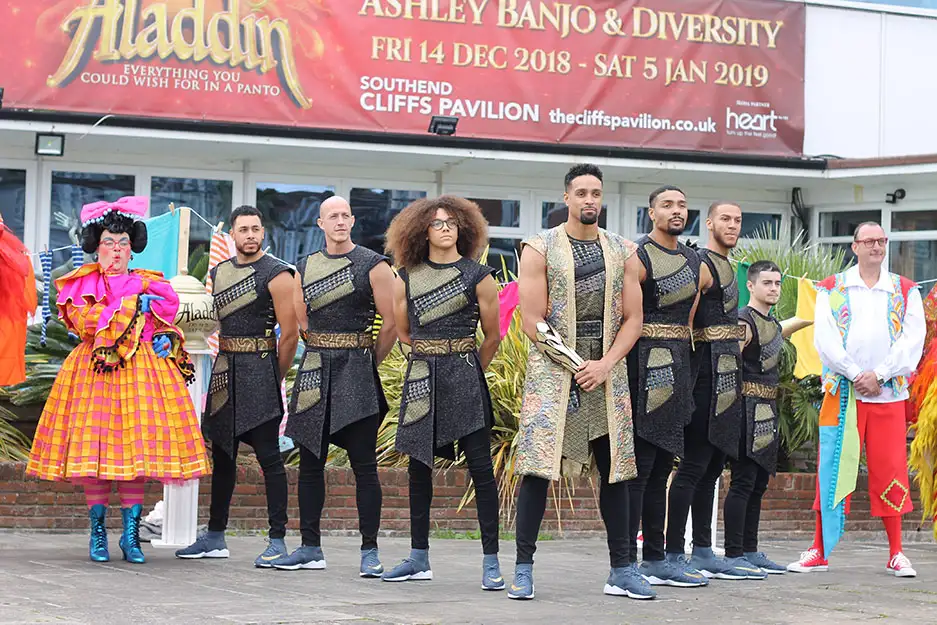 Ahead of the spectacular panto coming to Cliffs Pavilion this season, Leigh-on-Sea.com had a chat with the cast of Aladdin: Ashley Banjo and Diversity, Ian Royce and David Phipps-Davis.
DIVERSITY (Genies of the Ring)
Do you have a pre-show ritual?
Ashley: We do something called a "Drum Roll", where we all get in a circle, facing inwards, and we beat our fists together and it makes a noise like bududududum. We do it every single show and then we have to go round and (this sounds so crazy when you say it out loud) personally greet and wish good luck to every single person in the show, everyone has a specific order, and the order can't change, we've been doing it the same for years, so our pre show ritual literally lasts about 15 minutes. Oh, and Warren has to put his jacket on last. - not that we're superstitious or anything.
If you had a flying carpet, where would you go?
Jordan: I'd probably go to anywhere in America that has something called Jersey Mikes, it's basically like an American Subway and the sandwiches are just the best, they're unreal. its like eating a giant square.
If you could steal a wish from the lamp, what would it be?
Ashley: It's wrong to steal isn't it?
Jordan: I would wish for infinite wishes… No, infinite genies, because then you get infinite wishes anyway, and infinite friends.
Ever been to Leigh-on-Sea?
Ashley: Yes, I love it, I was just saying it's really nice when you walk out here on the balcony, you see how lovely it is here. Leigh is one of those places that it is just beautiful to be. Even if the weather is a bit cold and grey like today, it's still beautiful.
Terry: … and the seafood is amazing!
Perri: … and the donuts!
Jordan: Jersey Mike's and fried donuts, great way to advocate healthy eating, guys!
You guys are known for your strong work ethic, who works hardest and who is the laziest?
All in unison: Ashley is the hardest worker, definitely Ashley.
Ashley: Thank you boys, for that. There's a guy not here today actually, who just by default he gets the title of "laziest" - his name is Sam Craske - he plays far too much Fortnite, that's probably why he's not here today.
You've trod the boards before as the sultan of Morocco, where you were nominated for a stage award for best new comer, do you have any advice for someone wanting to get into stage acting?
Ashely: Well, I think what you mentioned before about work ethic, I feel like no matter how successful we get, no matter what show we do, we treat every single show the same - ten people, 20,000 people, UK, abroad, wherever it is, we have respect for everyone we work with, we work as hard as we possibly can, and put on the best show we can every single time. How many shows did we do in London, 60? Something crazy like that, and we didn't ever go out and think "this is the 47th performance". It was a performance and every single person in that cast went out like it was night one. So yeah, work hard. Unlike Sam (laughs).
You guys are doing two shows a day, sometimes three, what's your secret? Cod liver oil?
Ashley: I'll let you in on a secret, we've never done a three-show day before, its a first for us. So this is gonna be interesting but do you know what, I think we've been building up to this, you know, how boxers and footballers build up to events and keep match-fit. We wouldn't be able to start a run like this if we were just sitting at home chilling. We have to prepare and get ready for it so we can go in fighting-fit.
Jordan, you've been on I'm a Celeb, and Perri was on the Great British Bake Off, what's scarier, opening night or a Bushtucker trial/showstopper?
Perri - Oh showstopper, was the scariest time ever.
Jordan - It depended on the trial, because there are some opening nights when you're feeling scared, you're looking around thinking "what's this bit, whats that bit" and it can be nerve wracking but there were also trials where they make you stand on a building 300 foot in the air.
Perri- You may have had to stand up on a building, but have you had Paul Hollywood look at you while you're baking, that's scary, so I think I top that.
Ashley: Did you get a "Hollywood handshake"?
Perri- Yeah I did actually, star baker as well.
Ashely: So you basically won bake off...
Jordan: … and Splash, you won Splash.
Perri: Oh... did I?
IAN ROYCE (Wishee Washee)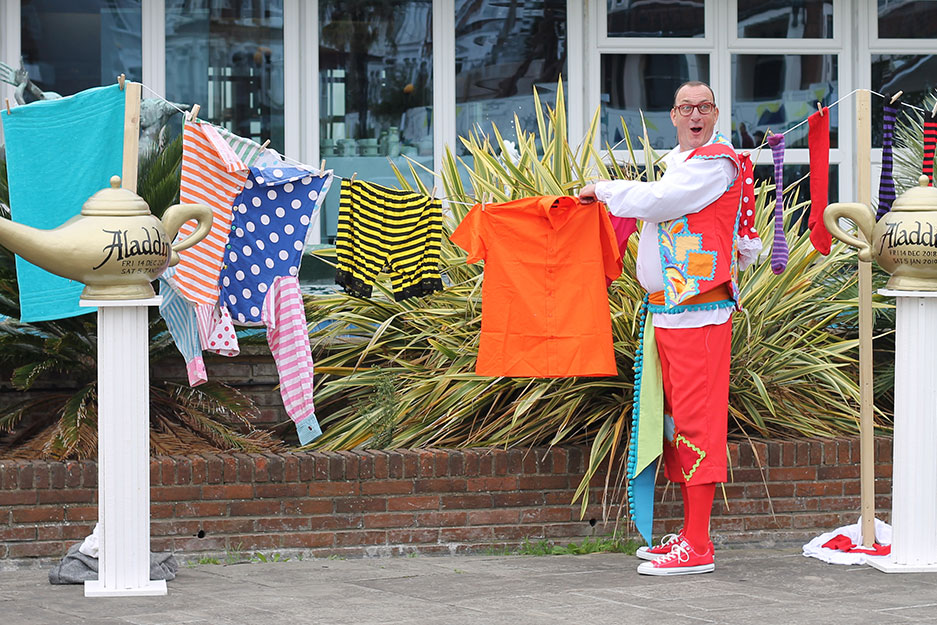 You've predominantly worked in TV, how does treading the boards compare?
Ian: I'm a comedian, I worked on the X Factor, Britain's Got Talent and Piers Morgan's Life Stories since day one, so I've been in telly for the past 24 years doing warm up and stuff. It's great! Stage work is completely different from that, but not so much for me because I warm up the audience so I'm used to it. Doing pano is pretty much the same, nothing beats live energy. Sometimes when you're doing a gig in a smaller venue it can be quite hard, but my whole life been in front of an audience and I love it!
You've played the Cliffs before, what do you think of the venue?
Do you know why I like this venue more than anything? First of all, it's beside the seaside, which is lovely because you can go for a walk in the morning, there's lovely weather (hopefully), and it's just nice! I love the theatre here, I love the people, you get the whole of Essex coming to this theatre, whereas a theatre maybe twenty miles down the road might do the same thing but here it's like this sort-of catchment area, and i love it, stilettos on the broadway!
What's it like sharing the stage with Diversity, having been there at their first audition?
It's the weirdest thing in the world. When they did their first audition everyone just sat there and went "wow", because there was nothing like it before, no one had ever seen anything like it before in this country and it was just beautiful. Of course they won, beating Susan Boyle, which was, not really a shock because they were deserving of it, but it was unexpected because everyone had their money on Susan to win it. I think if you ask the boys they didn't even think they were going to win. It's great working on these shows because you get to follow peoples' careers, and you see them before they're anybody. One direction for example, and Olly Murs, the list goes on and on and on, and you keep in contact with them. Speaking of One Direction, I went to America with them when they did their Madison Square Garden gig, and it was immense, I'd never seen anything like it. Just thousands upon thousands of people everywhere, it was mad.
Is your daughter excited to see you on stage?
I've got one girl, Roxanne, I just embarrass her, but she's coming down. She turns 16 on January 1st so we're really excited. She's more nervous that I won't learn the words, but she's gonna help me because I'm terrible with words. I'll be walking on one minute before opening night still reading the script!
Do you have a pre-show ritual?
Normally I just sort of wander out, I'll tell you what I do for each show; normally we do two shows, for the first show I put my right sock on first, and for the second show I put my left sock on first. I don't know why I do that, I've done it for years. It's one of those thing you can't stop. It's like your lottery numbers, once you've picked them, you can't stop because you know next week they'll come up. That's the only ritual I really have, I tend to hug a lot of people, I'm a big hugger. I don't do handshakes.
If you had a flying carpet, where would you go?
Right now? I would go to Miami, no i wouldn't, I would go the Maldives, can I take someone with me? Might get a bit boring, just me and the carpet…
Have you ever been to Leigh before?
Yes, I went to a restaurant there, right on the water, the Boatyard, great place, they've pulled me out of there a couple of times. I love Leigh, it's just really pretty, really tranquil. It is the Puerto Banús to Southend's Marbella, you know what I mean? I like the people round Leigh as well, everyone's proper, you know, salt of the earth.
Post show, are you a cocktails & canapés type or a bath & bed type?
Cocktails and canapés! People go to bed? I've been told that the Diversity boys don't drink. It's my mission to see if I can convert them to the dark side. That might be hard though, have you seen the size of Ashley? He's bigger than me, i'm 6 foot 5 and he towers over me! It's the weirdest thing in the world, I don't like it. Now i know how all my ex girlfriends felt...
DAVID PHIPPS-DAVIS (Widow Twankey)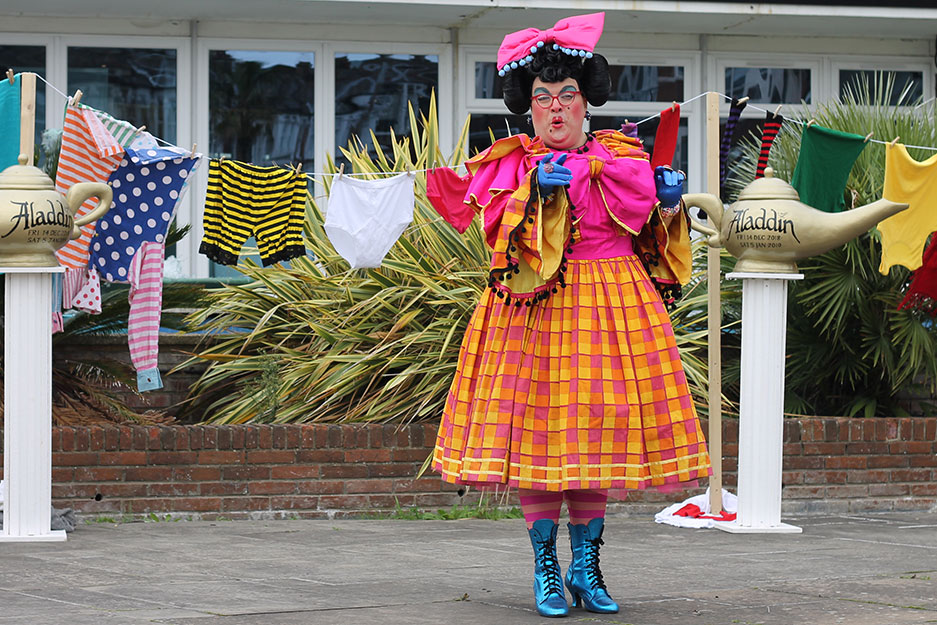 First of all, how long does makeup take?
David: I can pretty much get ready in half an hour, I've been doing it a long time, and because it is not drag, it's not as detailed in terms of makeup, it's heavily clown-based. Not so much about precision, when you've got the red nose and the chin, you're halfway there. It's a bit more than Les Dawson, he just used to do the red nose and that was it. My dame isn't a bloke in a dress, it's a more Mumsy figure, so that lends itself to the makeup. I used to do drag, that would be an hour at least, more precision, highlighting and all that.
As a classically trained singer, how do the rest of the cast compare when it comes to the musical numbers? Do you ever have to help them out?
It is a strange world, even in musicals, because as an opera singer, you read music, stuff like that, and lots of people in musical theatre and panto don't. But it's like anything else, everyone brings their own talents to the table, it has only been in recent years that I've been singing opera in panto. The producers think it works as a kind of gimmicky thing, and panto is a variety show, the audiences seem to like it because it comes out of nowhere.
As well as playing Widow Twankey before, you have played Abanazar, how does Twankey compare as a role?
I love playing villains, they are the roles i like most, villain or dame, though not really combined, I'm not keen on ugly sister. I don't know why, maybe it is because I've done it six times. As Abanazar I can sing in my normal voice, but you don't get costume changes. When I first did it I thought I would miss being dame, but in actual fact it is such a different job that it is nice to mix it up a bit. This is my 19th panto and I've done dame 17 times, Abanazar twice. Straight after this I'll be doing an adult panto and I'll be playing a demon in mother goose, so I won't be mother goose, but i don't think I could do two months of costume changes back to back, not sure four months of frocks would be all that comfortable, it can be quite nice to do such a different gig.
As a director with over 30 productions under your belt, is it difficult to let someone else take the reins? Do you ever disagree?
I think generally, no, when it's panto, because since you're turning up as an act, as opposed to an actor, most directors don't interfere too much, because you're doing your act. Last year was the first year I'd really worked with a director who was a musical theatre director working in panto, but in actual fact he was just polishing the corners and stuff, he didn't interfere too much. I find it difficult to be directed when it comes to plays or musicals. I do keep my mouth shut, but it is hard. Until last year when I came here I'd been dame/director/writer for several years, so working with someone else's script was quite strange, but of course with re-writes and rehearsals it becomes your own really, and if there's any good bits, you keep em.
Do you have a pre-show ritual?
Not at all, just put the slap on and go out there. I'm generally very relaxed, I don't tend to get nervous, lots of actors have their little things that they do, but i'm wracking my brains trying to think of anything I do at all! I suppose I moan about the world to my dresser, poor old thing thats lumbered with me all day, every day.
If you had a flying carpet, where would you go?
I've not been to America for a long time, maybe it is time to go before it gets too bad. New York, a predictable place for an actor to say, but I love it. Egypt too, I've done a lot of travelling as I've worked on cruise ships quite a bit as a singer, so I've made it to the coasts of many countries, at least.
If you could steal a wish from the lamp, what would it be?
I suppose you should say world peace, shouldn't you? Oh I don't know, I'd like some lovely frocks for panto, you always want to be better than the other dames.
Post show, are you a cocktails & canapés type or a bath & bed type?
I am a night owl, so I'm always up for hours after the show, particularly when you don't have a morning show, but i don't drink. Last year was quite strange because so many people were commuting, Lee Mead lives in Southend so he just went home, Stacey Solomon went home. I presume most people will be staying in Southend this year so it'll be more social, generally we end up in the hotel. I'm not up for clubbing and if I'm singing in the show I've got to protect my voice, which is boring as hell, but it's just a matter of not going anywhere loud and not being silly. You've got to be a bit sensible, sometimes…
Aladdin is at Southend Cliffs Pavilion from 14th December - 5th January. Click here for more information.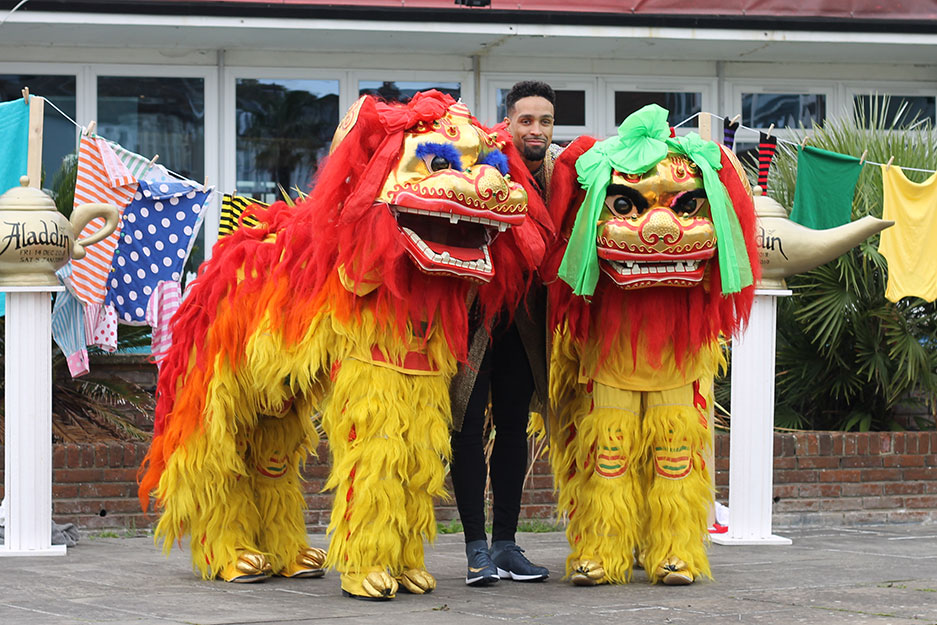 ---
ADD A COMMENT
Note: If comment section is not showing please log in to Facebook in another browser tab and refresh.
Related Items