Leigh Folk Festival Taking Place June 22-25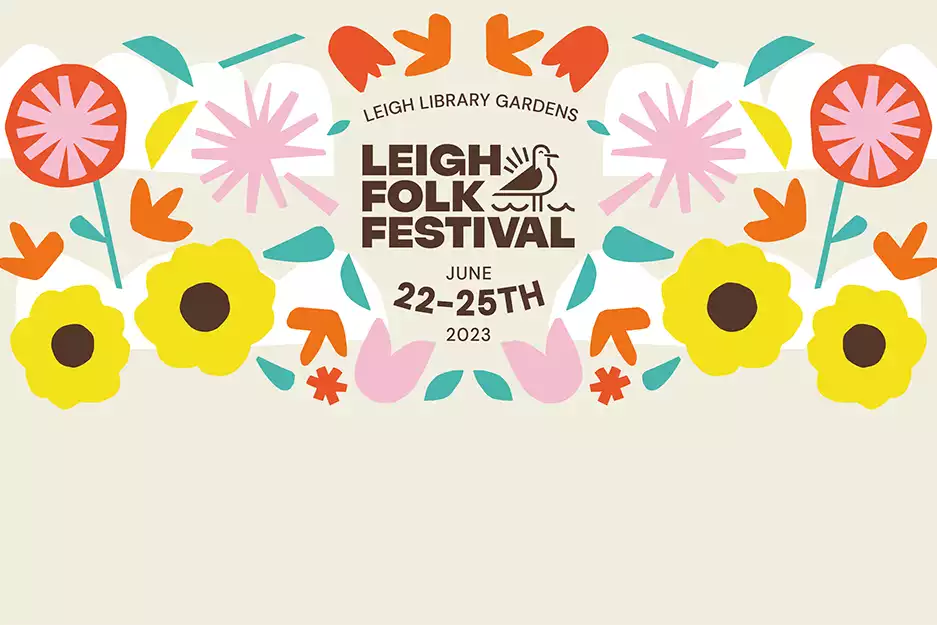 150 performances from curated local talent, emerging artists and the internationally renowned. With multi-award winners, composers of stage and screen, Glastonbury performers and even an MBE!
Confirmed acts so far are:-
ANTHONY BRIGGS • ARFUR DOO & THE TOERAGS • BELINDA KEMPSTER & FRAN FOOTE • BOB COLLUM AND THE WELFARE MOTHERS • CHLO • ETHAN WILSON • FUKD & BOMBD • GOING DOWN SOUTH • GOODNIGHT CROW • GRAND REUNION • INVADERS • KEV BUTLER & DAVE CRAWFORD • MARINE MAMMAL AND THE LOCALS • MASAL • MISTER POCKETS • MUCKY DENNIS AND THE GRIFTERS • MUDLARKS • NICOLA COLLIS • PDQ • PICK YER FEET UP • RANDOM FOLK • RUBY HICKMAN • SAIDA BEE • SHEILA LORD • STERN JOHN • THE CHRIS ROBSON BAND • THE DAISY BOWLERS • THE ONDINES • THE SILVER DARLINGS • TRIGGERBLISS • UMBRELLA FACTORY • WHOM BY FIRE • YES TODAY
And the dance lineup:-
• ROYAL LIBERTY MORRIS • COCKLESHELL CLOG • BLACKHORSE & STANDARD MORRIS • SITARA 'EASTERN DANCERS' • DESI TAAL • BAREFOOT CONNECTION • GRAND CEILIDH CLUB • FLAMENCO OLE • MAUREEN CORR'S IRISH DANCERS • SWING DANCERS • MAYPOLE DANCING
Showcasing traditional folk and alternative dance sides has long been an integral part of the fabric of Leigh Folk Festival. From taking part in a ceilidh to stumbling across a colourful troop of dancers with an abundance of movement, or simply witnessing the festival's Grand Procession on Sunday - we recommend you get involved.
The Festival runs from Thursday 22nd June through to Sunday 25th June.
For more information events and tickets go to https://www.leighfolkfestival.com/
---
ADD A COMMENT
Note: If comment section is not showing please log in to Facebook in another browser tab and refresh.
Related Items