Leigh Folk Love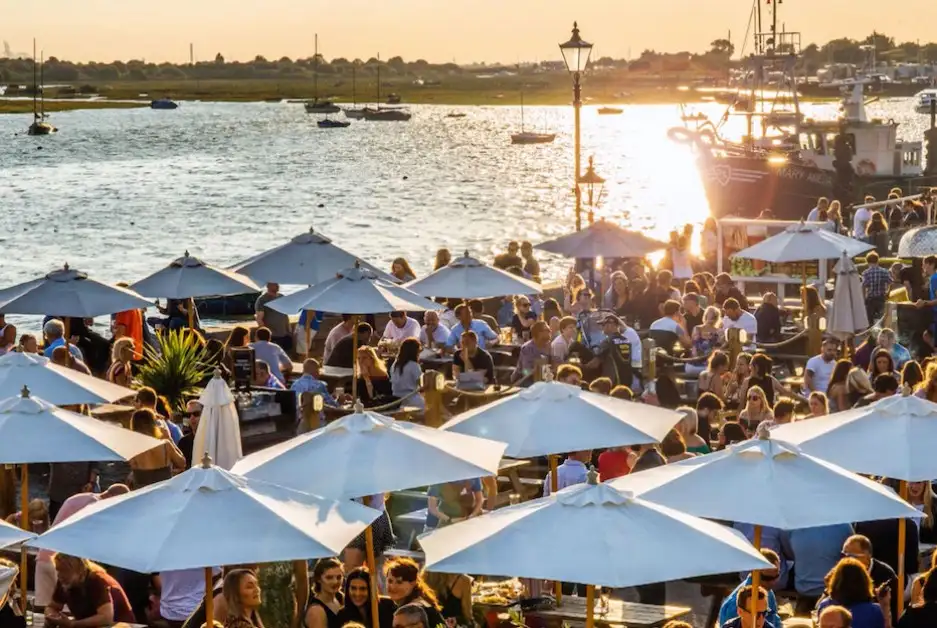 I remember a few years ago, I had a craft stall at Leigh Folk Festival and it poured with rain all day - suddenly I was very popular and everybody crammed under the small awning I had up in the Library Gardens, eating hot chips and drinking steaming cups of tea.
I thought of it on Saturday as I sat on a picnic rug, reapplying suncream, drinking ice cold cider and fanning myself with my Leigh Folk Festival programme. We were incredibly lucky to have such amazing weather weren't we?! I swear it's never been that hot for the festival before, and I felt so pleased for the organisers and artists that it could all go ahead to maximum crowds, who were having a great time in the sun.
I think Jo and I got one of the last shady spots in the Library Gardens, setting down our picnic rug. It became a magnet for other people we knew: like a party in the park for all our mates. In what I can only describe as a ridiculously Leigh-on-Sea scene, our friends plonked down on their blanket with a Tupperware of identical ready-cooked Waitrose vegan cocktail sausages to us. Only in SS9.
The music was great: I loved how it went from traditional folk, the warm, rich shoegaze sounds of Melodiegroup and the vintage tunes of The Daisy Bowlers to compelling electronica and harp from the impressive Masal (one of my festival highlights). To look out over the gardens and see everyone enjoying themselves while amazing beats filled the air makes you realise: this is not just a folk festival. There is some super cool left field stuff on this line up every year and we are lucky to have it.
I say it every year but this festival always gives me SO many feels and on the Sunday night, every time, when it's all over and I'm sitting in front of a fan, hot and overtired, I get really overwhelmed with emotion from not only having a great time but from the sadness of it being over. We didn't have The Cure or Kylie, but bloody hell we had a great time. I hope you did too.
To read of of Ray's previous blogs please click
here
---
ADD A COMMENT
Note: If comment section is not showing please log in to Facebook in another browser tab and refresh.
Related Items