Leigh on Sea Takes a Trip on The Endeavour
Leigh-on-Sea goes has one of the most 'Leigh' experiences imaginable: motoring up to London on an original, local fishing boat and artefact from the Dunkirk Landings in 1940: The Endeavour.
Last week we took a trip up from Canvey to St Katherine Docks, courtesy of The Endeavour Trust who have been taking care of the boat since 2001. Since then they have been offering trips out and have even featured in 2017's Dunkirk.
We travelled from Leigh to St Katherine Docks in London, going past Tilbury Docks, the Dartford Crossing before finally mooring just before Tower Bridge. The Boat is usually moored outside The Peterboat but, before our trip, was stationed inside Leigh Marina before coming down to Canvey Island to pick us up. Funnily enough, the place we took off from also features on the cover of Dr Feelgood's first album Down by the Jetty.
You hear that it is a small boat but you don't really realise how small until you have to get on it. The Endeavour is an old cockling boat about 36ft long and, although there's space in the hull where cockles would be collected and thrown, it was very cosy on deck with around 10 other people. The boat was built around 1926 and is not ideal for long distance travel (it would roll about hard every time another boat went past). Travelling to Dunkirk and back is not an easy journey in peacetime, let alone in 1940 where it was rescuing troops and being fired at by aircraft.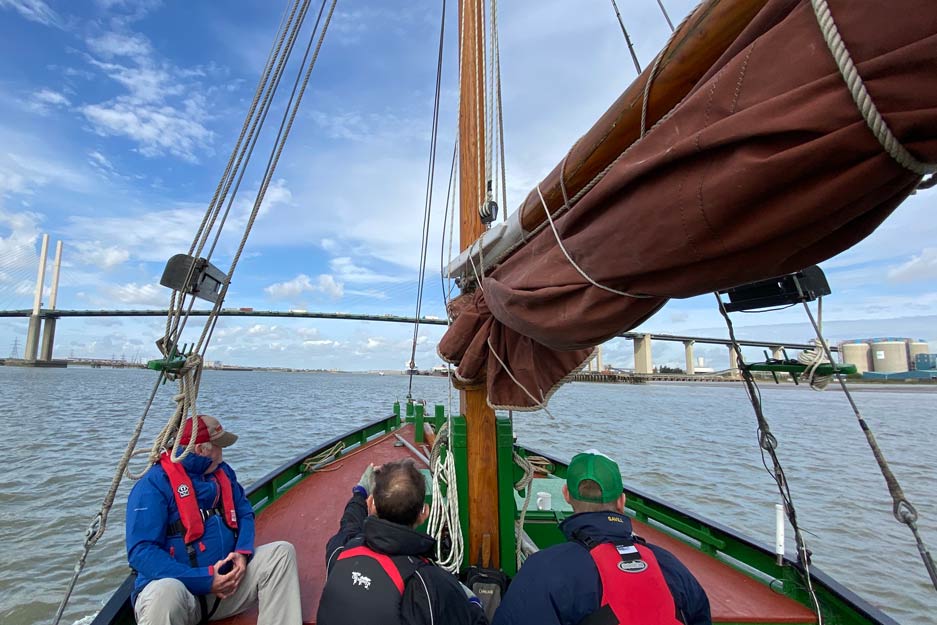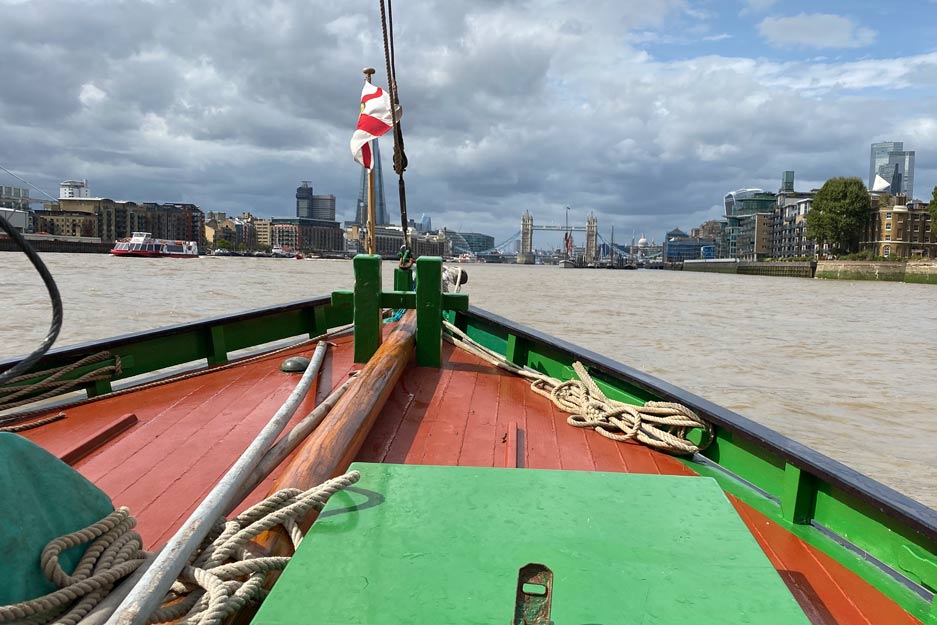 Not only is it a small boat, it's also an old one. Travelling up the Thames you end up going past lots of freighters, cargo ships and cruise ships that have obviously seen better days; you feel a little out of time surrounded by modern industry and these huge ships going by. It's a bit Mad Max, in a way.
Even though you're the smallest thing on the water, a lot of landmarks don't look as imposing as they are when you're on land; Tower Bridge isn't so big when you approach it and, while the Dartford Crossing feels massive when you're going over it, its comparatively dinky when you go under it.
Granted, the boat would rock every now and then when something bigger passed us by, but it was mostly smooth sailing (smooth enough to make a few rounds of tea which was surprising). It's only when you get into London that things start to feel unsteady as you feel the wash from other ships keenly when in the narrower part of the river.
Thanks to Paul Gilson, Paul Burden, Chris Burls, Cameron Mackenzie and Rob Everitt for this very enjoyable experience. If you'd like to donate to the trust or take part in the next voyage you can find more information on their website here or by contacting them at office@endeavourtrust.co.uk
---
ADD A COMMENT
Related Items