Leigh woman takes on extreme mud race in memory of fiancé's Nan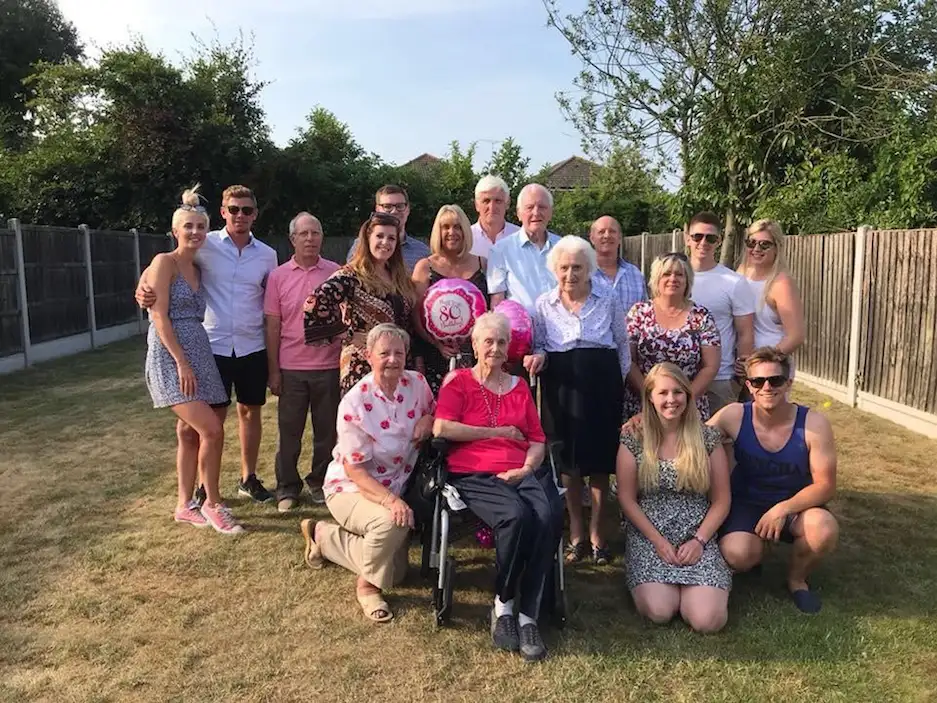 A local mud-runner is taking on an extreme challenge to raise money for the charity that cared for her fiancé's grandmother.
Katie Rolph, 24, from Leigh on Sea will be joining hundreds of other obstacle course runners at this month's Nuclear Rush Race in Brentwood to take on the world-famous course, raising money for Havens Hospices in memory of Valerie Remfry.
Valerie was diagnosed with bile duct cancer in September 2018, after being admitted to hospital with jaundice. Valerie was admitted to Fair Havens in Chalkwell in December 2018 and she was cared for at the hospice until she sadly died on 13th January 2019, aged 80 years old.
Katie has taken part in the Nuclear Rush Race every year since 2016 and has also taken on the course's November Fallout course once. However, Katie will not be taking on the 7K or 12K course, instead she will be pushing herself by taking part in the Oblivion Extreme, which challenges runners to complete the 12K course, which features 90 obstacles, as many times as possible in eight and a half hours.
She said, "I wanted to support Havens Hospices after seeing first-hand how amazing the care and support they give their patients and families is. As soon as Val was admitted to Fair Havens she instantly felt at ease and asked if she could stay there for good after no longer being able to cope at home. The care she received by all at Fair Havens was second to none - every member of staff from the doctors and nursing staff to the kitchen team and volunteers we met treated Val like she was their family and always made us feel welcome.
"They may have only cared for us as a family for a month, but Havens Hospices made a huge difference to all our lives and really did help us continue 'Making every day count' with Val up to the end. I want to help them continue to do that for other patients like Val and other families like my fiancé's."
Havens Hospices, which includes Fair Havens Hospice, Little Havens Hospice and The J's Hospice, is there when a family is told there is no cure for their loved one's illness. All the hospice services help by controlling pain and medication, offering respite and caring for adults, babies, children and young people at the end of their lives. As a registered charity, it must raise over £100,000 every week to provide this free, specialist care for as long as it is needed within the home, in the community and at the two hospices. It can only do this with the help of its supporters, like Katie, who take on challenges like Nuclear Rush Oblivion Extreme.
Brad, Katies fiancé added, "I'm really proud of Katie for taking on this challenge to raise money for Havens Hospices and I know that even though Nan would think that she was a little mad for taking on such a monumental challenge, she would be so proud of her for doing it for Havens Hospices.
"Before she went in, Nan was struggling to cope with everything at home and wasn't eating very much – when she was admitted to Fair Havens, she immediately relaxed. She even started to enjoy her food again and had three-course meals every single day, which was far more than she'd eaten previously.
"Fair Havens was excellent throughout her care; nothing was ever too much. They even arranged for us to have an afternoon tea as a family, which was the last time we were all together with Nan – that memory is incredibly precious to us all. We honestly can't thank all the staff enough for everything they did for Nan or for us in her final weeks."
If you've been inspired by Katie's story and would like to take on a challenge like Nuclear Rush Race for Havens Hospices please visit www.havenshospices.org.uk/events or contact Emma Hamilton by calling 01702 220308 or emailing EHamilton@havenshospices.org.uk
To sponsor Katie please visit https://www.justgiving.com/fundraising/katie-rolph
---
ADD A COMMENT
Note: If comment section is not showing please log in to Facebook in another browser tab and refresh.
Related Items