Major improvement works finished at key junction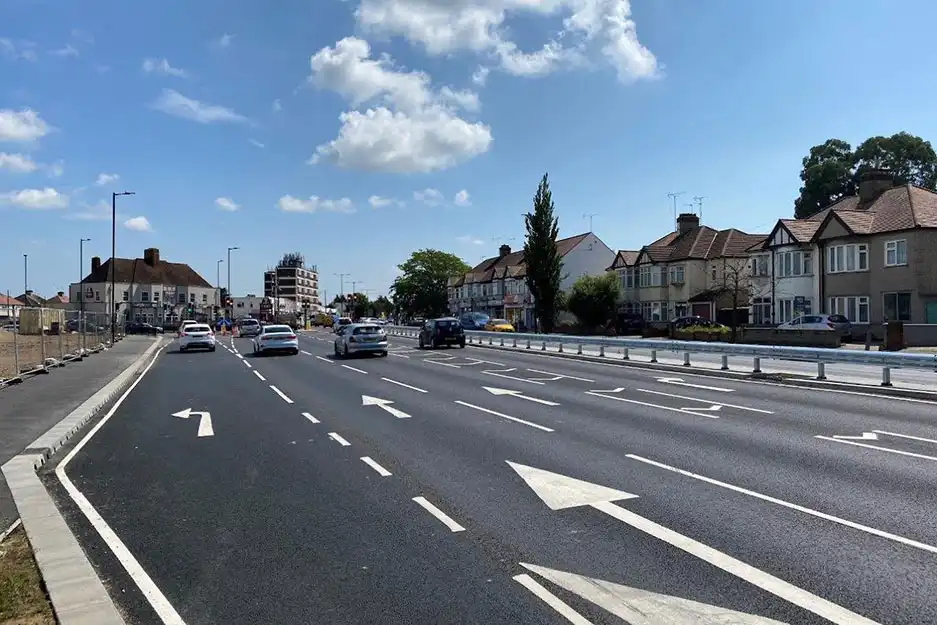 The main highway works for the junction improvement project at The Bell junction, which will increase traffic flow and improve air quality in the area, have been completed.
The £5m improvement project, carried out by Eurovia Contracting, has seen a number of changes to the junction, including a new dedicated left-turn lane onto Rochford Road, removing the existing footbridge, extending the right-turn lane onto Hobleythick Lane, banning the right-turn onto Rochford Road in order to free up more "green light" time for motorists going straight ahead along the A127 in both directions, and improved pedestrian facilities. Pedestrians now have crossing facilities on Rochford Road and Hobleythick Lane.
With the highways improvements now completed, the council's parks department will carry out landscaping works in the autumn once the new planting season begins.
Most of the funding for The Bell junction improvement (£4.3m) came from the Government's Local Growth Fund, which the council successfully bid for through the South Essex Local Enterprise Partnership, with the rest (£720K) coming from the Council's capital budget.
Cllr Ron Woodley, cabinet member for transport, asset management and inward investment, said: "I am delighted to announce the vital works to improve The Bell junction have now been completed. This much needed improvement follows on from previous junction schemes across key A127 routes and is a key milestone in our Southend 2050 roadmap. This work will benefit the Borough greatly, including residents commuting in and out by car, visitors coming into the area, and to support our growing economy and projects like Airport Business Park Southend. Delivering this project has been a priority of this administration, and I am pleased to see the highways works finished on budget.
"I would like to thank residents for their patience throughout the project, as there were a number of necessary road and lane closures to accommodate the works. The support we have received from local businesses and residents has been fantastic, and I am pleased they acknowledge the impact these improvements will have for them.
"The project has also seen fantastic collaboration between various teams across the council, including civil engineering officers designing the junction with residents and stakeholders, permit teams ensuring the appropriate closures were in place in a timely manner, the parks team designing the landscaping aspects and traffic management working to keep workers on site safe throughout the project.
"Eurovia have worked extremely hard to continue working on the junction throughout the pandemic, and I thank them for their commitment to not only the project, but to the local area, where they carried out a number of community initiatives with residents, students and Prince Avenue Primary School.
"Whilst the main improvement works are completed, there may be times where workers are on site dealing with any snagging, which is common for projects of this size. There will also be further landscaping works carried out in the autumn once the new planting season arrives."
Madeleine Bishop, contracts manager for Eurovia, said: "This project has been a huge success. Eurovia have worked closely with Southend-on-Sea Borough Council and local stakeholders to ensure the success of the scheme, completing the works within the outlined programme. The junction will see improved traffic flow, safe surface level pedestrian crossings and new lighting throughout. All in all, this has been a fantastic piece of partnership work with the council and will provide an improved look and feel to the local community here."
To find out more about the project, please visit
www.southend.gov.uk/thebell
---
ADD A COMMENT
Related Items