Nina Jervis Reviews Peter James' Looking Good Dead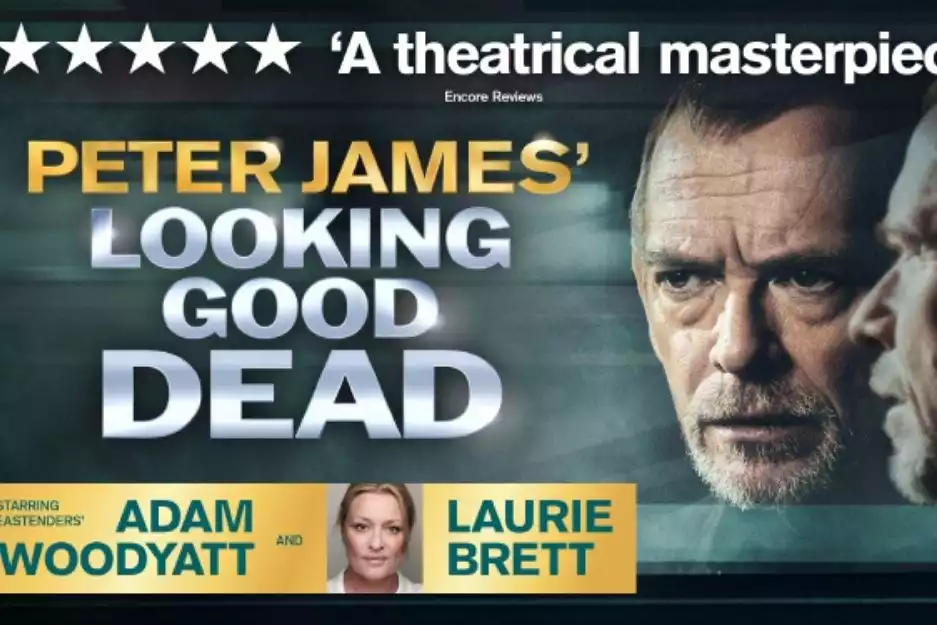 Thanks to Nina Jervis from www.ninathewriter.com for this review.

"You do know his name isn't really Ian Beale, don't you? It's Adam Woodyatt."
My partner felt the need to point this out to me, because I'd been going on about seeing a murder-mystery play with Ian the soap icon in it. I haven't watched EastEnders for years, but I did watch it regularly as a kid, which means I've sort-of grown up with the likes of Ian Beale.
(Sorry. Adam Woodyatt).
Anyway. Adam's character in Looking Good Dead, a stage adaptation of the Peter James novel, isn't too dissimilar to Ian Beale, which should bring comfort to soap fans seeking shades of the familiar.
Tom Bryce is a debt-ridden entrepreneur with a struggling marriage to Kellie (played by Laurie Brett, who also played Ian Beale's wife Jane), and a surly teenage son called Max (played by Luke Ward-Wilkinson, who in real life is closing in on 30).
To summarise the plot – but not so much to reveal spoilers – a loudmouth passenger drops his memory stick on Tom's train home from work. Tom picks up the memory stick, and instead of handing it in at the station, brings it home instead.
There, he plugs it into his laptop and asks Max to help him break the heavily encrypted password. He does, and they end up watching a snuff film together, live-streamed by a masked Irishman named Mick.
The plot thickens, with the police quickly getting involved (fans of Peter James' novels will recognise DS Roy Grace, played by Harry Long), and the pressure ramping up to the point where Mick's latest live-stream victim is terrifyingly familiar.
The ending is a genuine surprise, or at least it was to my best friend Vickie and I, sat in the audience thinking we had it all sewn up. The resulting gasps and whispers from the seats around us also seemed to confirm that most of us had been spectacularly wrong-footed.
Designed by Michael Holt, the set is slick and stylish, and the story, adapted for the stage by Shaun McKenna, kept us entertained throughout; at no point during the two-hour play did we feel bored.
However, we found some elements of the play confusing. First, the convoluted plot, coupled with a lack of detailed backstory for any of the characters, meant we were never sure who we should be rooting for. The only character who had any genuine charisma was Mick, played by Mylo McDonald in his professional stage debut.
Second, anyone with a modicum of tech expertise would have had steam coming out of their ears at how easily laptops and iPhones are hacked into and manipulated throughout – if nothing else, this play is an utter PR disaster for Apple security!
Third, some of the dialogue is genuinely baffling, especially between the police characters, who spend most of the play either cracking bad jokes about the crimes they're supposed to be investigating, or lamenting their terrible love-lives.
("Who knows what goes on in some weirdo's brain?" one of them says dismissively following a particularly sadistic killing… seemingly not realising that it's his job to find out!)
I also had the sense that this might have been an older story, with whizzy tech references woven in to make it current. For example, an American businessman, with a jaunty blazer and an accent like the 60's gameshow host Hughie Green, seemed like he'd entered the play from another age entirely.
Another example is that this is a story written very much for the men, with the female characters either terrified victims, or providers of tea and sympathy.
Despite these comments, we did leave Looking Good Dead feeling thoroughly entertained and glad we went along. If you're a fan of a classic whodunnit – and you're up for the challenge of working it all out yourself without feeling wrongfooted at the end! – you may feel the same.
---
ADD A COMMENT
Note: If comment section is not showing please log in to Facebook in another browser tab and refresh.
Related Items