Southend United v Wycombe Wanderers Preview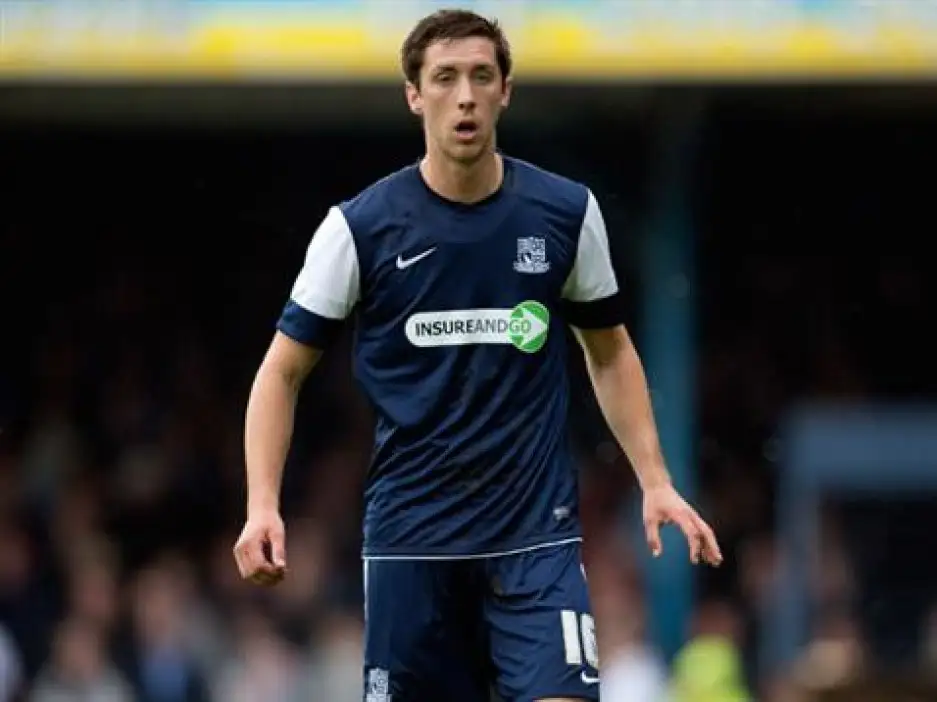 The Wanderers Wander Into Town - Southend United v Wycombe Wanderers
It's a case of 6th against 3rd at Roots Hall on Saturday, as Wycombe Wanderers visit South Essex knowing a win could potentially put them back on the top of the league if other results go their way. Southend on the other hand will be hoping to build on their most recent result and keep the pace on the top three teams.
Southend go into this one on the back of a 0-0 draw away at AFC Wimbledon on Tuesday. As far as I can tell, Blues scored in the game but according to the officials, the ball hadn't crossed the line. Wycombe go into the game on the back of a 2-1 win away at Tranmere Rovers. They finished the game with ten men after striker Matt McClure was sent off 70 seconds after coming on as a substitute in the Tuesday night. They (Wycombe) are appealing against the red card but the final decision may not arrive before Saturday's game.
These two sides have previously met a mere 14 times. The first meeting was in 1997, when Wycombe beat Blues 4-1. Blues went on to lose to Wycombe two more times in that season (1997/1998), a Football League Trophy tie at Roots Hall and in the reverse league fixture, also at Roots Hall. Coincidentally, that was the score at Adams Park earlier this season, 4-1 to Wycombe.
Since the first meeting, the total scoreline is: Southend United 16-23 Wycombe Wanderers
In our most recent meeting, as mentioned above, Blues lost 4-1 at Adams Park in mid-December. Jack Payne gave Blues an early lead, before the hosts bought Southend crashing down to earth, in a game in which they didn't deserve to win by the margin they did.
Head-To-Head
Southend Wins: 4
Wycombe Wins: 7
Draws: 3
Who are Wycombe Wanderers?
Full Name: Wycombe Wanderers Football Club
Founded: 1887
Nickname: The Chairboys, The Blues
Ground: Adams Park (Capacity: 10,284)
Manager: Gareth Ainsworth
2013-14 Season: 22nd – SkyBet League Two
Most Recent Line-Ups
Southend United: T.Smith, White, Thompson, Prosser, Coker, Worrall, Leonard, Atkinson (Payne – 66'), Timlin, Pigott, Corr (Cassidy – 78')
Wycombe Wanderers: Ingram, Jombati, Rowe, Mawson, Jacobson, Yennaris, Saunders (McClure – 67'), Wood, Bloomfield (Murphy – 89'), Hayes, Onyedinma (Craig – 91')
Last Time We Met
Wycombe Wanderers 4-1 Southend United – 13/12/14
Wycombe Wanderers: Ingram, Jombati, Pierre, Mawson, Jacobson, Cowan-Hall (Onyedinma – 80'), Murphy, Scowen, Wood (Rowe – 88'), Hayes (Amadi-Holloway – 80'), McClure
Southend United: Bentley, Leonard, Binnom-Williams, Prosser, Bolger, Worrall, Timlin (White – 68'), O'Toole (Deegan – 45'), Weston (Hurst – '45'), Payne, Corr
Wycombe's Last 5 Results
Tranmere Rovers (A) – W 1-2
Stevenage FC (H) – D 2-2
Carlisle United (A) – W 2-3
Newport County (H) – L 1-2
Plymouth Argyle (H) – L 0-2
What Could Happen?
A win for Southend could take them up into 4th, one place behind Wycombe but only if results go their way.
A win for Wycombe could put them back on top of the league, but only if Shrewsbury Town & Burton Albion lose.
For the Wycombe Fans – A Quick Guide
Distance to Travel (Based on the distance between both team's grounds) 81.3 Miles (1 Hour, 35 Minutes)
Where Can I Drink?
There is a bar in the ground known as the Shrimpers Bar. Although this is for home fans, away supporters do have access. Other than this, there is the Blue Boar pub on Victoria Road, which, on match days, only admits away supporters. It is about a two minute walk from the ground (heading towards the town centre). You will have to walk past The Spread Eagle in order to get to the Blue Boar. In my opinion, go to The Spread Eagle. This pub welcomes away fans as well as home supporters. This is the best pre-match pub near the ground. It is also the closest pub to the ground as well.
Where Can I Park?
There is plenty of street parking within walking distance of the ground, based in the many back streets behind and to the right of the away stand, otherwise, there is a car park at Southend High School For Boys, which charges £5 for match day parking.
Staying Overnight?
There are plenty of hotels and B&B's in Southend. One of which is the airport hotel, approximately a 5 minute drive, or a 30 minute walk from Roots Hall. On the other hand, there are a number of B&B's along the seafront.The seafront is roughly 25 minutes by foot from Roots Hall.
Where can I Eat?
There is a chip shop opposite the Blue Boar pub, called The Fish House. Other than this, there are the usual fast food restaurants in Southend high street. There is also the Chinese buffet, known as "East", which is located near the Royals Shopping Centre, in the high street. Locals will be happy to guide you should you need help.
Attractions:
If you have planned to make a weekend of your visit, there are many attractions in Southend. One of which is Adventure Island, an amusement park on the seafront at the end of the town centre. Just along from that, there is a Sea-Life Centre, along with ten-pin bowling at the Kursaal.
Programme Price:
£3.00
Postcode (for SatNav users):
SS2 6NQ
Did You Know?
Wycombe shared Adams Park (their ground) with Rugby side London Wasps between 2002-2014
The Kits:
The teams will most probably wear the following: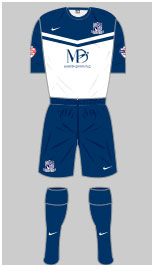 Southend United
Shirt: White & Blue
Shorts: Blue
Socks: Blue
Sponsor: Martin Dawn PLC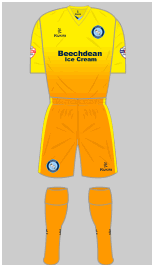 Wycombe Wanderers
Shirt: Yellow merging into Orange
Shorts: Orange with yellow trim
Socks: Orange
Sponsor: Beechdean Ice Cream
Kit Images: Copyright Historical Football Kits and reproduced by kind permission.
The Opposition View
Ahead of the game, I managed to get the view of Wycombe fan, Russell Cox.
1. What is your name and how long have you supported Wycombe?
Russell Cox, supported Wycombe for 24 years
2. What are your views on Wycombe's season so far?
Excellent, and a real change from last season. Not in my wildest dreams did I expect to do so well
3. Who has been the stand out player for you and why?
Pretty much everyone has played well, but Alfie Mawson has really shored up the defence, and seen as we are not huge scorers, this is vital.
4. Which is the most memorable Wycombe game from this season?
The 3-1 win at Stevenage where we defeated Graham Wesley's (Stevenage Manager) anti football was very satisfying
5. Which of your summer/winter signings has impressed you most and why?
Fred Onyedimna has been scoring reguarly since he joined, this has been very important given Paul Hayes injury and the loss of Paris Cowan Hall to Millwall
6. Wycombe beat Southend 4-1 in the reverse fixture at Adams Park in December. What are your views on that game?
I don't remember much about it, but it was good to get our biggest win of the season.
7. What are your views on Southend United?
I quite like them really, they are pretty inoffensive, we have never had any controversy when playing you, and best of all you hate Colchester!
8. Where do you expect Southend United to finish in the league?
In the playoffs
9. What sort of game are you expecting on Saturday?
I'd say it would be pretty cagey, with us trying to get something on the break
10. Will you be going to the game? If so, will this be your first visit to Roots Hall?
I won't be there, but I have been twice before
11. Former Southend players Matt Harrold, Dean Morgan & Anthony Grant all had spells at Wycombe. What are your views on them?
Matt Harrold was a hard worker but ultimately did not score enough goals. Dean Morgan was exceptionally talented, could play in the Championship, but his attitude was poor, so he has not fulfilled his potential. Anthony Grant was easily the best of the 3, a real tough tackling midfielder who I was pleased to have on loan.
12. Which Wycombe player did you expect more from and why?
I think everyone has done well, although Peter Murphy has faded after an excellent start.
13. Where do you think Wycombe will finish in the league?
In the top 3 with a bit of luck, providing we can stay fairly injury free
Check back on Monday/Tuesday for the match report. Come On You Blues!
---
ADD A COMMENT
Note: If comment section is not showing please log in to Facebook in another browser tab and refresh.
Related Items