Southend YMCA Summer Programme Leaves Lasting Impression on Leigh Community Centre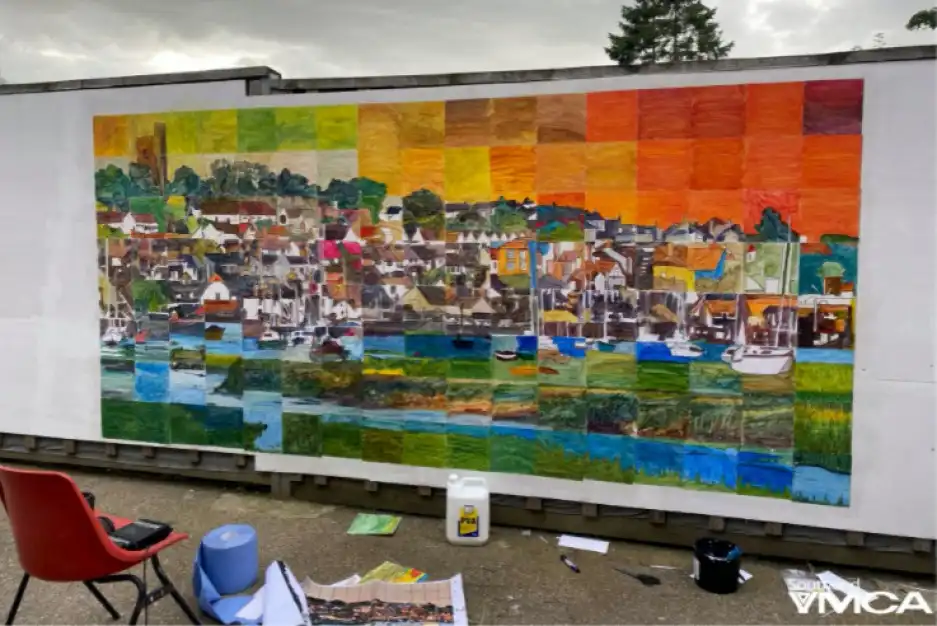 Throughout the month of August, Southend YMCA hosted a free Summer Programme at Leigh Community Centre for children aged 8-12 years old.
The programme was funded through the Department for Education's Holiday Activity Fund in Partnership with Southend Borough Council and included many fun activities such as sports, music, games, art and historical walks around the town of Leigh-on-sea.
One of these activities has made a permanent impression in the heart of Leigh-on-sea with a colourful mural painted by the young participants alongside the guidance of local artist Darren Jones. Darren commented: "I'm so happy to have had the opportunity to create this piece with the Southend YMCA, it was an honour and pleasure to be a part of."
The painting was completed during 5 sessions over the 4 weeks of the Summer Programme and was set in place during the last days of the month. River, aged 8, said: "I very much enjoyed the painting because I've had fun and we have put a lot of good effort into all of it."
Aptly named "A View of Leigh-On-Sea" this huge piece of art is made up of 136 20cmx20cm squares of painted paper using only the primary colours as the young artists learnt how to mix the paints the make the secondary colours and shades that appear off the painting.
Davey Hal, SYMCA Music Tutor/Creative Arts Youth Worker said; "They are so proud of their collaborative work and so are we! It's the cherry on top of such a great month of positive activities with all these awesome kids."
You can visit this spectacular art installation in full view by visiting Leigh Community Centre's 'Lorna & Lottie's Cafe' in which it takes full pride on public display outside their window.
Another firm favourite of the weekly activities was the "Historical Walks of Leigh" supplied by Paul Carver and Zoe Nolan of Carver Tours. Exploring Leigh's rich historical past of local seafarers, witches and royal visits to name just a few highlights from these fantastic and informative tours. Paul Carver (Carver Tours) said: "We are so pleased and proud that Southend YMCA asked us to take the children on a tour. They amazed us with their own facts and remembered so much for the quiz finale!"
The Summer Programme was also overseen by the Southend YMCA youth volunteers. The young people who are also Youth Commissioners for Southend YMCA initiative, FYV, were there to assist the 8-12 year olds throughout the summer.
Rachel Roach, Youth Commissioner and Chair of the Southend YMCA Youth Board, said: "I really enjoyed getting to meet all the young people through various activities like pool, table tennis, badminton, art, cards and board games. This was insightful and would spark conversations involving how they didn't feel confident to do something or how the young person learnt how to play that activity and sharing their fond memories. I liked how all the young people participated and enjoyed the art project of the Leigh mural and engaged in the Historical walks around Leigh on Sea."
Southend YMCA would like say a very special thank you to Leigh Town Council and their amazing team of caretakers Richard, Micheal, David and Lewis who were with Southend YMCA every step of the way. And extra appreciate to all the staff at Lorna & Lottie's Cafe who provided the delicious hot meals for all the children.
To find out more about Southend YMCA and its outstanding children's services please visit www.southendymca.org.uk or follow them on their social channels Instagram/Facebook/Twitter @southendymca or contact info@southendymca.org.uk
---
ADD A COMMENT
Note: If comment section is not showing please log in to Facebook in another browser tab and refresh.
Related Items