The 'Sir David Amess' Pier train goes back into service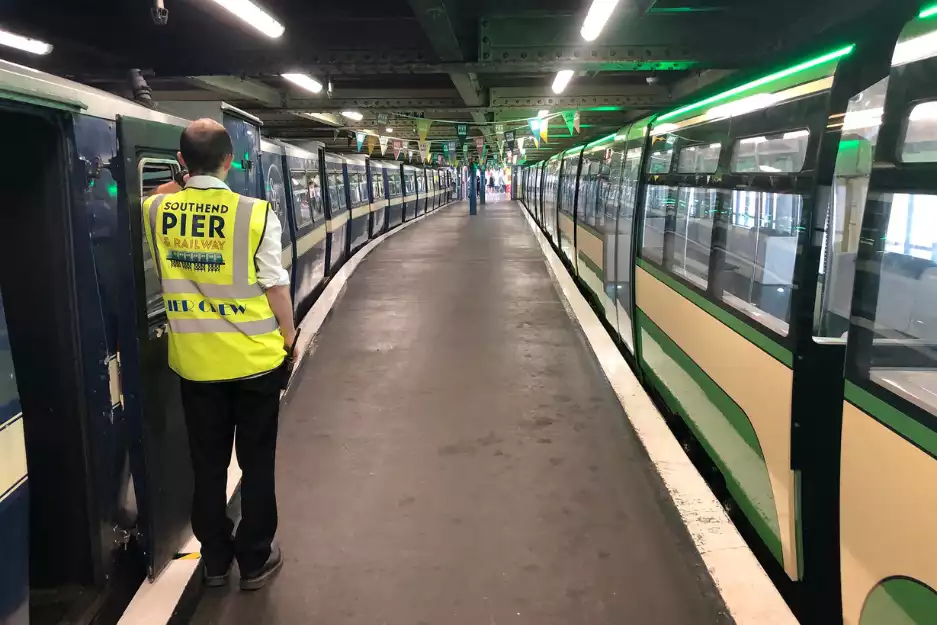 The Sir David Amess pier train has reopened to the public.
The new electric Pier trains are replacing the existing blue diesel trains, which have been in operation on the Pier since 1986. This is a major £3.5m investment by the Council into the pier and the city's tourism. Heritage cream and green pier trains previously ran on the pier from 1949 to 1978 and the vintage design was agreed for the new trains following a public vote on social media in 2020.
One existing diesel train will run alongside the Sir David Amess train until the William Bradley train clears its final testing phases. It is expected to join the Sir David Amess train in service within the next couple of weeks.
Cllr Martin Terry, cabinet member for community safety, says: "The team have been working tirelessly to deliver this project and overcome every obstacle. With technology as advanced and unique as this, it has been important for the council to adopt a safety-first approach and get this right.
"A lot of the work has been about tweaking and assessing. If one stage isn't performing to a decent enough standard, things need to be changed until it is, as our priority will always be the safety of those visiting the pier.
"It has certainly taken longer than we hoped, and we are frustrated that we have not been able to get them up and running this Summer, but now we can look forward to riding the new trains and I'm sure many people will welcome and be able enjoy them for many years to come."
For more updates on the pier and new pier trains, including times and more, head to the pier's dedicated website: Welcome to the World's Longest Pleasure Pier | Southend-on-Sea (southendpier.co.uk)
---
ADD A COMMENT
Note: If comment section is not showing please log in to Facebook in another browser tab and refresh.
Related Items