Vulnerable children have Christmas to remember thanks to kind donations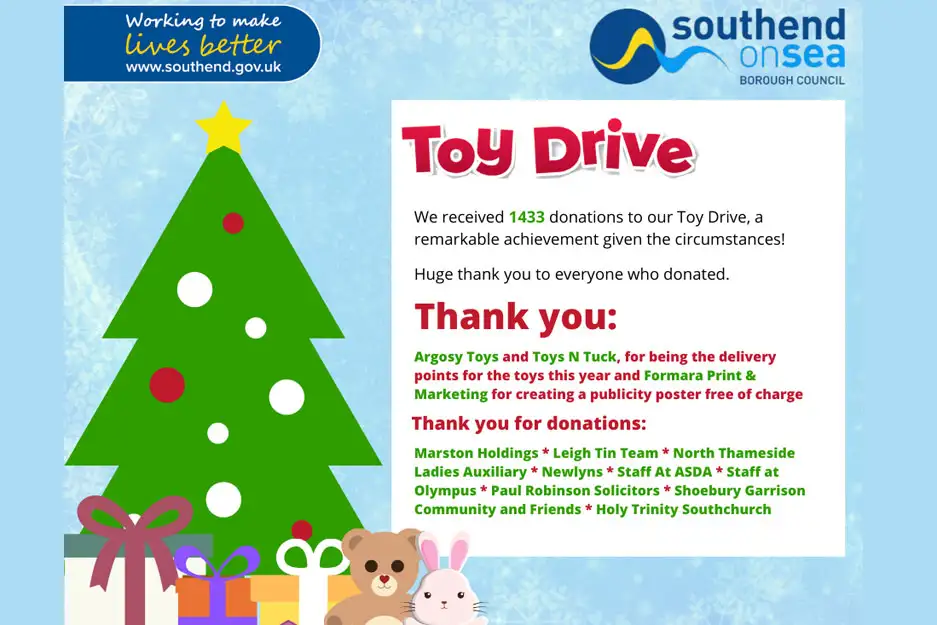 Over 1,400 vulnerable children had a Christmas present to open on the big day, thanks to the incredible generosity of local residents and businesses.
The seventh annual Toy Drive, set up and managed by Southend-on-Sea Borough Council, saw 1,433 presents collected and delivered to vulnerable children across the Borough.
Since the Toy Drive's inaugural year in 2013, 8,477 gifts have been kindly donated and shared out to local children's centres, food banks, refuges and charitable children's parties.
Cllr Ian Gilbert, leader of the council, said: "I would like to offer my sincerest thanks to everyone who has been involved in the Toy Drive and donated this year. It is truly remarkable see how much the people of Southend really care for one another, and it really highlights the importance of the project.
"The team worked under difficult circumstances this year, ensuring all toys were quarantined for 72 hours before being sanitised and wrapped. A huge thank you must go out to everyone involved in collecting, wrapping and delivering these gifts.
"These children would have gone without this Christmas, and in a time where we are all feeling the pressures of the virus, it is heart-warming to know this was not the case this year. Whilst this year's project comes to an end, we will be back next year with the aim to deliver even more Christmas spirit to those who may otherwise go without."
Beth Arter, team leader at Turning Tides Triple T Youth Club, said: "As you know, many of the families we are working with are experiencing difficult and challenging times and require support. For some of our children, the experience of Christmas may be lost if they didn't have the Triple Ts Christmas parties to attend. This year has been especially challenging for many of our Triple Ts families and so it was important to be able to come together at the end of the year, giving the children a lovely Christmas experience and provide them with opportunities and support.
"Once again, we are so very grateful for your support of the Triple Ts through the lovely Christmas presents you provided this year. We know that it was more of a challenge to make this happen this year and we really appreciate all of your efforts. It makes such a difference to their Christmas."
A special thank you goes to the following businesses and groups who supported and donated to the Toy Drive 2020:
Argossy Toys and Toys n Tuck – both for being the delivery points for the toys this year and Formara Print and Marketing for providing promotional support
Donations:
All our residents that donated to the project
Marston Holdings
Leigh Tin Team
North Thameside Ladies Auxiliary
Newlyns
Staff at Asda
Staff at Olympus
Paul Robinson Solicitors
Shoebury Garrison Community and Friends
Holy Trinity Southchurch
---
ADD A COMMENT
Note: If comment section is not showing please log in to Facebook in another browser tab and refresh.
Related Items