"Waitress" The Musical Review by Nina Jervis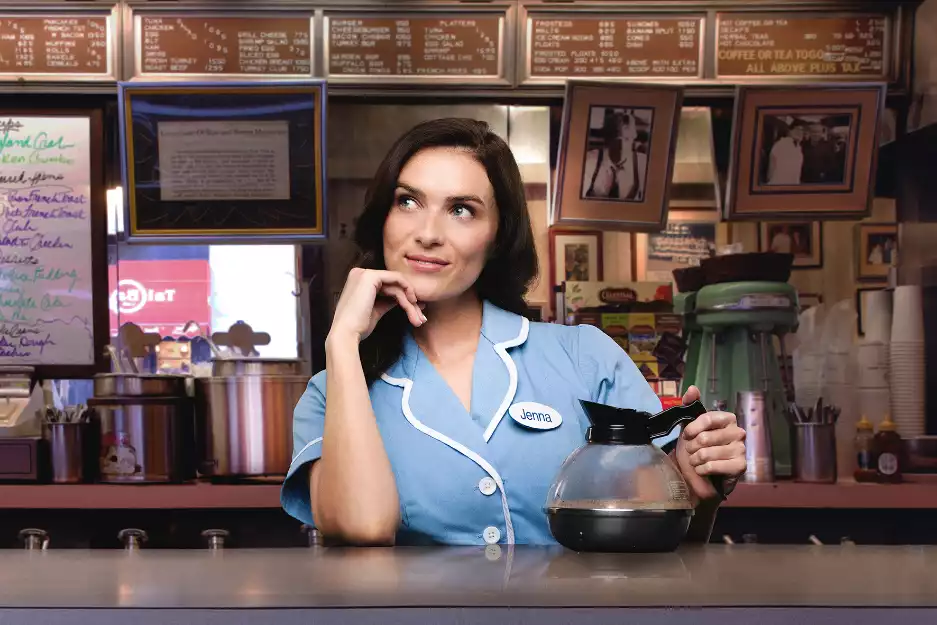 Thanks to Nina Jervis from www.ninathewriter.com for this review.

Are you a fan of The Great British Bake Off, to the point where you'd quite like to see Pie Week turned into a musical? Then Waitress might be for you.
Pies feature heavily in this show, you see. Most of them are baked by the lead, small-town girl Jenna, played by Chelsea Halfpenny. Along with her gal pals Becky and Dawn, Jenna works at Joe's Pie Diner, which serves 27 kinds of pie.
(These pies have names that actually wouldn't look out of place on Pie Week, like Couch Potato Pie, White Knuckle Cream Pie, and Bacon and Blueberry Pie – though that last one would probably get you sent home).
If pies aren't being baked or eaten, they're being joked or sung about. Jenna herself is "messy but kind… baked in a big beautiful pie," as she sings – beautifully – in the show's best number, She Used to Be Mine.
Jenna is stuck in an abusive relationship with her husband, Earl, whom she married when she was "too young to know any better". At the start of the show, we discover that she's unexpectedly pregnant by him.
The prospect of a baking contest in a nearby county offers Jenna a glimmer of hope: if she wins that, she can use the money to build a new life. So she starts squirrelling her tip money away; at the same time embarking on an 'escape-my-horrible-life' affair with her doctor, endearingly played by David Hunter.
When Waitress opened on Broadway in 2016, the show went down in history for its ground-breaking all-female production team. Based on a 2007 film written by the late Adrienne Shelly, and featuring songs by Sara Bareilles, its core message is feminine empowerment. We really CAN "have it all", with our sassiest girlfriends right by our side!
But sadly, for me Waitress missed the mark in a big way.
Although it's often played for laughs, Jenna's affair with Dr. Pomatter is weird. Not only her, but her girlfriends are living messed-up lives that aren't properly examined, and at times are utterly frustrating to watch. I also found 'Never Ever Getting Rid of Me', a song sung in the diner by a man who's had just one date with Dawn, a tad creepy, despite George Crawford's excellent comic portrayal of the character, Ogie. (Dawn herself wears glasses. Yes, they do come off, and yes, she is declared beautiful when she does! As a glasses-wearer myself, this well-worn trope is starting to make me feel paranoid).
I also had to glean from the programme that this was a show about strong female friendship, since this didn't register with me. Becky and Dawn are more the "you go girl!" type of friends, than ones who offer any actual wisdom or advice.
That role is given to a man: the diner's avuncular, Colonel Sanders-esque owner Joe (well-played by Michael Starke, of 'Sinbad in Brookside' fame). He is the only character who gently challenges Jenna over her affair, and who stands up to Earl when he staggers into the diner.
"Waitress" is at the Cliffs Pavilion until Saturday 13th August
And I won't spoil it, but the ending made me turn to my fiancé in the next seat, and mouth "seriously?"
There were some highlights. The set, with its sunrise skies and retro décor, was gorgeous. Wendy Mae Brown, who plays Becky, has the most incredible singing- voice, although I found the songs themselves instantly forgettable.
But if you're thinking Waitress might be a total dud, don't. I'm clearly in the minority by disliking it… as the whoops, cheers, and a rousing standing ovation from the rest of the Cliffs' audience showed.
---
ADD A COMMENT
Note: If comment section is not showing please log in to Facebook in another browser tab and refresh.
Related Items