Coronavirus update: how supermarkets are reacting to the outbreak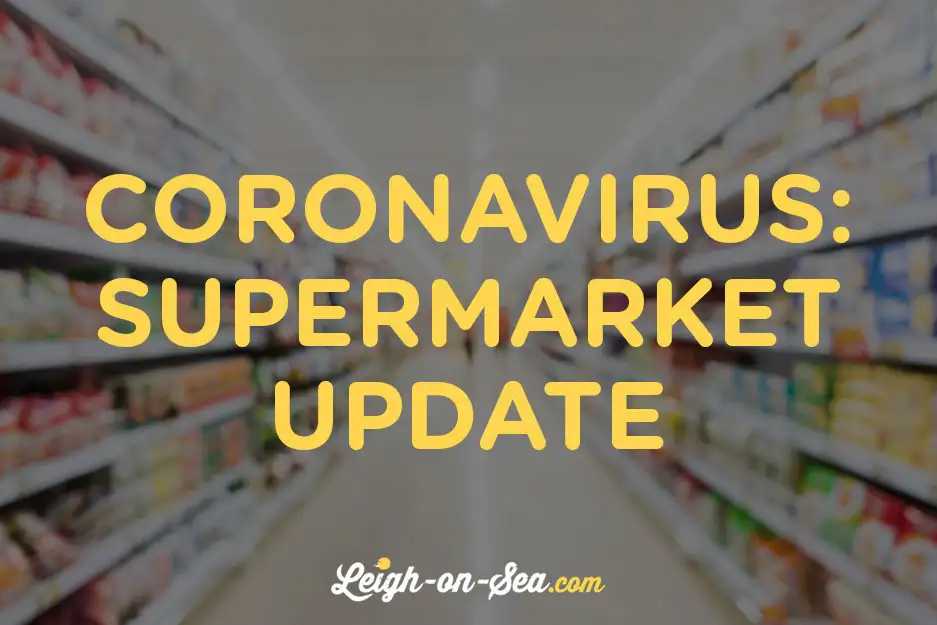 This page was last updated on 24/03/2020 at 10:55. You can see all our corona virus updates
here
We've all seen the news about panic buying and stockpiling, with customers even queueing before-hours to get the supplies they need.
Despite the government's advice against this reaction, we are still experiencing a range of shortages in our local supermarkets.
In response, some supermarkets have had to restrict purchases per customer and some have even allocated special hours to allow the elderly and most vulnerable the chance to shop before others. Here's a list of how the largest supermarkets are reacting to the outbreak.
Waitrose
Waitrose has just announced its 'Five Point Plan' for tackling the outbreak: - Limiting customer numbers: reduced number of people allowed in our shops at any one time, plus new signage to help keep customers two metres apart.
- Dedicated marshals in our busiest shops: squads will manage queues at shop entrances before and during opening as well as prioritise NHS staff.
- New cleanliness measures and introduction of checkout screens: to protect customers and Partners from passing on infection.
- All Partners to be offered special protective visors: creating a protective guard between you and them.
- Cashless and contactless payment encouraged: to prevent unnecessary contact. Partners will help customers use our Quick Check self-service app. We're also working to increase the ensure Contactless payment limit to £45.
Waitrose has also stated that they aim to help NHS workers by keeping daily essentials aside for them. Check out their Facebook for more details.
Sainsbury's
Sainsbury's released an updated list of how they will be responding to the virus: - All supermarkets will be open from 08.00 to 20.00 Monday – Saturday. Sunday opening hours will stay the same (please check on Store Locator for Sunday opening hours in your store). Sainsbury's Local and petrol station hours will stay the same. - Every Monday, Wednesday and Friday, all supermarkets will dedicate 08.00 to 09.00 to serving elderly customers, disabled customers and carers. - NHS and social care workers will be able to shop for half an hour before they open, from Monday to Saturday. Anyone with NHS ID will be able to shop from 07.30 to 08.00 on these days. - Online delivery slots have been prioritised for the elderly, disabled and vulnerable customers. If you're elderly, disabled or vulnerable and think you should be on our vulnerable customer list, please get in touch on 0800 328 1700. - Adding more Click & Collect locations (from Monday 23 March) - Putting limits on certain products (from Wednesday 18 March) - Closing cafes and counters (from Thursday 19 March)
Iceland
Iceland is another supermarket which dedicated the first hour of its opening time to the elderly and most vulnerable. Due to the success, it has now announced that all of its stores' first hour will be dedicated to the elderly and most vulnerable every day. In addition to this, Iceland has now dedicated the final hour of trading for NHS workers.
Tesco
Tesco will be prioritising one hour every Monday, Wednesday and Friday morning between 9-10am (except in Express stores) to the elderly and most vulnerable. Most recently, Tesco has also announced that an hour before checkouts open on Sundays will be for NHS workers. All Tesco stores are limiting products to 3 per person, this includes removing multi-buy promotions. Similarly to Sainsbury's, Tesco will also close all meat, fish, deli counters and salad bars. Distancing measures are also being put into place at the checkout. For the full list of Tesco's changes, check out the Twitter post below.
From Thursday 19th March we will be implementing some changes in-store - changes to simplify what we do, create the most helpful shopping experience we can, and support our hard-working colleagues.
Together, we can do this. #EveryLittleHelps pic.twitter.com/IdZY4urH1o

— Tesco (@Tesco) March 18, 2020
ASDA
ASDA has also limited customers to three of any product across all food items, toiletries and cleaning products, as well as dedicating opening time - 9am for the elderly and most vulnerable on Friday 20th March in its superstores. NHS workers also have priority access on Mondays, Wednesdays and Fridays from 8am-9am.
Aldi
Customers at Aldi are currently being limited to buying four items of any one product during each visit. Aldi stores have also recently changed their opening times, now shutting at 8pm every day from Friday 20th March, Sunday opening and closing times will remain unchanged.
Morrisons
Morrisons has stated that they are extending their home delivery service, as well as introducing temporary purchase limits on popular products. They are also one of the first supermarkets to introduce new protective screens at the checkouts in all stores this week. They also have a special NHS hour at all stores every day, Monday to Saturday from 7am to 8am.
M&S
M&S's most recent statement has revealed that they will be setting aside the first hour of opening for the elderly and vulnerable every Monday and Thursday. Also, for NHS workers and emergency workers, the first hour on Tuesdays and Fridays will be dedicated to them. They are also putting restrictions on certain produce, limiting two items per customer for frozen foods, homecare, groceries and eggs.
---
ADD A COMMENT
Note: If comment section is not showing please log in to Facebook in another browser tab and refresh.
Related Items