Estuary 2021 - an outdoor festival celebrating Essex and Kent shorelines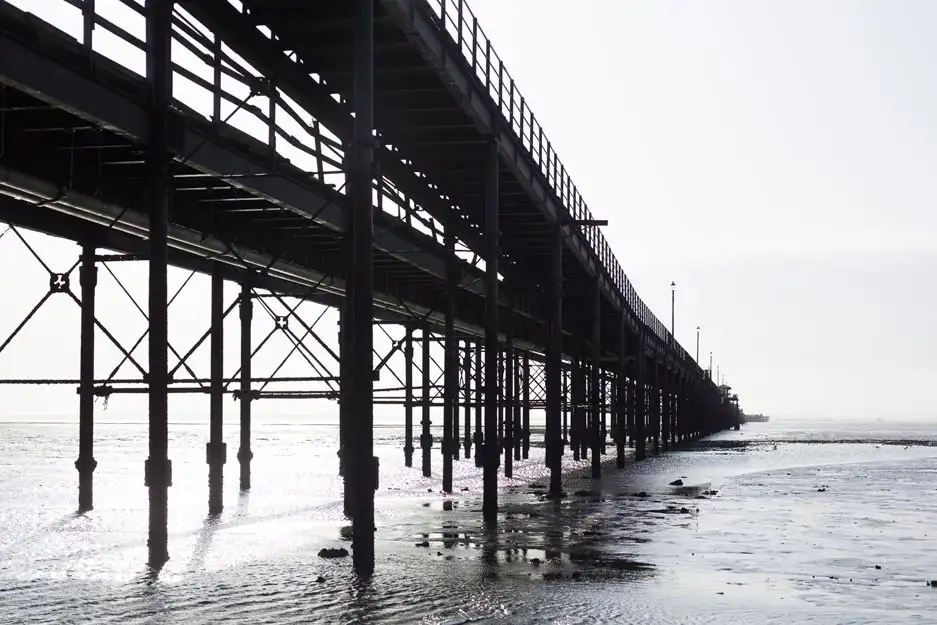 Estuary 2021 is an ambitious outside arts festival curated in response to the spectacular Thames Estuary and the lives, landscapes and histories found there. Produced by Metal Southend and Cement Fields in Kent, it includes a mix of large scale works and intimate artistic explorations. Alongside an online discussion and events line up, the physical programme will explore and respond to powerful themes resonant to the Estuary, from the climate, to rebellion and imperial legacy through literature, music and film.
Estuary 2021 celebrates culture, creativity, recovery and renewal and invites visitors to take an epic walk along the stunning coastline of South Essex and North Kent. Here they can encounter contemporary artworks and performances in the estuary landscape at historic sites and in coastal towns.
The estuary coastline as a continuous walk was originally described by writer and avid walker, Tom King, in his book Thames Estuary Trail: A Walk round the End of the World (2001, Desert Island Press) which celebrates its 20th anniversary this year. A search for unexplored, un-walked landscapes around the world, brought him right back to his doorstep in Essex, where he realised one of the greatest unwritten walks was right under his nose. A second edition of the book with a new introduction and extended chapters will be published for Estuary 2021 to be launched on Sunday 30 May from the iconic Southend Pier, with readings and an accompanied walk led by Tom.
Visual artist Maria Amidu will design a series of eight Watermarks, plaques which will be placed in the landscape to physically mark the Thames Estuary Trail. Supported by the Thames Estuary Growth Board, these plaques will be hosted by small businesses and visitor centres along the route. An accompanying illustrated map by Adam Dant will highlight all the reasons why setting out for a walk along the Thames Estuary promises great adventure. Conceived as an affordable 'multiple' artwork, it depicts the landmarks, great beauty spots, historic pubs, friendly restaurants, welcoming cafes and all of the stories to be discovered, along the route.
Inspired by King's book and responding to the pandemic, Estuary 2021 has placed over 50 artworks along this 107-mile-long walk to encourage locals to explore new perspectives on well-known estuary landmarks and some of the lesser known estuary environments. The commissioned artworks and events feature performance, installations, immersive storytelling, audio and broadcast works as well as murals, specific walks and tours. Full details of the programme can be found at https://www.estuaryfestival.com
Vanishing Point by Mary Mattingly, a commission for Estuary 2021 in partnership with Focal Point Gallery, is an ambitious two-part installation, comprising of a learning centre located on Southend Pier, and a floating sculpture moored in nearby waters that considers how the plant life of the Thames Estuary has evolved and responded to a changing climate over millions of years, and how this knowledge might be used as a prediction for a nearing future. Mattingly spent time in Essex prior to travel restrictions due to Covid 19 to respond to the history and landscape of the Estuary through the lens of the current climate crisis.
An online programme of discussion and events, brings together artists, scientists and activists from the estuary and beyond to audiences from around the world. This begins with the festival's opening weekend which will feature discussion, film and artworks curated by four practitioners who live in the Thames Estuary region: Jas Dhillon, Elsa James, James Marriott and Lu Williams. A series of publications will reveal hidden architectural gems, celebrate the great literary heritage of the river, inspire new literary responses and provide maps and guides to walking the estuary. The Estuary 2021 website will host new artworks connected to the wider programme, including a film programme specially curated by Gareth Evans, and a series of artists' podcasts released throughout the festival.
---
ADD A COMMENT
Note: If comment section is not showing please log in to Facebook in another browser tab and refresh.
Related Items