Grafters Cafe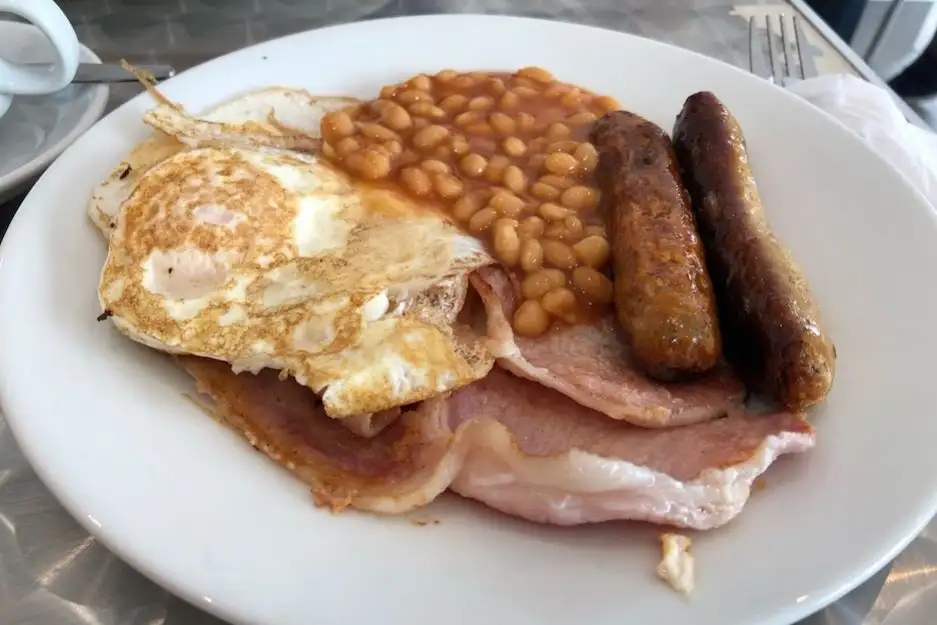 When I first joined the jolly team of writers at good ol' Leigh On Sea.Com, the brief was to write restaurant reviews. Everything from a greasy to spoon to fine dining they said. I think we've done pretty well so far. Yes, we've looked at local restaurants, burger bars, fish and chips, cafés even kebab shops (my dirty guilty pleasure!) I've even had a bloody superb meal in a vegetarian pub. But not just local, we've looked at London, and even farther afield; Berlin, Amsterdam, Mallorca, Rome and Naples. So, I reckon I nailed that brief and then some. But, there's one end of the spectrum missing; the good old British greasy spoon.
This time last year I reviewed The Waterside Inn. One of the most iconic restaurants in the Country and proudly holding the highest accolade in the culinary world; 3 Michelin Stars. Wowzers, that was fine dining at its absolute best. So, with that in mind, and to celebrate the anniversary of that epic review, lets take a trip to the other end of the gourmet spectrum. As I said, I have yet to review any greasy spoons, so no time like the present, and my timing couldn't be better.
There's a new kid on the block causing quite a stir. It's made national headlines, and has divided opinions amongst my friends, let alone my chef friends. And why? How the hell can this new café serve up an edible full English brekkie for a quid? Yep, you heard me right, one English pound can apparently get you a full English. You couldn't cook it at home for that, and that very point strikes fear and at times anger in to my foodie friends. Seriously chaps, this new Café has caused so much conversation and debate in my culinary circles, I couldn't resist but put this brekkie to the test. So, where is this bargain basement café? Just head in to Westcliff, and opposite the Hamlet Court Road car park you'll find Grafters Café!
To fully appreciate the delights of Grafters I needed to prepare myself. As we all know, our good old full English is known the world over as the perfect hangover cure. So, to put myself in the right frame of mind and get in to character, I had a few beers the night before. Well, I say a few beers, this wasn't just a couple of tinnies sitting in front of the TV. Oh no, the night before our visit to Grafters, another good old English tradition was happening; Last Night Of The Proms! In time honoured tradition we packed the fridge full of English Sparking wine, dug out our patriotic paraphernalia, turned the surround sound system up to 11 and let it blare out for all to hear. One bottle soon became two, then three, I'd pretty much lost track after that (Note: WWW.Leigh-on-sea.com promote drinking in moderation…..well, sort of, this was for research purposes!!). Anyway, god knows what we drank after the English fizz, but I certainly woke up the next morning in need of a greasy fry up; so on to Grafters we marched.
The place was packed out, but not everyone was chowing down on a £1 special. The menu here is simple. You order a 'Single', now this is the £1 brekkie. For that quid you get, a rasher of bacon, sausage, egg, beans and toast. A 'Double' is, as you'd guess, double of everything. You can go one further, and for £3 get three of everything. However, if you have the hangover from hell, and need some serious sustenance, maybe the Big 'G' is more appropriate. It comprises of the following (this is no joke):
12 Eggs
24 Bacon
20 Sausages
Jug of Beans
Loaf of Toast
All that for £19.99. Now go back to the beginning of this review. This place has divided my foodie friends. Just how good can the produce be? How the hell can you serve up so much food, for a bargain basement price? I've no idea, but, in the interests of journalism I had to find out. So, we all ordered a double. It arrived, and looked the part. Plenty of beans, and they tasted like beans should. The eggs were fried, and fried well, no egg snot present (that pleased Lou!). The bacon wasn't bad either. It wasn't rare breed dry cured bacon, but I wasn't expecting that. But, the real litmus test of a full English is the sausage. Sausage quality is key to the overall enjoyment in my opinion. Well? seriously I'm not going to lie, it wasn't too bad at all. A herby sausage with texture would be the best way to describe it. A non-offensive banger is all I ask for, and that's what it was. This greasy spoon classic hit the spot. Our whole table was suffering the consequences of too much pop the night before, but Grafters came to our rescue. We all agreed, we've had far worse and paid far more for it.
I'm guessing the cheapest café in the UK may not be everyone's cup of tea, and as I said at the beginning of this review opinions will be divided. But, its quality wasn't too bad at all. If you want a breakfast in swanky surroundings worthy of a Michelin star Stick to the Wolseley or the Ivy, but that's not what this is about, and wouldn't be a fair comparison. Grafters isn't too dissimilar to one of the legendary cafes in Borough Market. Some of you may know Marias Café. This no-nonsense greasy spoon run by Maria, a rosy faced rotund lady, serves up superb breakfasts in the same way she's done for years. It's become an institution. Maria's has been frequented by many a famous face, even Royalty. Rumour has it, Royalty bow down to Maria not the other way round! But, my point being, if Maria can do this serving up the classic full English why not Grafters?
So, to summarise? When hungover Grafters have everything in place to sort you out, you'll be feeling funky fresh in no time. The food is acceptable, the place tidy and clean, and the service is friendly and prompt. All in all, it aint a bad place, and one I will return to. One little criticism, how about adding black pudding to the menu? I luuurve black pudding and would happily pay a little extra for it?? Well, what do ya think Grafters??
You can find Grafters Cafe at 380A London Road, Westcliff!
To read all of Foodie Rich's previous reviews please click
here
---
ADD A COMMENT
Note: If comment section is not showing please log in to Facebook in another browser tab and refresh.
Related Items