Leigh girl donates £4,000 to local children's hospice after winning art competition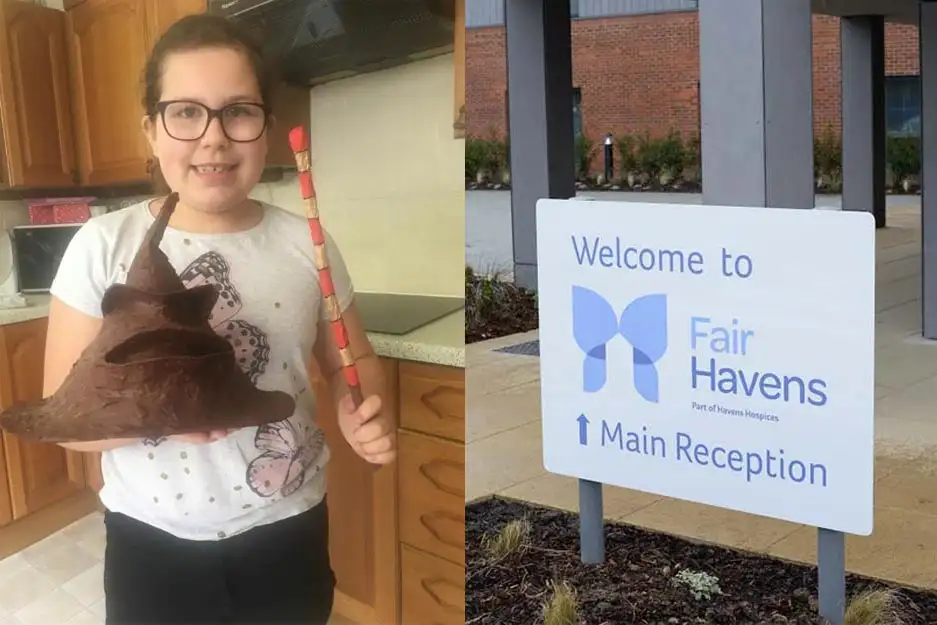 A 10-year-old girl from Leigh is donating £4,000 to Little Havens Hospice after winning in a charity art competition held by her mother's work place.
Isla Fulcher took part in an art competition organised by Tokio Marine Kiln – an international insurance company based in London - where her mother works and won in the category for her age group where she was able to choose a charity to donate £4,000 to.
Families of the staff members were invited to send in their artwork which they had made during lockdown, so Isla sent in her Harry Potter themed sorting hat and wand creation and kindly chose Little Havens to benefit if she won.
Isla said, "I had just started to get into Harry Potter and we had some cardboard boxes, so thought it would be a cool thing to make. I chose Little Havens because it is our local children's hospice and I wanted to donate the money so they could get some nice things for the children, or to just help them out. It would be nice to visit some time to see what it's like and meet the children."
Jane Hopkins, Voluntary Income Area Team Leader at Havens Hospices said, "We are incredibly grateful to Isla for thinking of Little Havens. It is so heart-warming to know that our local community continues to support us during these difficult times where our income has taken a major hit due to the pandemic. Of course we would also like to thank Tokio Marine Kiln which made the donation possible.
"This gift will help us continue 'Making every day count' for the children and families we care for and we hope Isla will be able to come and visit Little Havens when it is safe to do so, to see how her gift has helped our patients and their families."
Little Havens Hospice remains open to care for patients at the end of their life and has suspended all face to face respite, treatments and social activities as it's safer for their vulnerable patients to stay at home. However Little Havens is still offering telephone and video call support where they can, along with online music therapy, even if they can't be there in person.
Havens Hospices' care doesn't stop during the pandemic, so neither can its fundraising. To find out more about how you can fundraise for Havens Hospices visit www.havenshospices.org.uk/fundraising
---
ADD A COMMENT
Note: If comment section is not showing please log in to Facebook in another browser tab and refresh.
Related Items