Leigh-on-sea Town Council awards community stars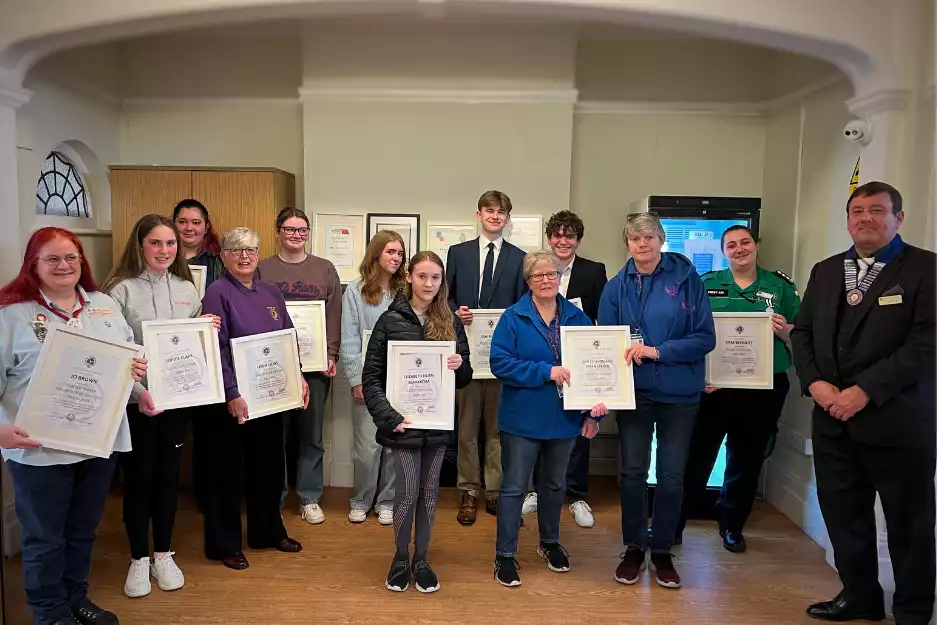 At the Annual Community Meeting on Friday 24th March, Leigh Town Council were pleased to present their Good for Leigh and Volunteer of the Year awards for outstanding people in the local community.
DONALD FRASER VOLUNTEER OF THE YEAR AWARD 2023
Jo Brown
Every year we ask for members of the public to nominate a hard-working volunteer that lives or volunteers in Leigh-on-Sea. The award is held in memory of the late Donald Fraser, one of our founding councillors. Donald was an avid volunteer and helped many groups and charities throughout his long life, and this award was created to keep his memory alive, and honour those who do so much for our town.
We are pleased to announce that this year's award went to Jo Brown, a selfless individual who dedicates much of her spare time to volunteering in the Town. Jo is an active volunteer within the Girl Guiding units running a Brownie unit and being a District Commissioner. She has also been musical director of the Southend Scout and Guide gang show for many years and is a member of the Southend Musical Festival committee. Leigh Town Council felt that Jo is truly an inspirational person for the youth of our town and her selfless volunteering was applauded by numerous parents, friends and colleagues.
2023 'GOOD FOR LEIGH' WINNERS
The Good for Leigh Awards were launched by the Town Council over a decade ago to highlight the work of individuals and groups throughout the Town who do their best - often without having to be asked - to make Leigh a better place. Thank you to this year's winners, who were presented with their awards at our Annual Community Meeting in March
ANN CUSHION AND HELEN LEADER- for supporting the Leigh Community with animal welfare particularly in the support they provide at Tilly's Angels for lost dogs.
LEIGH LIONS – for funding public defibrillators, their organisation of Leigh Regatta in recent years and supporting the Town Council and the other community groups over many years.
SAM BENNETT – as group leader of Leigh's St John Ambulance Cadets. Sam has increased membership and has supported and lead cadets of all ages, particularly during the Covid pandemic.
KARRAN PRINCE – as creator of the Community Larder hosted at Leigh Community Centre and available for all residents.
DAVE WATSON – for the support regarding the skatepark extension and refurbishments. Dave and his team host lessons in the Skate Park donating a commission towards the upkeep of the park. Their Leigh Skate Park community group supports all ages of skaters and users.
MADDIE CREASE – for bringing the Listening Room to life in the Leigh community. Maddie hosts the monthly evenings and arranges featured artists for all to enjoy.
SOPHIE CLARK – for her commitment to helping the community and less-abled. For her volunteer work at Foresters to pack food parcels for the homeless, soldiers away on duty and for those less fortunate in society. For her involvement in many aspects of school life and most recently her help at One Love Project and Soup Kitchen in Southend.
GUY RUSSELL – for being such a strength to his family during a long period of family illness. For being independent and strong during that very difficult family time especially as he was unable to visit his mother and for making his parents proud.
GEORGE FURNESS – for being an invaluable friend to Guy Russell during difficult time for him and for being kind and caring.
JESSICA HALLS – for seeing the value in friendships and always being kind.
ANNIE SMITH – for her volunteering services to help out Badgers Den, a special needs community respite club for youngsters, with down syndrome.
ELIZABETH LILIAN BLAHAKOVA – for her student ethos of always being ready for school, checking homework provision and enjoying the learning process.
PHOTO: Selection of Community Awards Winners with Chairman of Leigh Town Council
---
ADD A COMMENT
Note: If comment section is not showing please log in to Facebook in another browser tab and refresh.
Related Items