Nina Jervis Reviews Singing-In-The-Rain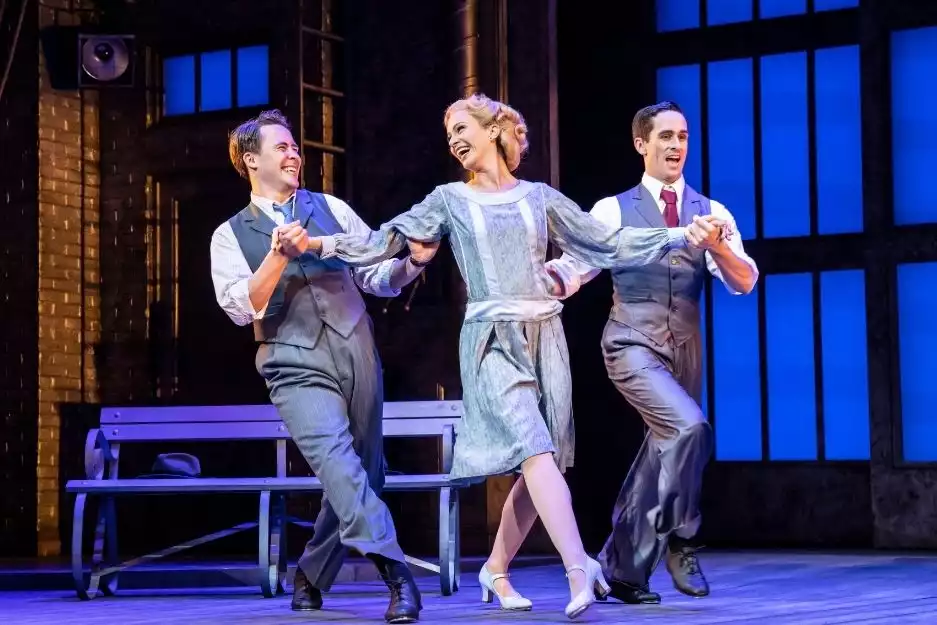 Thanks to Nina Jervis from www.ninathewriter.com for this review.

Sorry to start with a corny bit about the weather, but arriving at the Cliffs straight after a heavy downpour lent Singin' in the Rain a spell of authenticity before the show had even begun.
Never had a merchandise stand, festooned with bright yellow umbrellas and hooded waterproof ponchos, looked so on point.
My two sisters and I were practically brought up on vintage Hollywood musicals, so we'd been looking forward to this. But given the legendary status of the 1952 film, there was a lot to live up to.
We were dropped into the glitz and glamour of 1920s Hollywood right from the start, by way of a glittering movie premiere featuring two of the silent era's most fabulous stars, Don Lockwood and Lina Lamont.
Lockwood and Lamont are riding high, until the advent of the 'talkies' threatens Lina's career: she's got a voice that could peel paint off the walls. So, in true Milli Vanilli style, Lina's voice is dubbed by the golden tones of Kathy Selden, a chorus girl who also manages to captures Don's heart.
Of course, things don't go quite as smoothly as that, since Lina is also a notorious diva who's in love with Don herself. She sets out to put an end to Kathy's burgeoning movie career, with often hilarious results.
Despite loving the original film performances, we were blown away by the talent of the entire cast. Sam Lips was incredible as Don Lockwood, joyously tapdancing through splashy puddles and twirling deftly around a lamppost in the iconic Singin' in the Rain routine.
Essex native Jenny Gayner was outstanding as Lina Lamont, playing her with bucketloads of personality and razor-sharp comic timing. It takes some talent to sing an entire song endearingly off-key, as she did in What's Wrong With Me, earning raucous applause from the audience.
Charlotte Gooch turned in a fine performance as Kathy Selden, with a mesmerising singing voice that drew actual goosebumps, particularly on Lucky Star. But it was Ross McLaren who shone the brightest as Don's wise-cracking best friend Cosmo Brown. His wide, infectious grin lit up the stage throughout, and he even recreated Donald O'Connor's famous wall flip during Make 'Em Laugh.
The dance routines are absolutely breath-taking in places, particularly the low-lit Broadway Melody sequence, which featured Harriet Samuel-Gray flawlessly recreating Cyd Charisse's original 'vamp' role. We also enjoyed Moses Supposes, with a fun and talented performance from Alastair Crosswell as Don's stuffy dialect coach.
Yes, I could mention that the plot is terribly outdated in places. Don's aggressive pursuit of Kathy at the start felt slightly uncomfortable in the era of #MeToo, and Beautiful Girl is a cringe-worthy number that could have been dropped without damaging the plot.
But as the cast finished their final, full-company rendition of Singin' in the Rain, complete with colourful brollies under another on-stage downpour (those in the front few rows might want to grab a poncho from the merchandise stand!) we joined the rest of the audience in a standing ovation.
After such an exceptional show, we couldn't not.
Singing-in-the-rain is showing at the Cliffs Pavilion until Saturday 9th April
---
ADD A COMMENT
Note: If comment section is not showing please log in to Facebook in another browser tab and refresh.
Related Items