Nina Jervis Reviews The Mirror Crack'd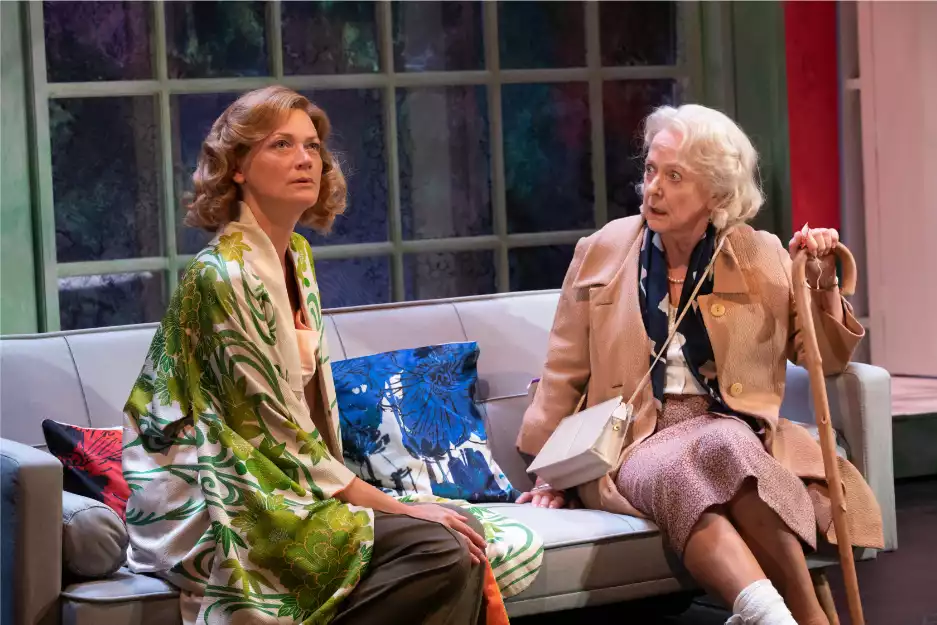 Going to see a murder-mystery play in November should be a compulsory requirement for everybody.
Why? The dank, chilly gloom outside only adds to that delicious sense of escapism as you enter the theatre. I can't imagine I'd have felt the same, had I gone to see The Mirror Crack'd on a balmy evening in August.
My expectations were high: although I'd never seen an Agatha Christie play before, I felt in excellent hands. Miss Marple is a legendary character, after all, and The Mirror Crack'd an iconic tale that has been adapted for stage and screen many times.
The story goes like this: we're in 1960s England. A glitzy American film star named Marina Gregg has just moved into Gossington Hall, a manor house in the sleepy village of St. Mary Mead. Naturally, there's a murder, and this spurs villager Jane Marple – confined to a chair after an ankle-sprain – into action.
Matt, my friend and companion for the evening (and an Agatha Christie super fan!) agreed with me that Susie Blake made a fantastic Miss Marple, expertly blending comedy and pathos. Her Miss Marple gave us plenty of witty moments, including hamming up the role of the "doddery old lady" during the ensuing murder investigation.
But there were also some compelling conversations with her old friend Dolly Bantry (marvellously played by Veronica Roberts) in which she reflected on the frailties of age and the sadness of lost love. I was completely engrossed, and it was easy to believe that these two women shared a friendship that had endured over decades.
Joe McFadden's role as Jason Rudd, Marina Gregg's film-director husband, was played by David Partridge on this evening. He came across just as he should: ultra- protective of his wife, with an uneasy sense that there was much more going on behind the scenes. Meanwhile, Sophie Ward's statuesque Marina reminded me of Grace Kelly, with an ice-cool aloofness that really suited her character.
A stand-out mention should also go to Oliver Boot, whose performance as Chief Inspector Craddock was both humorous and warm-hearted. Mara Allen lit up the stage as Miss Marple's bumbling carer Cherry Baker, and Chrystine Symone, who played Lola Brewster, Marina's co-star in her latest film, was the perfect starlet-with- a-story.
Meanwhile the set, designed by Adrian Linford, was beautifully inventive, effortlessly managing to encompass Miss Marple's light-filled conservatory, the grand Gossington Hall, and a busy working film-set. I thought the story's flashbacks were cleverly played out, too, although at one point I heard the man next to me whisper that there were too many people cluttering the stage!
Although I managed to work out who the murderer was almost immediately (go me) this didn't hamper my enjoyment of the play. I needed to know "why", after all, and this I absolutely couldn't have guessed. I also appreciated how the story treated every character, including the murderer, with empathy and understanding.
Matt mentioned that a few of the story's details had changed from how he knew it, so if you're an aficionado then there may be a few surprises in store for you, too. For me, The Mirror Crack'd was a wonderful introduction to the world of Agatha Christie, and I thoroughly enjoyed it.
The Mirror Crack'd is showing at the Palace Theatre, Westcliff until Saturday 3rd December.
---
ADD A COMMENT
Note: If comment section is not showing please log in to Facebook in another browser tab and refresh.
Related Items