Opening of inaugural Estuary festival makes a splash on the national stage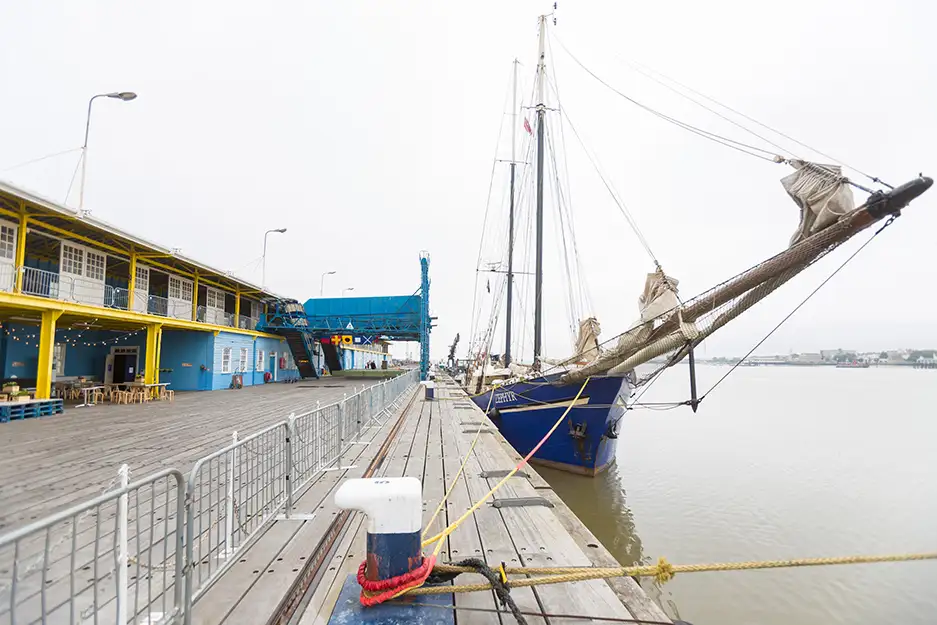 Estuary 2016 at Tilbury Cruise Terminal, Coalhouse Fort, LV21 and Gravesend High Street saw 5500 visitors over the opening weekend. They enjoyed work by 26 contemporary artists, talks by artists and writers on estuary related themes, films, boat trips, tours of the river infrastructure at Tilbury Port, Port of London Authority and other festival activities.
One of the highlights of the opening weekend included an appearance by Game of Thrones actor Stephen Dillane who read the opening extract from Joseph Conrad's Heart of Darkness which describes in dramatic and evocative language, the Thames Estuary at that exact point at Tilbury / Gravesend.
John Eacott's performance of Floodtide was also popular with audiences. Musicians from France, Tilbury and Southend-on-Sea sight-read notes that were generated live by the flow of tide through a sensor placed in the river itself. Internationally acclaimed performance artist, Caroline Bergvall, wowed early birds with her performance of RagaDawn at 6.38am on Sunday morning – and Rachel Lichtenstein launched her latest book Estuary: Out from London to the Sea which has been six years in the making.
Perry Glading , Chief Operating Officer of the Port commented "this weekend went beyond all our reasonable expectations, the feedback we have received from everyone at the Port and the local community convinces us that the decision we took to support Metal was absolutely the right decision and a wonderful example of how the Port can be showcased to those not familiar to what we do here on a day to day basis. I would like to thank Colette Bailey and all her team at Metal and also the fantastic efforts of those of our employees who put so much effort into the weekend being such a success for all."
Colette Bailey, festival director of Estuary 2016 and CEO of producers, Metal, said, 'The weekend was a really great start for our 16 days cultural celebration of the great Thames Estuary, the Points of Departure visual art exhibition now stays on at Tilbury and Gravesend until 30 September, as the festival activities move downriver towards Coalhouse Fort and Southend-on-Sea for Southend Charabanc and Fort Film Night next weekend.'
Rachel Lichtenstein, who curated Shorelines, the literary part of the festival said, ''There was so much powerful art, films, speeches and talks that were made all the more resonant because of the fantastic location in the historic Cruise Terminal. The feedback has been stunning and it seems that the Estuary festival has been a truly exciting and meaningful weekend for everyone who came along and participated as an artist, speaker or festival goer.'
---
ADD A COMMENT
Note: If comment section is not showing please log in to Facebook in another browser tab and refresh.
Related Items