Planned highways improvement works announced for October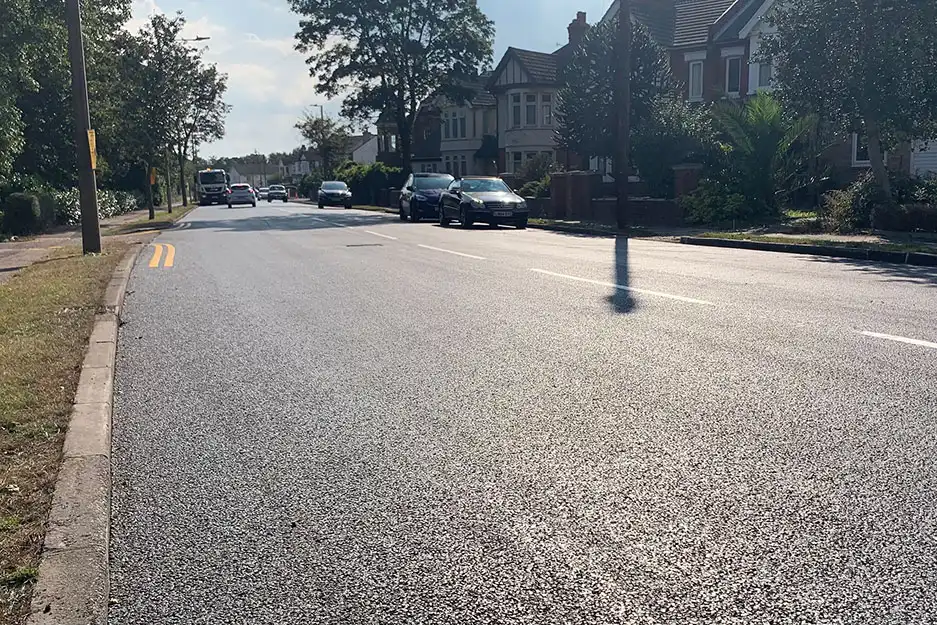 Nine roads and three pavements across the Borough are planned for repairs and resurfacing throughout October as the council continues its £10m highways investment programme for 2021/22.
A full list of roads set for repairs between April 2021 and March 2022 was released in March 2021 as part of a £5m phase 1, as the council's highways contractor, Marlborough, will be repairing and re-laying full roads and stretches of roads that require immediate attention. The £5m phase 2 programme was announced in July 2021.
Works for the following roads are planned throughout October:
| | | |
| --- | --- | --- |
| Road name | Planned duration of works – days/nights | Stretch of road being resurfaced |
| Blenheim Chase | 04/10/21 – 05/10/21 (Nightwork) | School Way to Elmsleigh Drive |
| Southchurch Road | 07/10/21 – 07/10/21 (Nightwork) | Junction at Lifstan Way to Chinchilla Road |
| Western Approaches | 11/10/21 – 12/10/21 | Byfield to Morrisons |
| Eagle Way | 13/10/21 – 13/10/21 | Kingfisher Close to Constable Way |
| Priory Crescent | 14/10/21 – 15/10/21 (Nightwork) | No. 236 to Cuckoo corner Roundabout |
| Kings Road | 18/10/21 – 20/10/21 | Leigh Road to Chalkwell Avenue |
| Kings Road Alissa | 21/10/21 – 21/10/21 | Crowstone Road to Ailsa Road |
| Woodgrange Drive | 22/10/21 – 25/10/21 | Honiton Road to Traffic Island past Arnold Avenue |
| Bournemouth Park Road | 26/10/21 – 28/10/21 | No. 137 to No. 162 |
| Pavement location | Planned duration of works – days/nights | Stretch of pavement being resurfaced |
| Esplanade Gardens – Chalkwell Avenue | 13/10/21 – 02/11/21 | Full road |
| Tudor Gardens | 21/10/21 – 01/12/21 | Full road |
| Thorpedene Gardens | 25/10/21 – 03/12/21 | Full road |
A full list of the 54 roads and 76 pavements set to be resurfaced in 2021/22 can be found on the council's website: https://www.southend.gov.uk/resurfacing
All road closures will be clearly signposted two weeks before work takes place. All work is dependent on the weather, as crews are not able to lay roads in adverse weather.
Cllr Ron Woodley, cabinet member for transport, asset management and inward investment, said: "I am pleased to see the significant investment this administration has made into our roads and pavements taking shape, with the £10m investment leading to 54 roads and 76 pavements being resurfaced in this financial year.
"This investment does not include the additional highways projects including The Bell junction, which has recently been completed, the Find and Fix programme, which saw 2,359 defects repaired between June and September 2021. We are now finalising phase one of our road resurfacing programme, and will commence phase two from next month.
"We have three new pavement resurfacing schemes scheduled to commence during October, in addition to those that have already commenced during September.
"We are absolutely committed to improving our roads and pavements to ensure local people can travel in and around the town safely, and we will continue to invest in our roads so that they reach the standards this town deserves."
How to report a defect
If you are aware of any road defects or roads that need resurfacing or patch work, please report these online via MySouthend.
How we prioritise, repair and resurfacing works
The areas have gone through a strict quality check in line with the council's procedure, which is based on various risks, and in accordance with the Highways Code of Practice. This procedure considers various items including road condition, bus routes, key routes, claims made, incidents, and flood risk.
---
ADD A COMMENT
Related Items