Leigh-On-Sea Independent Shops and Businesses Take Part in Fiver Fest to Celebrate Independent High Streets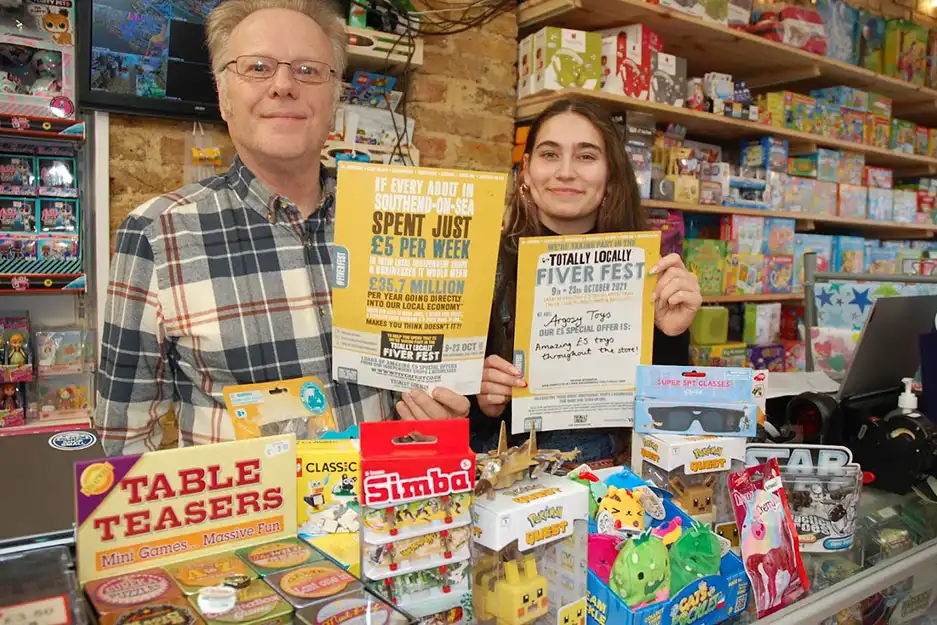 Independent businesses in Southend-on-Sea are taking part in TOTALLY LOCALLY National Fiver Fest from 9th – 23rd October thanks to its success in Leigh-on-Sea over the past two years.
The borough will join over 100 other towns throughout the UK, aimed at encouraging shoppers back into their local town centres and high streets.
Businesses in Leigh-on-Sea, Eastwood, Shoeburyness, Southchurch, Southend (central), Thorpe Bay and Westcliff-on-Sea will join other Independent High Streets across the UK and put on an amazing £5 offer for shoppers over the two weeks. Shops, cafés, restaurants, pubs and businesses alongside independent online businesses are all taking part.
FIVER FEST is a free to join campaign, devised and run by Totally Locally, a grass roots high street organisation that has been helping businesses and High Streets to help themselves since 2010 with incredible results. Fiver Fest is based around the now famous Totally Locally £5 message: "If every adult in the Borough of Southend-on-Sea spent just £5 per week in their local independent shops and businesses, it would mean £35.7millon per year going directly into our local economy, which can lead to more jobs, a better high street, a stronger economy & a nicer place to live." Fiver Fest has been running in individual towns in the UK and abroad over the past 7 years, and in June over 100 towns joined in together to make one huge Fiver Fest across the UK - from the North of Scotland to the very South of England.
Fiver Fest has successfully run for two years in Leigh-on-Sea, and its popularity has led to it being rolled out as a borough wide campaign by a group of local volunteers.
David Elcock from the Totally Locally Southend-on-Sea volunteer team explains: "Many of us wouldn't think twice about spending £5 in a coffee shop, so we're encouraging people to think about where they spend that £5 in October. We saw some incredible support for independent businesses during the pandemic and Fiver Fest is a reminder to keep that support going. Try a local independent you haven't tried before, go back to one you haven't been in a while, check out a new small business who have just launched their website. Tiny actions like this can make a huge impact when lots of people vote with their feet and now we're aiming for bigger and better by going borough wide!"
Shoppers can pick up some £5 bargains in October including early Christmas gifts, food and drink offers, jewellery cleaning, clothing and accessories. Just look out for the posters in windows and online promoting the offers.
Rockamilly on Leigh Broadway has taken part in Fiver Fest Leigh-on-Sea for the last couple of years. Team member Stacie said: "Fiver Fest is such an important event in our calendar. It really drives home how even the smallest amounts can make such a difference to a small business."
Karen Mitchell, owner at MitchStick Made creates handmade gifts and cards and has a shop space on Southchurch Road. She saw Fiver Fest Leigh-on-Sea take place over the last two years and wanted to get involved: "We have chosen to be a part of Fiver Fest as we saw how it has helped to bring local businesses together when it has taken place in Leigh-on-Sea. I'm excited that I'll not only be selling via my online marketplace but in our new bricks and mortar shop, so I'll get to meet more local shoppers!"
Katy McGurk, owner of online candle and home fragrance shop Joe & Anna Marketplace said: "I chose to be part of Totally Locally Southend-on-Sea because I am passionate about supporting local shops rather than chains. The great thing about Fiver Fest is that you find yourself visiting places you may not normally go to, to see what brilliant items they have and end up spending more! It's a lovely community spirit and we all end up helping and supporting each other."
Elwira Middleton who owns Temple Café on London Road in Westcliff-on-Sea will be offering hot drinks and homemade cake as part of their Fiver Fest deal: "This is a unique opportunity to collaborate with other local businesses, encourage people to shop locally more often and support our wonderful independent businesses."
"We know Fiver Fest isn't going to change the world", said Chris Sands of Totally Locally, "But small changes in spending habits can really make a difference to our high streets. Just by diverting £5 of our weekly spend to local independents we give them a fighting chance to thrive. The Pandemic has shown just what an amazing contribution they make to our local communities. It's a conversation worth having! It is for this reason, that the sixth National Fiver Fest is taking place. This time it's even more important than ever, after how our world has changed during 2021. YouGov research has shown that 59% of shoppers have used more local shops to support them during lockdown. And they want to keep on supporting them. Fiver Fest makes that even easier."
It's not too late for businesses to sign up to take part in Fiver Fest Southend-on-Sea. Sign up or find out who is taking part at
www.southendonsea.totallylocally.shop/fiverfest
---
ADD A COMMENT
Related Items