Plans in place for busy bank holiday on Southend's seafront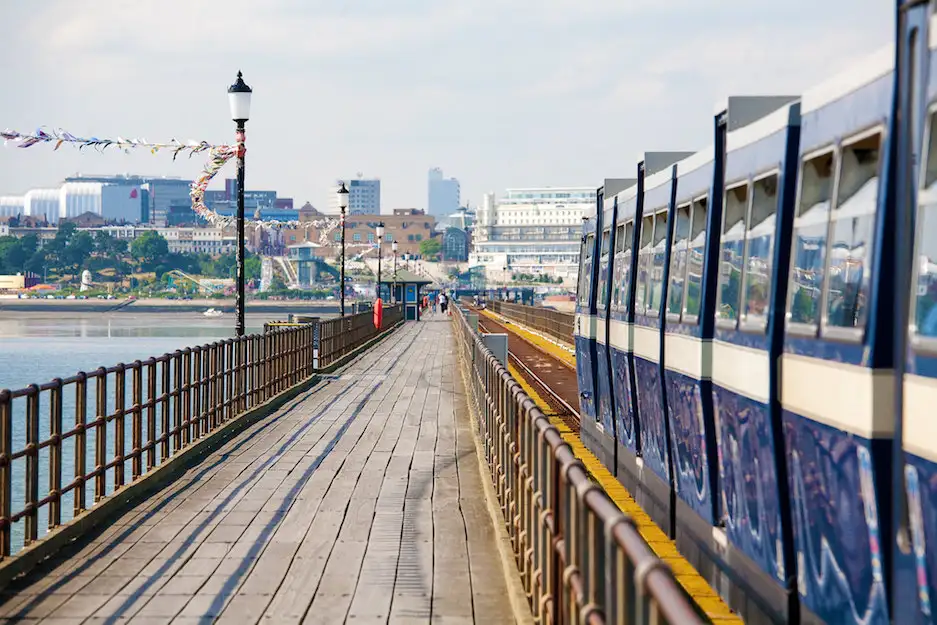 With Southend-on-Sea forecast to be basking in sunshine this Easter Bank Holiday weekend, the town is gearing up for a welcome influx of day-trippers to the Borough's shores.
The Council and its partners are enacting "Operation Heatwave" – an operation usually reserved for the hot summer months and which brings together teams responsible for highways, parking, waste, the police, CCTV and local businesses (through the Southend Business Improvement District) - to prevent and respond to the opportunities and challenges of fantastic weather.
A raft of measures is being put in place to help visitors find available parking spaces, dispose of litter responsibly, locate a public toilet and reunite lost children with their families.
Additionally, a newly constructed right-turn lane from Queensway onto York Road will be open, allowing motorists to access the York Road and Tylers Avenue car park more easily and without having to do a U-turn around the Seaway car park roundabout, which contributes to congestion at peak times.
Scott Dolling, Director for Culture, Tourism and Property for Southend-on-Sea Borough Council, said: "If the weather forecasts are correct, this will be the warmest and sunniest weekend of the year so far, with temperatures higher than Mallorca. Therefore, we are hoping many people will take the opportunity to visit our beautiful shores.
"Anyone who lives here will know that on busy days, seafront car parks can fill up quickly and queues can form at payment meters at peak times. What's more, cars queuing outside already-full car parks can lead to congestion.
"This year, we also have the Southend Shakedown Resurrection on Easter Monday, which will potentially see thousands of bikers cruising to the seafront to show off their pride and joy.
"Throughout the weekend, we will be directing motorists to available parking spaces and encouraging use of the Mobon parking app to help tackle any queues at parking meters.
"We are deploying extra resource into our waste, community safety and highways teams to help deal with the extra demand on these services.
"Ultimately, our aim is to provide a safe and pleasant visitor experience that leaves people wanting to return to our town."
For the latest visitor information, go to www.visitsouthend.co.uk
The following actions all contribute to Operation Heatwave:

Keeping safe
Southend's new Community Safety Team will be patrolling the town centre and seafront throughout the Easter weekend, with added assistance being drafted in on Easter Monday from security firm Stambridge.
The Community Safety Officers will provide a welcome and reassuring presence to visitors and residents alike and deal with reports of antisocial behaviour.


Parking
Vehicles queuing to access already full seafront car parks can contribute to congestion in the town. As town centre car parking is cheaper than peak-season parking by the beaches, visitors could spend less time and money getting to the beach by parking up in town and walking.
Most town centre car parks are a mere five-to-ten minute walk from the seafront. You can find a list of Council Carparks and availability here: https://southendparking.apcoa.co.uk/parking_map
This year, a newly constructed right-turn lane from Queensway onto York Road will also be open, allowing motorists to access the York Road and Tylers Avenue car park more easily and without having to do a U-turn around the Seaway car park roundabout which contributes to congestion at peak times.
We will again be deploying staff into our two busiest seafront car parks, Seaways and Fairheads, to help visitors find parking spaces and assist them with paying for parking and handing out visitor guides.
Visitors can avoid queuing at parking meters by downloading the Mobon parking app before they depart and paying on their phone when they arrive. This also offers the added benefit of enabling you to top up your parking from your phone if you end up staying longer than you thought you would.
The Blue Flag award winning beaches at Shoebury and Thorpe Bay also offer great places to enjoy the seaside and thousands of parking spaces, with many available when central areas are full. Signage will be in place to help direct visitors to these beaches.
Parking at Southend Civic Centre and the Beecroft Gallery will also be signed from Victoria Avenue over the weekend, giving visitors the opportunity to park all day from £3.
The Gasworks site on Eastern Esplanade will serve as overflow car park on a pay-by-phone only basis from Good Friday to Easter Sunday. Special arrangements are in place for Easter Monday due to the Southend Shakedown Resurrection.
Coaches will also benefit from free parking at the Gasworks from Good Friday to Easter Sunday, with coaches being directed to Southchurch Park East on Easter Monday in order to accommodate the Southend Shakedown Resurrection.

Easter Monday traffic and parking arrangements
There will be special arrangements in place on Easter Monday in order to accommodate the Southend Shakedown Resurrection.
Traffic will be suspended along the seafront between 9am and is expected to reopen at 5pm in order to create dedicated parking for 2,000 motorcycles on a ticketed basis. Only motorcycles displaying a parking disc, issued by the event's organisers, will be permitted to park in this area. 1,000 discs have been allocated in advance, with the remaining thousand to be issued on a first-come-first-served basis on the day. In addition, the Gasworks car park operate as an overspill motorcycle car park and be open to motorcycles only on the day.


Public Toilets
As last year, extra portable toilets will be made available on the central seafront area to reduce queueing at permanent public toilet facilities.


Beach safety
The Council offers the following advice to help ensure a visit to the beach is remembered for all the right reasons.
· Supervise children and vulnerable adults at all times. There is safety in numbers.
· Wear jelly shoes or other sensible footwear on the beach and in the sea. Like with all seafronts, hidden dangers such as sharp shells and rocks may be hidden under the sand or water.
· Don't climb the rocks: Several areas of our seafront have rocks, including our seafront lagoon at Three Shells Beach. Please do not climb them. Not only could you become injured, but you also risk falling injured into the sea, impeding your chances of swimming to safety.
· Slip, slap, slop, seek, slide: Sunburn is a leading cause of skin cancer. Sunstroke and dehydration are also extremely dangerous. Slip on a T-shirt, slop on some sun cream slap on a hat. Seek out some shade and slide on some sun glasses to protect your eyes too!
· Observe signs and flags: Heed warning signs and flags: they could save your life!


Travel
Visitors are being urged to consider travelling sustainably to town in order to help reduce traffic levels. Although Network Rail works are affecting the Abellio Greater Anglia line, the C2C line offers a quick route to all of our beaches across the Borough, from Leigh-on-Sea to Thorpe Bay. They also run regular promotions for journeys to Southend.
For those who arrive by car, electronic traffic signage will be actively updated throughout the weekend to help inform visitors of accurate traffic and parking information. The Blue Flag award-winning beaches at Shoebury Common and Thorpe Bay will also be promoted, to encourage visits to these less visited areas.
Litter
The Council's waste contractor, Veolia, is putting extra staff on standby to quickly respond to any issues of beach littering. Their beach combing machines will be combing the beaches during the mornings to prepare for visitors while litter pickers will patrol the beaches in the evening to pick up any litter left behind. Staff from the council's waste team will also be part of a high-visibility presence over the weekend.
Extra beach bins will be made available across the central seafront, with flags helping visitors to locate these on the popular Jubilee Beach.
Full bins should be reported via MySouthend: https://www.southend.gov.uk/MySouthend
Several businesses in Southend have now signed up to become water refilling stations, allowing visitors to refill their water bottles for free in their premises. To find your nearest water refilling station, download the Refilll app from www.refill.org.uk
Missing children
Southend Business Improvement District (BID) will be continuing to promote its wristband scheme, which aims to reunite lost children with their families.
Southend BID has produced the wristbands for children to wear on which parents or carers can write their name and contact number. In the event, the youngster gets separated or becomes lost, a phone call to the number can help reunite them with family.
Further information about the scheme – and where to get a wrist band – can be found here
To read all our other news please click
here
---
ADD A COMMENT
Note: If comment section is not showing please log in to Facebook in another browser tab and refresh.
Related Items