The Royal Hotel: Restaurant Review
So, the other week I'm having a quick scroll through Facebook. My feed seems to consist entirely of food pictures and rather un-inspirational, supposedly, 'inspirational' quotes. The food pictures I must add are everything from new dishes at the Roux's 3 Michelin starred Waterside Inn, all the way to car crash efforts on rate my plate! (if you haven't checked out rate my plate you must, I'll leave that there!!) Anyway, during this rather dull Facebook session, the Royal Hotel posted an introduction to their new head chef; now this is a little more interesting! I love the Royal, it's been a favourite of mine since day 1. Not just for the food, that's always been good, but drinks at the bar too. Oh, and not forgetting their small terrace area which is a real sun trap. It's the perfect vantage point to watch the comings and goings along pier hill whilst enjoying a glass or two.
I read the short post, and it sounded very interesting. Harry Lumsdon now heads up the pass and has quite a background. Harry's short career has clearly been a busy one. Cutting his teeth in Michelin starred restaurants, Harry went on to win 'Young Great British MasterChef' in 2016 when he was just a whipper snapper at 21. So, clearly, he knows his stuff. Coincidently, that same day, I opened the Evening Echo, and there he was again! Sharing the front page of the taste section with James Martin. Yep, all this media hype and celebration certainly made me sit up and take note. I hadn't eaten in the Royal for some time. What was I waiting for! With a new head chef resident, I had the perfect excuse to get back down there.
The Royal Hotel is one hell of a venue. Now 200 years old the place is steeped in history and undoubtedly the most iconic building in Southend. Lovingly restored to its former glory, every room in this building just oozes style. Lou and I were booked in to the main Ballroom for lunch, which is the main dining area. I would've been quite happy with a few bar snacks and a beer, but for this visit we had to go all out, lets see what Harry's really about.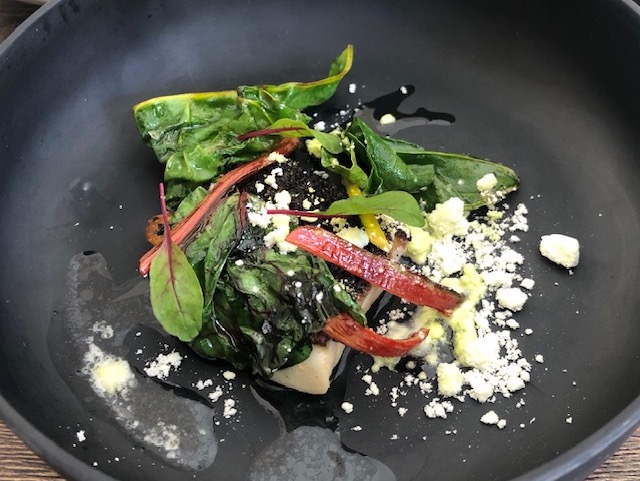 So, what did we eat? To start a fillet of cod roasted with chard, black ash and garlic powder. Cooking fish is no easy task, just a few seconds too long in the pan is enough to ruin a wonderful piece of seafood. No problem here, Harry nailed it. The milky flesh of the cod flaked beautifully, and the chard made for a great accompaniment. The ash added subtle flavour together with texture. Can't say I've ever eaten garlic powder before, however, it bought the dish together wonderfully. Lou went for the 'Bird' liver parfait. This silky smooth and rich parfait ate so well on the toasted brioche. Im not sure which type of bird livers they were, but who cares it tasted superb. Added to the plate was a date puree. The contrast of the sweet puree and delicious savoury parfait was excellent. An unusual addition were deep fried cauliflower leaves. I normally throw away cauliflower leaves, but not anymore, I'm gonna deep fry them. Who'd of thought something as simple as that could bring so much to the table! Well, so far so good!
On to the main event. After my light and fresh fish start, it was time to get downright heavy! The rolled 'Striploin' of beef had my name all over it. This arrived as two very generous thick slices of pink beef! Just what I was after. A very rich sauce accompanied this wonderful plate of meat together with watercress puree. The beef was bloody good and the crowning glory as you'd expect. However, a couple of clever additions made this dish sing. I wondered what was inside the accompanying cabbage parcel? When I dived in it was packed full of slowly braised shin. Oh boy, this was blooming lovely, I would've been quite happy with just that! The veg on the plate was equally interesting. We had some charred salsify, which you don't see that often, and sitting on top were nettles. Yep, stinging nettles! The leaves of stinging nettles when cooked down are good, they taste kinda like spinach. When was the last time you saw nettles on a menu! Lou went for the Cornish Hake. Harry certainly has a delicate touch when it comes to fish, as this, just like the Cod starter, was cooked on point! Alongside the fish we had white asparagus, watercress puree and charred leaks. What I like about Harrys food are the little surprises. He puts things on the plate which take the dish from nice to bloody nice! This Hake dish was no exception. Added to the plate where a few small yellow dots. I had no idea what they were until we tasted. It was a puree of roasted lemons. When eaten with the fish the flavour exploded. I'm told the lemons are roasted for hours then whizzed up to make this intense puree. A little goes along way but it added so much to the finished plate.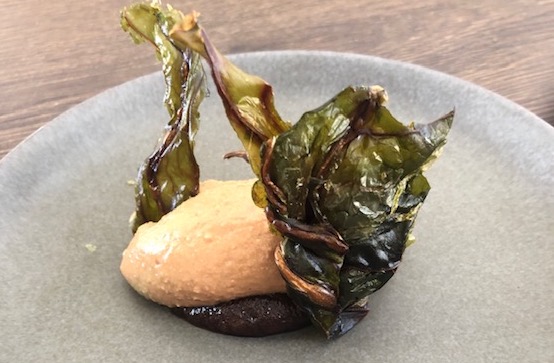 I was stuffed, but I wasn't beaten yet. I couldn't leave without ordering a couple of puddings. So, with true grit and determination we soldiered on. My poached granny smith mille-feuille hit the spot. This classic French pastry dish was staked high, packed with apples and cream. Alongside, a quenelle of pistachio ice cream. Despite its looks this was a remarkably light and refreshing finish. Very welcome after all that rich food! Now Lou's pudding was the polar opposite. 80% Chocolate Cremaux with bitter cherry sorbet. If you're ever looking for the true definition of death by chocolate this is it. It almost killed us! Being described as '80%' chocolate, you know straight away this isn't just a few melted down dairy milks! 80% means you are getting the real deal and that's exactly what this was. Uber rich but uber tasty. The cherry sorbet was sharp and refreshing; the perfect contrast. I had to dig deep to help Lou finish this epic pudding and together we got there!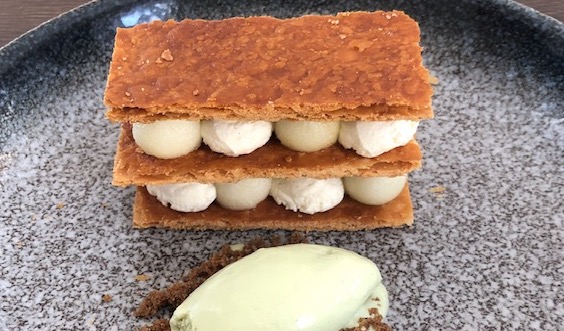 The good people at the Royal have done well to snap up this young master chef. Harry is certainly going places and has bought a unique way with food to our local area. Other restaurants should be on their guard, as the Royal have some amazing talent aspiring for nothing but the best. I said at the beginning of this review, I've always loved the Royal, and the food has always been good. But now with Chef Lumsdon at the helm their food has been elevated to the next level. I can't wait to see where this culinary journey will go. I'm certainly going back soon as I wanna be there every step of the way.
The Royal Hotel can be found at 1 High Street, Southend on Sea, Essex, SS1 1JE
---
ADD A COMMENT
Note: If comment section is not showing please log in to Facebook in another browser tab and refresh.
Related Items