Ray Morgan Reviews Dial M for Murder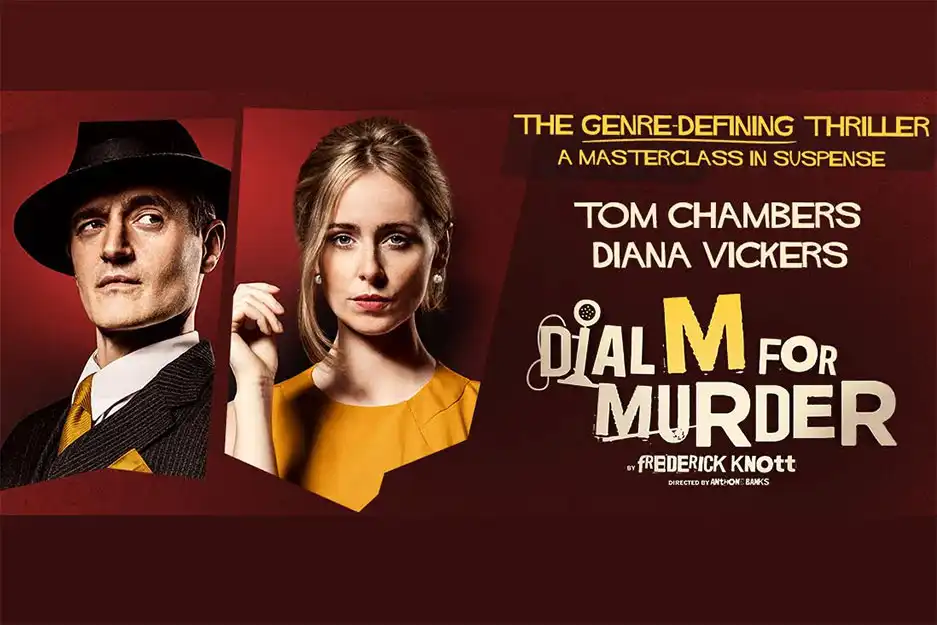 On Tuesday evening I escaped the chilly November night to escape into 1960s London for the crime thriller 'Dial M for Murder', written by Frederick Knott and made famous by the Hitchcock film.
The set immediately drew me in: it could have been lifted right out of Mad Men or Queen's Gambit. I said to my mum, who accompanied me on the night out, as I sipped my wine, "I want to live in that set!"
The story follows Tony Wendice (Tom Chambers), an unhinged ex tennis pro who has been so consumed with jealousy following his wife's affair with a TV crime writer that he has meticulously planned her 'perfect' murder. He calls in the efforts of Swann, an old school friend who has recently come out of prison to murder Margot, played by X Factor star Diana Vickers.
What ensues was classically twisty-turny, with false starts and surprises along the way. The pace was zippy and before we knew it, there was an interval leaving us on a fine cliffhanger.
What struck me most about this play was the set design, the lighting design, and the costumes. I found myself lost in looking at the detail of the set: the houseplants, the mini bar with decanters and vintage glasses - the records and books. There were some beautifully done touches, such as Margot cosying up on the sofa to watch an old episode of Coronation Street - the sound of which distorted as the evening took a sinister turn.
I adored Margot's entire wardrobe and made a mental note to wear more yellow cardigans. I enjoyed the sound design immensely - I wasn't expecting to see flashing red lights in a kitchen to the sound of The Beatles' Tomorrow Never Knows but it was well thought out and stylishly done.
I found Tom Chambers' Tony puzzling - his movements were almost dance-like around the set, and I wondered whether this was intentional to show how unhinged he had become, putting his awful plans to life (or rather, death). Diana Vickers played Margot with a light touch, vulnerable when she needed to be, and the chemistry between her and Michael Salami's Max crackled - the stolen touches between them when Tony's back was turned.
By far the standout for me was Christopher Harper, who played both Swann and the Detective. As Swann, he brought a snake-like charm with what seemed like an almost psychosexual chemistry between him and Tony as they wrangled over the murderous plans. As the Detective, he was sharp and to the point, bringing the whole ensemble together. An enjoyable evening out!
---
ADD A COMMENT
Note: If comment section is not showing please log in to Facebook in another browser tab and refresh.
Related Items