Southend Safety plans in place for Easter Weekend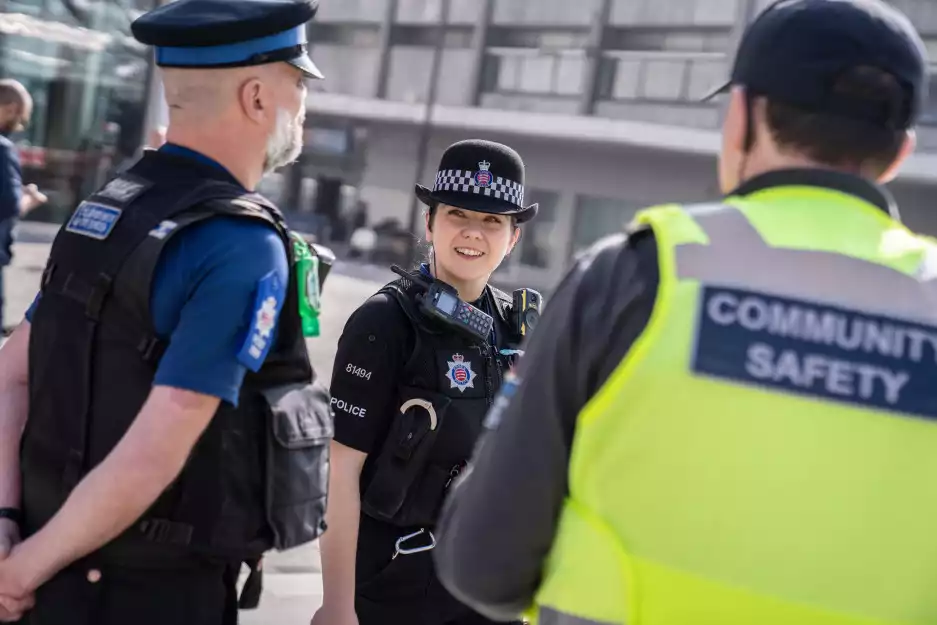 With Easter bank holiday weekend approaching, Southend-on-Sea City is urging residents and visitors to be respectful to our new City, whilst having fun.
Plans have been in place since the end of March to ensure the city is ready for the spring and summer season, and help visitors plan their visit, dispose of litter responsibly, find available parking spaces and stay safe.
The public will see a visible presence of council teams and contractors, with the council's community safety officers, Business Improvement District (BID) Rangers, beach welfare officers, pier and foreshore staff, parking marshalls, parking enforcement officers, and other agencies such as Veolia on duty. This group is supported by the council's team of CCTV operatives who play a vital role in highlighting suspicious behaviour or any potential flashpoints.
Police officers will be patrolling in uniform and plain clothes in the busiest areas for socialising. They will be working together with licensed premises and venues to monitor alcohol consumption. As well as police officers, Essex County Fire & Rescue Service will be on duty.
Simon Ford, the city council's head of community safety, says: "We really want people to come to our new City and enjoy themselves, and enjoy an Easter weekend without COVID-19 restrictions for the first time in three years. We are expecting a very busy weekend, with the sun set to be out and several events including Classic Cars on the Beach on Sunday and Easter Monday's Southend Shakedown.
"We ask that those visiting are respectful of the city and the residents who live here. Please dispose of litter using one of the hundreds of litter bins available, and if they are full please take it home with you. Please park considerately. If you are drinking alcohol, please do this safely and responsibly, and if you are leaving later in the day, please be mindful of noise in residential areas.
"Teams responsible for recycling, waste, highways, parking, community safety, CCTV along with the police and local businesses will be working hard and working together to prevent and respond to the demands long weekends and extra visitors to the seafront can bring, but we need visitors to play their part too, so if you are visiting, please respect, protect and enjoy."
Encouragingly, last year saw anti-social behaviour in Southend drop by more than 23% according to police figures.
District Commander, Chief Inspector Ian Hughes from Essex Police says that his team is not there to stop anyone from having fun and the public shouldn't be concerned by seeing more officers on patrol.
"We want residents and visitors to make the most of everything the city has to offer. We are engaging with the public and local businesses to let them know we are there to help keep them safe.
"We want Southend to be a prosperous place where people enjoy the hospitality, but they must do so safely and responsibly, and respect the local area. Those who don't act appropriately, or harm others, will face the consequences. To all those who do act responsibly – thank you."
Community safety
In addition to our security base at Jubilee Beach, a frontline security base in Old Leigh opened last summer season and is located inside the Leigh Heritage Centre. This is being used by our community safety officers (CSOs). Other council departments and partners including the police also use the base to enhance the overall visible presence in the area.
The community safety team will be gathering specific seafront data and insights to help prioritise our resources and inform our partnership work with the police. This group is supported by the council's team of CCTV operatives who play a vital role in highlighting suspicious behaviour or any potential flashpoints.
Litter
Alongside its usual street cleansing programme, the council has introduced the following additional measures to manage litter and waste during peak times:
Additional EuroBins are in place across the seafront to support our litter bin emptying teams. We are also asking visitors and residents to take their litter to the next bin, or home with them, if a bin is full. Full bins should be reported via My Southend at www.southend.gov.uk/reportit.
Other additional resources:
Extra resources for the peak season include toilet attendants at key locations, and additional cleaning staff
Extra medical support will be in place over the Bank Holiday weekend
Additional toilets installed last year in Old Leigh, City Beach, Shorefields and Darlows Green remain in place
Six extra seasonal foreshore staff are in place to accommodate expected higher demand and providing first aid, information, advice and guidance. They will be located at Jubilee Beach (first aid base), Shoebury Common Slipway, Two Tree Island and Old Leigh. The Jubilee Beach office will be open from 10am to 6pm across the four days.
Parking
Please park safely and responsibly. Car park marshalls will be working at Eastern Esplanade, Seaway and Fairheads Green car parks to monitor vehicle levels, direct vehicles to spaces and other car parks if necessary and provide advice on how to pay
For more information on car parks and charges, visit the car parking page on our website.
Visitors can plan ahead for parking by downloading the Southend Parking app before they depart and paying on their phone when they arrive. This also offers the added benefit of enabling you to top up your parking from your phone if you end up staying longer than you thought you would. You can also purchase the Southend Pass via this app, the £8.50 a month parking pass that offers three hours of parking every day in each zone. For more information and to download the Southend Parking app, please visit our website.
The Blue Flag award winning beaches at Shoebury Common, Shoebury East Beach and Thorpe Bay also offer great places to enjoy the seaside and thousands of parking spaces, with many available when central areas are full. Signage is in place to help direct visitors to these beaches.
Beach safety
The Council offers the following advice to help ensure a visit to the beach is remembered for all the right reasons.
Supervise children and vulnerable adults at all times. There is safety in numbers.
Wear jelly shoes or other sensible footwear on the beach and in the sea. Like with all seafronts, hidden dangers such as sharp shells and rocks may be hidden under the sand or water.
Don't climb the rocks: Several areas of our seafront have rocks, including our seafront lagoon at Three Shells Beach. Please do not climb them.
Observe signs and flags: Be aware of your surroundings and the times of the tides. There is a link to tide timetables on our website: Mooring Application and Tide Tables – Southend-on-Sea Borough Council.
Heed warning signs and flags: they could save your life!
---
ADD A COMMENT
Note: If comment section is not showing please log in to Facebook in another browser tab and refresh.
Related Items