Strictly Ballroom review by Lynn Carroll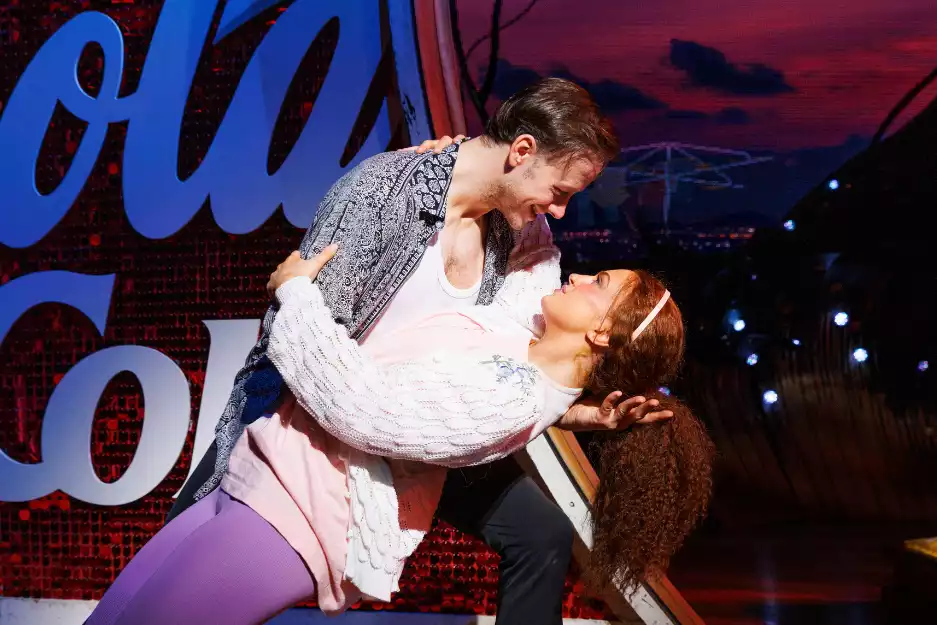 What a show!
Yes, I will definitely expand but first of all let me say; for some bizarre reason I had never seen the film version of Strictly Ballroom, probably because I was not particularly a dance fan nor had I heard of any of the actors starring in it. I know, very shallow of me.
This however, turned out to be a blessing because I did not know what to expect nor did I have any preconceived ideas of how it should be staged. I am still not a devotee of ballroom dance, though I enjoy watching it occasionally, I like dance to be more exciting and frenzied. So, I sat through a good deal of the first Act thoroughly enjoying, but not overwhelmed by, the spectacle unfolding in front of me.
The dancing (to my unprofessional eye) was faultless, the costumes dazzling, humour just right and all this was complemented by an accomplished cast who sung, made music and acted their way through a delightful stage show. It was all I expected from a production based upon a Bazz Luhrmann musical as one of my favourite films is Moulin Rouge.
Many dancers these days are as professionally famous as actors in non musical films, so of course Kevin Clifton got a rousing greeting when he first appeared on stage and seeing him and the ensemble cast dancing live before us was certainly a joy to behold. But, you may wonder about the last sentence of my second paragraph? Now, I do not want to steal any praise or adulation from Kevin but I have to mention how the last part of Act one made me sit forward, tap my feet and actually feel a huge wave of excitement at the fulfillment of my vision of how dance should make you feel, and that is no mean feat at my age! This is also why I was glad I had not seen the original film.
The character of Rico, played by Jose Agudo, began a solo dance routine which built into a pulse raising display of flamenco such as I have personally never witnessed before. I was mesmerised. The audience obviously felt the same way as he finished to rapturous applause, while for the first time my hands were clapping way above my head, magnificent! Were I not such a coward when it comes to loud displays of appreciation I would certainly have been far more vocal. I must be clear that this wonderful performance in no way detracted from the professionalism and beauty of the other dancers and forms of dance, it was just my personal favourite and I found myself hoping we would see more during the second Act.
Referring back to Moulin Rouge, this was the same excitement I felt when I first watched the Tango dance scene to the soundtrack of Roxanne.
The second Act did not let up on the dazzling glamour, wonderful dance routines and no moment of visual content was left empty, something to savour throughout. By now, of course, I knew where we were going and the final scene did not disappoint, but I will not spill the beans for those, like me, who have never seen the film or show.
If you are craving an uplifting show that will entertain and excite, fill your senses, then this is the one. I may be wrong but it seemed to be the most packed first night I have had the pleasure of attending. If you like dance and music, and who doesn't, do yourself a favour and book now.
---
ADD A COMMENT
Note: If comment section is not showing please log in to Facebook in another browser tab and refresh.
Related Items