Sunset Boulevard : Theatre Review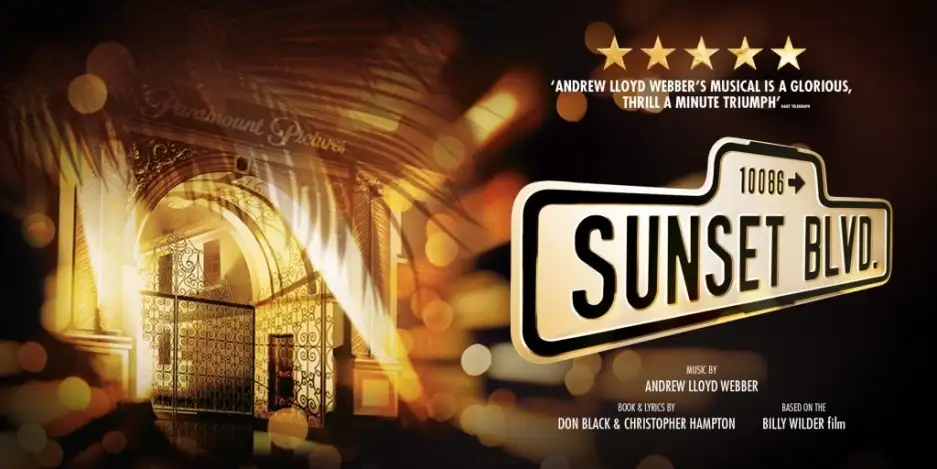 Well, I have to admit, I am still tingling after last night's performance of the Sunset Boulevard at Southend Cliffs Pavilion. Andrew Lloyd Webber's Tony Award®-winning show is darkly intense and completely mesmerising, thanks to its incredible cast and staging.
This particular revival comes from Michael Harrison and David Ian's production at the Curve.
Sunset Boulevard is a compelling story of romance and obsession, based on Billy Wilder's legendary film, with Don Black and Christopher Hampton's wonderful book and lyrics.
Ria Jones gives a stellar performance as Norma Desmond, the faded silent-screen goddess who lives in a fantasy world, facilitated by her servant and companion, Max Von Meyerling.
When impoverished screen writer, Joe Gillis, played by an impressive Danny Mac, stumbles into her reclusive world, he is on the run from debt collectors and down on his luck. Persuaded to work on Norma's 'masterpiece', a film script that she believes will put her back in front of the cameras, he is seduced by her and her luxurious life-style. Joe becomes entrapped in a claustrophobic world until his love for another woman leads him to try and break free, with dramatic consequences.
The staging of the production is extremely clever and nothing short of impressive for a touring show. The staircase moves the performers around in sweeping choreography, that punctuates the character's presence on the stage. The use of multimedia to illustrate a car chase or offer us a glimpse into the past, is incredibly effective, with the flickering black and white movies aptly letting us see beyond the stage and further into the story.
Danny Mac is a revelation as writer, Joe Gillis, expertly moving the story through the twists and turns. Dripping with charisma and, oh so handsome, I was swooning along with Norma. Opening the second act with the title song from the show, Mac is fabulous, perfectly capturing the anger and inter turmoil of his situation. I was on the edge of my seat.
In fact, all the cast were fantastic. Adam Pearce is tragically endearing as Max, rumbling out his extraordinary vocals with powerful clarity. Molly Lynch gives Betty lots of naïve energy that makes us empathize with her all the more. With a wonderful orchestra, safely off the stage and in the pit, the music is magical.
The final word has to go to Ria Jones who gives a show-stopping performance as Norma Desmond. Famed for stepping on for Glenn Close when she was too ill to perform, and bringing down the house, it should be noted that this role is not new to her. In fact, Ria was part of the original workshop back in 1991 and now, 27 years later, is reprising the role that she helped create. The ease with which she understands and inhabits the character is testament to her amazing talent and years of experience on the stage. Her rendition of 'With One Look' is majestic and, received a roar of approval. She is truly stunning.
On at Southend Cliffs Pavilion until Saturday 3rd February.

To book tickets please click here
---
ADD A COMMENT
Related Items