The Osmonds a New Musical Review by Lynn Carroll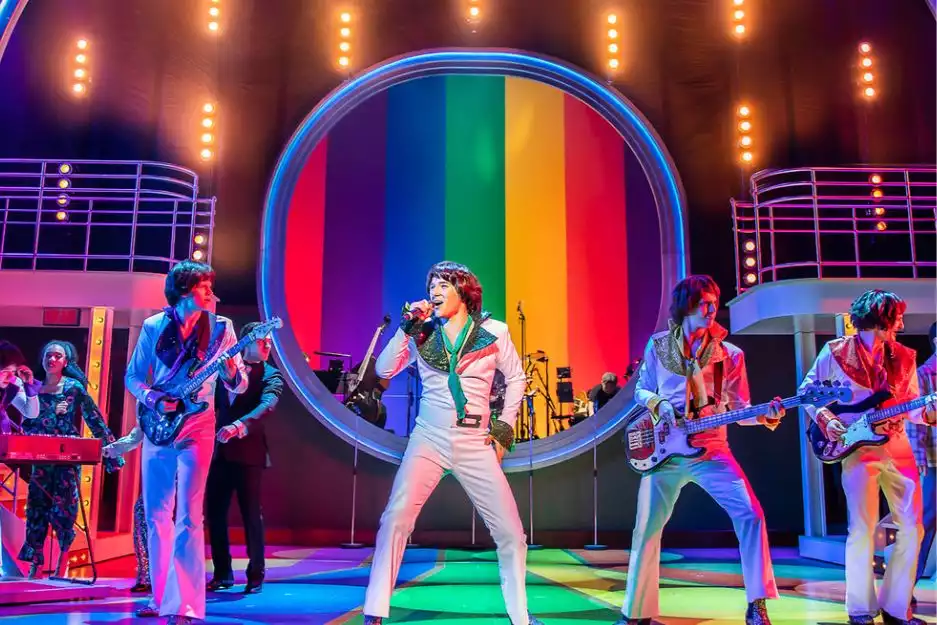 The Cliffs Pavilion resounded with a joyful noise on the opening night of the Osmonds musical, from start to finish it was a feast of entertainment.
I had wrongly supposed it would be similar to a tribute act belting out their many hits, and not being a particular fan of live music I was in it for nostalgia rather than musical appreciation, but boy, was I rapidly disabused of any preconceived idea of what I was about to see.
Yes, there was an energetic opening performance from these immensely talented young guys but there was so much more to come, the story opening in 1961 and closing with their comeback tour in 2007.
Those early days had no place in my memory, awareness of the phenomenon that was The Osmonds only really coming to my attention in the 1980s. I was therefore quite surprised at how it all started, with the initial quartet of Alan, Merrill, Jay and Wayne auditioning and then appearing on the Andy Williams show. They had two older deaf brothers and the hope was to raise money for better hearing aids. Their hope was realised almost immediately as they went down a storm and were quickly invited back, becoming regular guests on the show.
The boys playing the young Osmonds also went down a storm with the Cliffs audience and throughout the show there were many young boys portraying not only them but Donny and Jimmy too, who also charmed the audience, receiving round after round of loud, enthusiastic applause.
Although Jay Osmond, who wrote this account of their story, took care not to demonise their father, it was clear that he ruled his family with a rod of iron. He was a war veteran who ran the home like a military establishment, the boys being woken at 4.30am each morning and treated like training recruits.
One could say it paid off in the long run but also it took a toll on the mental health of at least one band member, possibly two, or at least, that is how it came across to me.
Constant touring and TV appearances also had a detrimental effect on home life as individual choice had no place in this family, all decisions were made by democratic vote where majority ruled.
But that is enough about their life story. The show held my interest and entertained throughout. I couldn't wait to get back to the second half and continued to be enthralled by the outstanding performances of every cast member. However, particular praise must go to Alex Lodge and Joseph Peacock who played the parts of Jay and Donny respectively. This could be bias on my part as Donny is the Osmond I most remember and I was a great fan back in the day, and Alex's Jay not only played his part but narrated, from his perspective, throughout. In my opinion this built an emotional bridge between him and the audience.
But, to be honest, talent abounded on the stage and all were worthy of the highest praise for their fantastic portrayal of a fantastically talented family. I have never been to a Cliffs show where there was so much waving of arms, joyful noise and audience members standing, dancing and showing their appreciation so wholeheartedly.
The show ends on Saturday July 30th, catch it if you can.
---
ADD A COMMENT
Note: If comment section is not showing please log in to Facebook in another browser tab and refresh.
Related Items